Talk to any expert on tax return filing and he would suggest you to "verify your Form 26AS".
Form 26AS is consolidated statement of all your TDS, Self Assessment tax, advance tax, tax refunds, and high value transactions for relevant assessment years.
The post gives an overview and structure of Form 26AS, why it's so important, what to verify and how to use it for Income Tax Return filing.
What is Form 26AS?
Form 26AS (also called the annual statement) gives you the following details for the associated PAN card:
Salary Credited and the corresponding TDS
Interest Credited and corresponding TDS by banks and companies
Advance tax or self assessment tax paid
TDS deducted in case of selling/buying of property of more than 50 lakhs value
Any high value transaction done in the year like buying property, shares, mutual funds, etc
Income tax refund paid, if any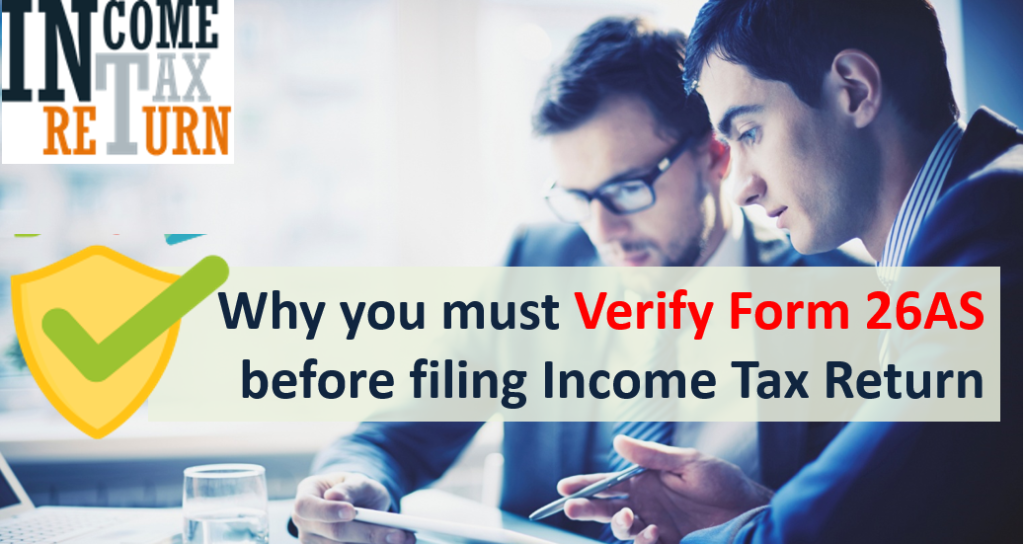 How to view 26AS?
There are two ways to view your 26AS
You can do it directly from Income tax Website – incometaxindiaefiling.gov.in
You can do it through your net banking of authorized banks (with PAN card correctly linked to the account)
[box type="info" size="large" style="rounded" border="full"]
Here are some posts which can help you with e-filing of ITR 2019:
1. 9 Most Important Changes in ITR Forms for AY 2019-20
2. Calculate your Tax liability for FY 2018-19 (AY 2019-20)
3. Download 44 page slideshow showing all tax exemptions
4. Which ITR form to fill for Tax Returns for AY 2019-20?
5. How to Claim Tax Exemptions while filing ITR?
6. Use Challan 280 to Pay Self Assessment Tax Online
7. Form 26AS – Verify Before Filing Tax Return
8. 5 Ways to e-Verify your Income Tax Returns
9. What if You DO NOT file your Returns by due Date?
10. Can I file my Last Year Tax Return?
11. Why and How to Revise Your Tax Return?
12. What does Intimation U/S 143(1) of Income Tax Act mean?
13. What happens after you file your ITR?
[/box]
How to view information in Form 26AS?
Once the Form is opened, you have option to select the Assessment year and the format "View as". Select the relevant Assessment year and the format and click view.
Select 'HTML" to view it online and "PDF" to download it.
Password for opening downloaded Form 26AS is date of birth of PAN holder in ddmmyyyy format as mentioned in PAN Card. So if your date of birth is January 1, 1980 then your password would be 01011980.
Download: Ultimate Tax Saving ebook with tax calculator FY 2019-20
Also remember the difference between Financial and Assessment year (for Financial Year 2016-17 the assessment year is 2017-18 and so on).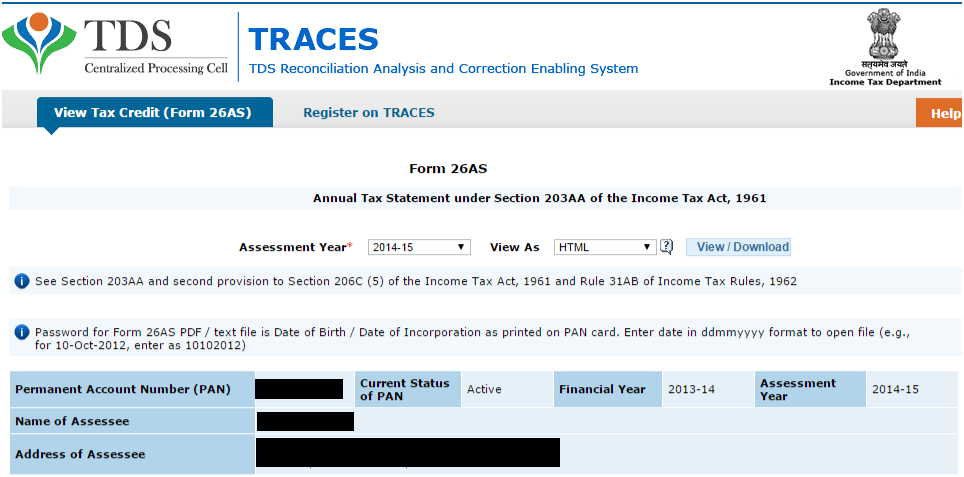 Interpreting From 26AS:
The 26AS is divided into 7 broad sections (A to G). Following are the details for each section.
PART A – Details of Tax Deducted at Source.
This section is most common and has details of Tax deducted by your employer or TDS deducted by banks on interest on Fixed Deposits, etc. TDS deducted by each source is shown as a separate table.
PART A1 – Details of Tax Deducted at Source for 15G / 15H
This section shows details of the income where tax was not deducted as you had submitted form 15G or 15H. The TDS will always show "0" because you have submitted Form 15G/H for not deducting TDS. It helps in tracking the interest you received.
Also Read: 25 Tax Free Incomes & Investments in India
PART A2 – Details of Tax Deducted at Source on Sale of Immovable Property u/s 194IA (For Seller of Property)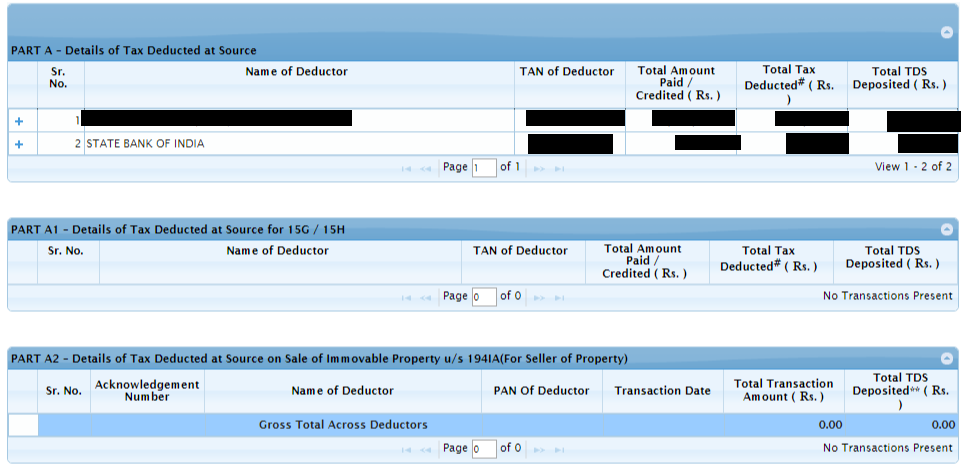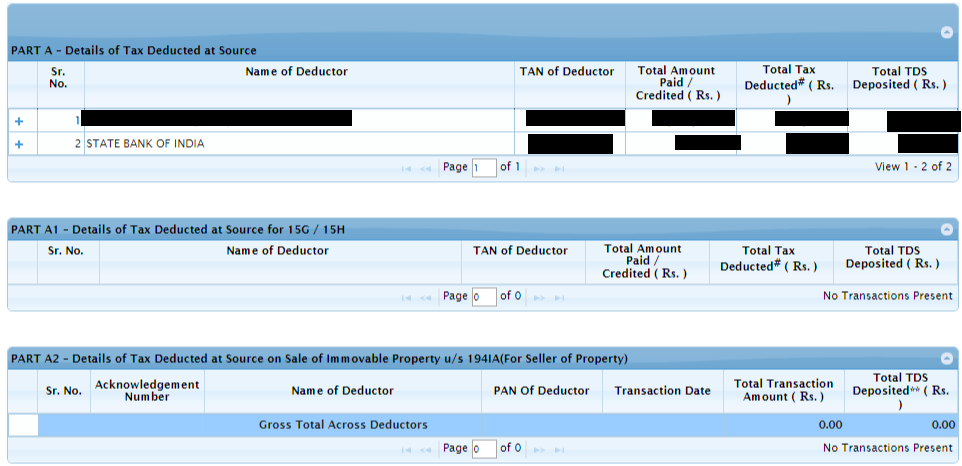 PART B – Details of Tax Collected at Source
This is tax that is collected by seller from buyer on sale of certain goods like liquor, timber, minerals, etc. This would be mainly populated for people involved in such trades.
PART C – Details of Tax Paid (other than TDS or TCS)
This part shows any "Advance Tax or Self Assessment Tax" paid during the financial year. The banks generally upload this information after clearing of the cheque.

Part D – Details of Paid Refund
This part shows any refund paid to you by Income tax department in that financial year
Part E: Details of AIR Transaction
It shows the details of any high value transactions such as purchase of property etc. These high value transactions are reported to income tax department by banks/ Registrar/ mutual Funds/ companies etc through Annual Information Return (AIR)

PART F – Details of Tax Deducted at Source on Sale of Immovable Property u/s 194IA (For Buyer of Property)
PART G – TDS Defaults (Processing of Statements)
What should be verified from 26AS?
As you can see it's a long form but is visually easy to understand. The question is what should be verified in this form? The answer is EVERYTHING. Yes you should verify all the numbers and relevant details present there.
Check the name, TAN of the deductor from FORM 16 (salary)/16A (banks)
Check the section for each entry 192 is for salary and 194A is for interest income
Check status of booking. It should be 'F' which means Final. This means that the TDS amount deposited to income tax authorities match with the TDS statement filed by deductor. In case its "U" meaning Unmatched, it means there is some issue either with the TDS statement or the amount deposited. You will need to check with the concerned deductor in this case.
What if entries do not match?
As stated above in case someone has deducted TDS but has not submitted or updated it wrongly to the income tax authorities, you might see wrong or missing entries. In that case you will need to contact that person/company.
In case your advance tax or self assessment tax paid does not match, check with your bank.
In case your Form 16 details do not match consult your employer.
In case you find some entries missing consult with the relevant entities.
Also Read: Calculate Tax on Arrears in 7 Easy Steps
Why you should check 26AS before filing ITR?
Form 26AS can be compared to your resume while applying for any job. The interviewer knows everything mentioned in your resume – similarly, income tax authorities know about all the information present in 26AS. And as you would not mess up in interview by not preparing what's on your resume, similarly you can mess your income tax returns by not verifying the entries in 26AS.
And the worst part if you have discrepancies in the 26AS and your income tax return, you might get notice from income tax for wrong returns or for scrutiny of documents.
Have you checked your Form 26AS while filing your ITR?