I have received some queries asking, "Is it compulsory to file income tax return (ITR) if the income is less than Rs 5 lakhs?" I understand why there is so much confusion. We explain who needs to compulsorily file tax return and who are exempted from the same.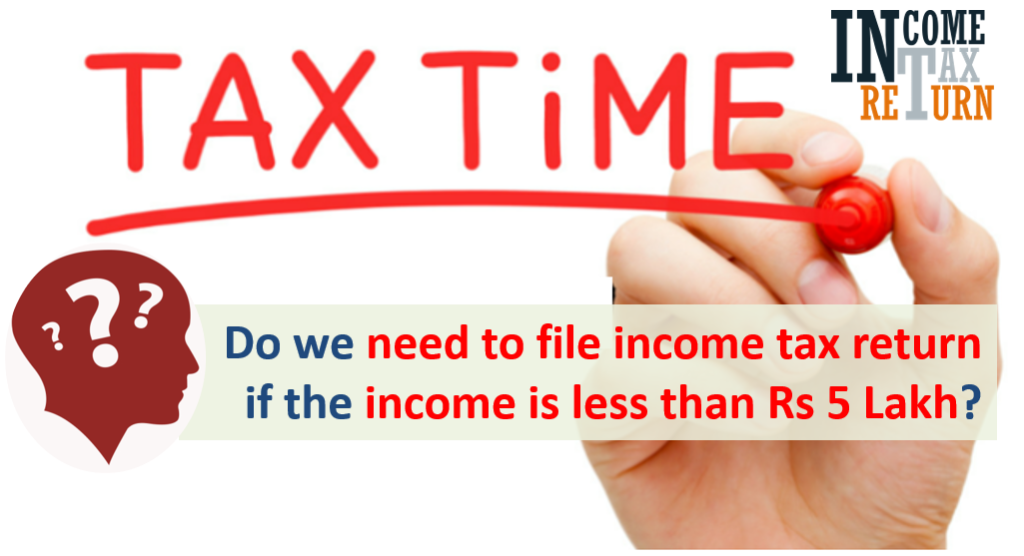 Zero Tax if income is less than Rs 5 Lakh
While presenting Budget 2019, the finance minister mentioned that people earning less than Rs 5 lakhs would have to pay no taxes as they would get tax rebate up to Rs 12,500 (Click to know how tax rebate works). Many people thought since they have no taxes to pay hence they do not have to file their ITR.
There are two problems with this argument:
The rules proposed in Budget 2019 is applicable from FY 2019-20 (AY 2020-21), which means the tax liability after income tax rebate for people with earning of less than Rs 5 lakh would be 0 from FY 2019-20. The present tax return for AY 2019-20 is for taxes that was applicable on income in FY 2018-19. And people had to pay taxes even if their income was less than Rs 5 lakh.
The second confusion would they have to file returns next year with no tax outgo? The answer is may-be and we give you the details. The income limit until when you need not file tax return is determined by section 139(1) – which states the following: "Every person who has a total income that exceeds the exemption limit is liable to furnish Income Tax Return within the due date". In both AY 2019-20 & AY 2020-21 the exemption limit is as follows:
For people less than 60 Years of age – Rs 2.5 Lakhs
For people between 60 to 80 years of age – Rs 3 Lakhs
For people above 80 years of age – Rs 5 Lakhs
So if your net income exceeds the above exemption limit (based on age) you have to file your ITR, weather or not you have any tax liability. Also irrespective of the income limit, you need to file your ITR if you are resident and have any asset or financial interest in an entity located outside of India.
[box type="info" size="large" style="rounded" border="full"]
Here are some posts which can help you with e-filing of ITR 2019:
1. 9 Most Important Changes in ITR Forms for AY 2019-20
2. Calculate your Tax liability for FY 2018-19 (AY 2019-20)
3. Download 44 page slideshow showing all tax exemptions
4. Which ITR form to fill for Tax Returns for AY 2019-20?
5. How to Claim Tax Exemptions while filing ITR?
6. Use Challan 280 to Pay Self Assessment Tax Online
7. Form 26AS – Verify Before Filing Tax Return
8. 5 Ways to e-Verify your Income Tax Returns
9. What if You DO NOT file your Returns by due Date?
10. Can I file my Last Year Tax Return?
11. Why and How to Revise Your Tax Return?
12. What does Intimation U/S 143(1) of Income Tax Act mean?
13. What happens after you file your ITR?
[/box]
However we encourage everyone with income to file their income tax returns (Read: 4 Reasons to File ITR even if your Income is not Taxable).