Life has become a lot more convenient with the new age banking but this convenience comes with a lot costs in terms of hidden charges.
Below is the list of such charges which you might not know
1. Non Maintenance of Monthly/Quarterly Average Balance:
Almost all banks insist on maintaining monthly/quarterly average balance. In case you fail to do so, banks can charge anywhere from Rs 200 to 500 per instance.
Idea: Keep track of your account balance or open account which has no requirement to maintain minimum balance. SBI does not have requirement of minimum average monthly or quarterly balance in its accounts.
2. Bank Branch Visits:
Most banks discourage customers to visit their branches as branch transaction is much more expensive for banks as compared to ATM or internet banking. So banks charge anywhere between Rs 50 to 200 for transactions in branch. This charge may vary based on transaction (cash Vs non-cash) and the type of savings account you have.
Idea: If you are tech savvy and use internet banking coupled with calculated use of ATMs you can avoid visiting bank branches. In case you visit them know the limit after which the banks start charging your visit.
Also Read: Which bank offers highest interest rate on savings account in India?
3. Money Transfer charges:
Transferring money online has brought lot of convince and is widely used. But even this is not free. If you use RTGS or NEFT to transfer funds from one bank to other, banks charge between Rs 5 to Rs 25 for each transaction.
Idea: You can use mix of cheque and internet banking to transfer money.
4. Debit Card Annual Fee:
The annual fee for debit card varies from Rs 100 to 500 depending on the card. Banks also charge in case you request add on cards for family members.
Idea: Some banks offer facility to link multiple accounts through one card. You can use this facility in case you have multiple accounts in the same bank. Also in case of joint account, take card for all holders if necessary.
5. ATM Usage:
With the new RBI notification banks are allowed to charge customers for more than 5 usages of ATMs in a month. The charges can vary from Rs 8 to 20 depending on the type of transaction.
Also Read: How are your Investments Taxed?
6. Email/SMS alerts:
Banks charge around Rs 15 per quarter for SMS alerts. This was started as an essential security feature but banks have started making money out of it.
7. Bank Statements:
Request beyond fixed annual, quarterly or monthly account statements entails charge. This may vary from Rs 50 to 200.
Idea: Avoid taking unnecessary statements and use net banking to keep track of bank account. Also if you need to submit bank statement for anything, take the statement printout with you and get it signed from the bank. In this case most banks do not charge.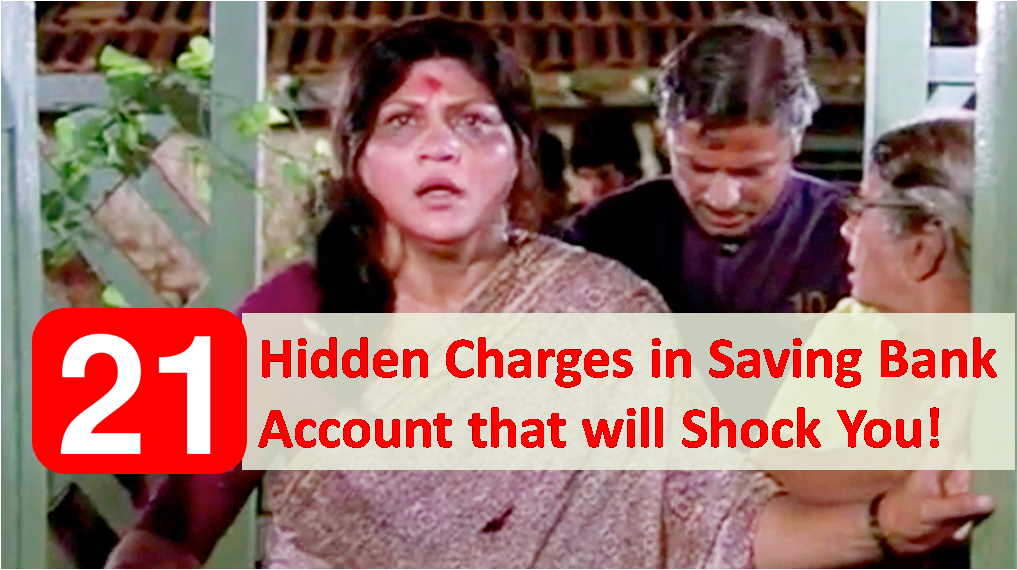 8. Cheque Bounce:
Banks charge whenever the cheque bounces. In most cases the charge is levied on both – one who had issued the cheque and the person who had submitted the cheque. This may vary from Rs 100 to Rs 500 per instance.
Also Read: Tax Planning Guide for FY 2018-19
9. Stop Payment Request:
In case you instruct the bank not to pay an already issued cheque, banks may charge Rs 50 to Rs 100 for this. HDFC bank charges Rs 50 for stopping single cheque and Rs 100 for series of cheques.
Idea: Many banks do not charge if you use Phone banking and Net Banking for stop payment requests.
10. Additional Cheque Book Request:
Generally a fixed number of cheque books are free every quarter, anything above that is chargeable. For instance ICICI bank gives 30 cheque books free every quarter. Thereafter every book costs Rs 30.
11. Standing Instructions:
Standing instruction is a good thing for paying regular monthly bills. But some banks charge one time fee for setting up standing instruction and recurring fee for processing it every time. SBI charges onetime fee of Rs 50 for standing instruction setup. A failed standing instruction can set you back by Rs 225.
Also Read: Payment Banks – How it impacts you?
12. Debit/ATM card Replacement Fee:
Most banks charge a fee to replace your lost or broken ATM cum Debit card. This fee varies from Rs 100 to 500.
13. Reset Password/PIN number:
You forgot your ATM card PIN number of Net banking Password, be ready to shell out some fee to the bank to reset these. For instance HDFC bank charges Rs 50 plus taxes for PIN reset.
14. Debit Card decline due to insufficient funds:
If you swiped your debit card but there was insufficient fund in the account, banks would charge you for that. For e.g. ICICI bank charges Rs 28.09 per swipe for decline due to insufficient funds.
15. Redeem Reward Points:
Most banks offer reward points for using their Net banking or Debit cards. This is a way to keep customers engaged and keep them spending through their cards. But when you try to redeem those earned reward points you may be charged even for that. ICICI bank rewards are associated with Payback and they charge Rs 99 plus tax on any catalogue based redemption and Rs 25 plus tax for any online or in-store redemption made by the customer.
Also Read: 13 Most Important things to know before investing in Bank Fixed Deposits
16. Attest Photo, Signature or Address:
Many a time customers require banks to attest their photos, signature or address. SBI charges Rs 150 for signature verification.
17. Balance Certificate:
Banks may charge from Rs 100 to 500 to issue balance certificate.
18. Interest certificate:
Generally the first copy is free but for each additional copy you may be charged anywhere between Rs 50 to 250.
19. Closing Bank Account:
Many banks charge you "Account closure fee" in case you close your account too soon. For e.g. ICICI bank charges Rs 500 for closing accounts if it's within 1 month to 1 year of account opening.
Also Read: Where should you Invest your Emergency Fund?
20. Transfer of accounts:
Want to transfer your account from one branch to other, SBI charges Rs 100 per instance.
21. International Usage of Debit Card:
In case you use debit card to withdraw money at foreign location, be ready to shell out fee amount at ATM. For e.g. HDFC bank charges Rs. 15 per balance enquiry & Rs. 110 per cash withdrawal (plus taxes). Also there is a mark-up of 3.5% on foreign currency transactions carried out on Debit Cards.
22. Returned Courier due to wrong address:
SBI charges Rs 100 if you ATM card/ KIT returned by courier due to wrong address.
Also Read: 13 points about Bank Deposit Insurance and How to increase it legally
Conclusion:
As you can see there a lot of charges associated with savings bank account. These charges would keep on growing every year as banks focus to earn more revenues from non-interest income. RBI has mandated all banks to display their charges on their website. You must visit the respective pages on your bank's website to keep yourself aware with any new charges. Also it's very important to make a list of all savings accounts and close all those which are not required.
We hope that knowing all these hidden charges would help you use your savings bank account more efficiently and let you avoid all these unnecessary charges.
Saving Money is making money!