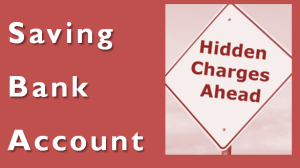 Saving bank accounts can have lot of hidden charges which most of the times we are not aware of. A few days back one of my friends was looking at his ICICI Bank statement and found 3 consecutive deductions of Rs 28.09 with the description of POSDEC CHG/11-06-14/8833/25ST3. As happens most of the times it's almost impossible to figure out what this alien description meant!
A little research and asking friends revealed that POSDEC CHG means Point of Sale Decline Charges.

What does this actually mean?
This means you tried using your debit card for paying something at the merchant but the transaction was declined due to insufficient funds in the account.

Also Read: 22 Hidden Charges in Saving Bank Account
But why 3 consecutive deductions?
This is what happens at the merchant side. You gave your debit card for payment. The transaction gets declined but you and the merchant does not know the reason for decline. As most of the times network failure/ wrong pin etc are responsible. So the merchant swipes the card multiple times but every time it's declined! The unfortunate part ICICI deducts this POSDEC CHG of Rs 28.09 for every swipe! So in my friend's case it was tried 3 times and hence there are 3 consecutive deductions!
The Complete Story of my Friend and many others!
My friend had gone to his usual departmental store for his regular purchase and gave his ICICI debit card for payment. The problem was he had 2 accounts with ICICI Bank and by mistake he gave the card which did not have sufficient funds. The transaction did not go through the card so he paid by cash and moved on. He only realized his mistake when he got to see these charges after more than a month in his statement! I am sure this can happen to lot many people especially who have multiple cards of the same bank!
Is this Ethical?
As a customer I find these charges completely unethical and then series of deduction for the same transaction – I have no words!
It's not like all the transactions that are declined are because of insufficient funds. On the contrary the most declines are due to network issues! But how a customer can know the decline reason?
The bank should have either sent SMS to the customer that the decline is due to insufficient funds or may have charged only once for one transaction.
What should you do?
In such cases "prevention is better than cure". So if such charges are reflecting in your statement you can talk to ICICI call center executive and tell him to reverse these charges. You have two problems here:
One it's really difficult to get through the maze of options to get a human voice and most of the time it really does not help!

The time and money you would spend on call and follow ups would be worth more than Rs 28.09
A simple Google search and you would see multiple complaints regarding such charges online. In one extreme case I found the customer was charged 19 consecutive times probably for the same transaction!
RBI wants to encourage payments through Debit/credit cards but such practices by banks would be highly detrimental! Probably some rules/clarifications from RBI regarding these unethical charges might help.
How to Prevent?
There are few things you should take care while using your debit card:
Carry only the debit cards you use regularly. Why create confusion and un-necessary risk by carrying multiple cards?

Know your balance before making any payment

Switch to banks that do not have such charges
Do you know of other banks who have such unethical practices or have you or your friends gone through this? If yes please leave comment to make everyone aware of such practices!