RBI has granted Payment Bank in principal approval to 11 entities yesterday. This post explains the concept of Payment Banks and assesses the impact for us – the common man.
What are Payment Banks?
You can think of Payment banks as small banks which can give only some selected services as compared to full fledged banks.
What Payment Banks can do?
Payments bank can do following:
Open Savings Bank Account for individuals, small businesses and other entities and pay interest on the same
Can hold maximum deposit of Rs 1 Lakh per individual customer
Can set up branches and ATMs
Can offer ATM and Debit Card linked to the account
Provide money transfer facility to different bank accounts through IMPS, NEFT
Can offer Net banking services
Can sell Financial Products like Mutual Funds, Insurance, pension Products etc
Can provide Forex Card
Can be a channel for remittances – both for domestic and international. The remittance can be higher than Rs 1 Lakh provided the balance at the end of day in account is less than Rs 1 Lakh.
Also Read: 22 Hidden Charges in Saving Bank Account
What Payment Banks are not allowed?
Cannot give any loans
Cannot accept deposits from NRIs
Regulatory Restrictions:
Payment banks has to use "Payment Bank" to differentiate from regular banks
The approval is valid for 18 months to comply with RBI rules for payment banks
They cannot set a subsidiary to function as NBFCs
They should be independent of Promoter's other financial / non-financial activities
Payment banks have to keep minimum 75% of deposits in government securities or treasury bills of up to one year and maximum 25% can be invested in commercial banks' fixed deposits.
Who got approval from RBI?
Following received in-principal approval to set up payment banks:
Aditya Birla Nuvo Limited
Airtel M Commerce Services Limited
Cholamandalam Distribution Services Limited
Department of Posts
Fino PayTech Limited
National Securities Depository Limited
Reliance Industries Limited
Shri Dilip Shantilal Shanghvi (Sun Pharma)
PayTM
Tech Mahindra Limited
Vodafone m-pesa Limited
Also Read: Which bank offers highest interest rate on savings account in India?
How it impacts us?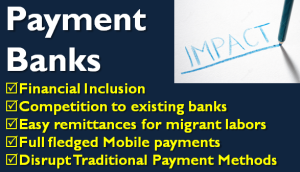 The impact of payment banks would only be visible in coming 1-2 years. Below are some my thoughts what could change:
1. Payments banks concept was to increase financial inclusion – to serve under-banked and unbanked population. India still has a lot of such population. It might make their life easier.
2. More competition to banks for short term deposits – Full fledged banks today mainly operate as cartel. Most big banks have similar interest rates for loans and deposits. These new payment banks would break the cartel to an extent, especially in savings account. Payment banks might offer higher interest rates.
3. Easy Remittances – the remittances services will become more competitive especially for migrant laborers
4. Full fledged Mobile Payments – All leading telecom operators – Reliance Jio, Airtel, Vodafone and Idea (through Aditya Birla Nuvo Limited) would be able to take deposits and pay interest on the same. People would be able to use mobiles to pay for the bills and also buy products at the same time. This would encourage alternate payments.
5. Disruptive Payments – Some of these banks would for sure come up with advanced technology and disrupt the way we make payments today.
6. Post Offices are a trusted among masses with their money. They might be able to play a major role in remittances, financial inclusion and sell government schemes.
How Payments Bank would make money?
Payments banks would be able to make money in following ways:
1. Spread on the deposits – Government bonds/banks FDs might give 8% return while they might pay their depositors 6%. 2% is good spread to make money. This is just an example; we would see the realty once they start offering their services.
2. Commission on transactions
3. Commission on sale of financial products, remittances etc.
It seems this is going to be a good money making opportunity for the business which is good as it makes them sustainable!
To conclude:
Payments banks are good concepts and it would accelerate adoption of digital payments and widen the scope of cashless transactions in India. Also this would give some much needed competition to full fledged banks in deposits space!