Bank Deposit Insurance – A term not many people know about but comes into play when the bank you have trusted your money with goes belly-up. In the last few years you might have heard about banks closing down and depositors struggling to get their money back. You must read this post, if you bank with any of the co-operative banks in India.
What is Bank Deposit Insurance?
In India, Bank Deposit Insurance is covered by Deposit Insurance and Credit Guarantee Corporation (DICGC) which is subsidiary of RBI. This insurance pays back depositors in case the bank goes bankrupt and is restricted by RBI for further operations. In the last few years, you might have heard about Yes Bank, Lakshmi Vilas Bank had to cease operations temporarily (thankfully) until the new management or new bank too it over. Thankfully, most of the losses were borne by shareholders but depositors escaped unhurt (except that they could not get their money back on time).
However depositors of co-operative banks have not been so lucky. You might not have noticed but in the last few years, more than 10 co-operative banks have ceased operation – PMC Bank being the biggest one. Depositors are still struggling to get their money back form these banks. This bank insurance is like the last resort for the depositors and so it's important you should know about this. We tell you 10 interesting things about bank insurance and how you can increase it legally?
Bank Deposit Insurance: Interesting Facts
Bank Deposit Insurance is covered by Deposit Insurance and Credit Guarantee Corporation
The maximum deposit insurance cover is for Rs 5 lakh per customer per bank. (increased in Budget 2020)
The insurance premium is paid by banks and depositors are not charged for the same.
The Deposit insurance was introduced in 1962 and the maximum cover was Rs 1,500.
The Rs 5 Lakh limit was revised in 2020, 27 years after the previous revision in 1993.
Bank Deposit Insurance Limit Over the Years
Here is the deposit Insurance over the years:
1962: Rs. 1,500

1968 : Rs.5,000
1970 : Rs.10,000
1976 : Rs.20,000
1980 : Rs.30,000
1993 : Rs.1,00,000
2000: Rs. 5,00,000
If you see the above years and amount, it was regularly revised and the amount was upgraded reasonably well. However. the last revision that was done in Budget 2020 was after 27 years. Also the amount or Rs 5 Lakh seems on the lower side.
Which bank pays highest interest on Savings Account?
Banks Covered by Deposit Insurance
As per DICGC website, it covers 2,064 banks. This data is as of February 2, 2021. Following is the breakup:
| S.No | Categories | # Banks |
| --- | --- | --- |
| 1 | Public Sector Banks | 12 |
| 2 | Private Sector Banks | 22 |
| 3 | Foreign Banks | 46 |
| 4 | Small Finance Banks | 10 |
| 5 | Payment Banks | 6 |
| 6 | Regional Rural Banks | 45 |
| 7 | Local Area Banks | 2 |
| 8 | State Co-operative banks | 33 |
| 9 | District Central Co-op banks | 351 |
| 10 | Urban Co-op banks | 1537 |
Banks Covered by Deposit Insurance
What does Deposit Insurance Cover?
As most insurance products come with lots of terms and conditions, bank deposit insurance is no exception. Following are some of the terms you must understand to get the full advantage.
Understanding 5 Lakh limit: The 5 lakh limit covers all your deposit with the bank in form of savings account, fixed deposit, current account, recurring deposit, etc. and any interest accrued. For e.g. If you have Rs 1,00,000 in your savings account and Rs 4,50,000 in fixed deposit and Rs 40,000 as interest due on your fixed deposit – you would still get Rs 5 Lakh even though your total amount due was Rs 5.9 lakhs (1,00,000 + 4,50,000 + 40,000).
The Rs 5 lakh deposit insurance covers each bank and it does not treat different branch of the same bank separately. So if you have Fixed deposit of Rs 3,00,000 in SBI, Delhi and Rs 7,00,000 in SBI, Gurgaon – in case of bank default you would be paid Rs 5 Lakh only – as the deposit insurance is at bank level and not branch level. In a different scenario if you have Rs 3,00,000 FD with SBI, Delhi and Rs 4,00,000 FD with ICICI bank, Delhi – in case of both bank defaults – you would be paid separately for both i.e. Rs 3,00,000 for SBI and Rs 4,00,000 for ICICI.
The amount paid to depositor would be net of any dues payable to the bank. For e.g. as in the case above if you had to pay bank Rs 20,000 personal loan. You would be paid back Rs 1,04,000 – 20,000 = Rs 84,000 only.
The DICGC is liable to pay the insurance amount within two months of receiving the depositors list from the bank.
Get Highest Fixed Deposit Interest Rates
As of today all banks including commercial banks, local area banks, rural banks, foreign bank branches and co-operative banks in India, are covered under this scheme of DICGC except the co-operative banks of Meghalaya, Chandigarh, Lakshadweep and Dadra & Nagar Haveli.
There are some banks which are de-registered. You can get the list on DICGC website. Almost all these banks are co-operative banks which is a huge risk.
The insurance is based on "same right and same capacity" as on the date of bank default.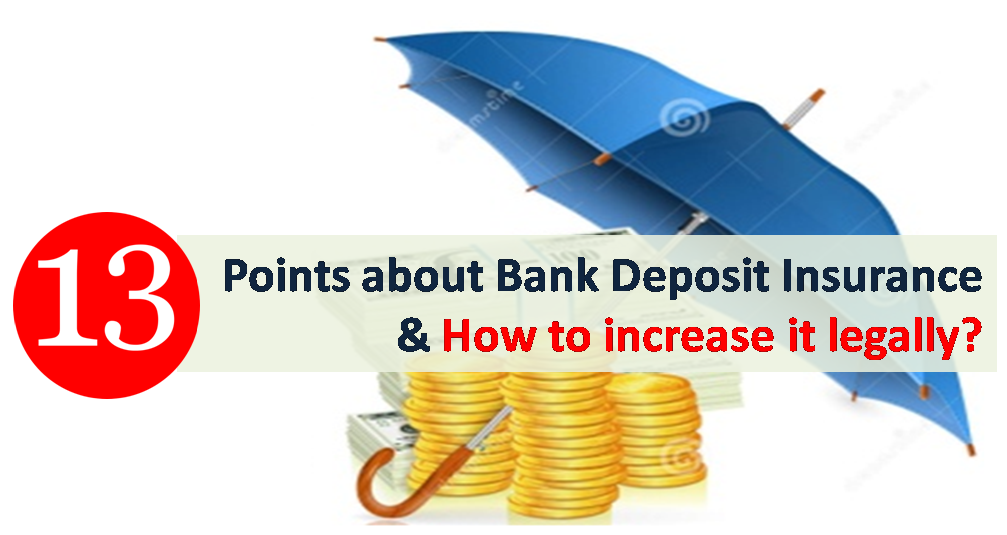 Understanding "Same Right and Same Capacity" in Deposit Insurance
This is an important concept and can help you enhance the deposit insurance legally.
As stated above all deposits i.e. savings, current, FD, RD, etc. across various branches of the bank, held by you in your individual name, would be treated as in "same right and same capacity" and considered as one total amount for insurance purposes.
But would be treated as held in "different right and different capacity" in following cases:
Account held in the capacity of a partner of the firm
As a guardian of a minor
As a director of a company
As a Trustee
As a Joint Account
And so each of them would be separately insured as shown in the example below.
Deposit Insurance for Joint Accounts
If you hold joint account, the sequence of name is considered as different entity. So if you have two joint accounts with your spouse where in one case you are first holder and in second case your spouse is the first holder, both accounts would be considered as 2 entities and separate deposit insurance would apply.
23 Most common Investments and How they are Taxed in 2021?
How can you Increase your Bank Deposit Insurance?
Taking example of 3 people in the family – husband, wife and child (H, W, C) – how much can be the max deposit insurance cover?
Individual accounts – H, W, C – 3 entities possible
Joint accounts for 2 (H,W) (W,H) etc – 6 entities possible
Joint account for 3 (H,W,C) (W,H,C) etc – 6 entities possible
Theoretically if you use all combinations within family of 3, you can get deposit insurance up to 75 lakhs in one bank. If you use multiple banks, it would increase manifold.
The table below gives an illustration of the possibilities:
Here is the word of caution – it would be nightmare to maintain so many accounts. In case of joint account the tax liability is of the first account holder and tax clubbing provisions would apply if it's your money in all the accounts.
To Conclude
Bank Deposit Insurance is a safety net given to depositors. However getting money bank in case of a bank default is a struggle. The least inconvenience you can expect is a delay in getting your money back and in extreme cases not getting a single penny back. There have been cases where it has taken 10 years or more to get the money paid back through this insurance. There may be lot of paperwork, running around, protests, legal cases coupled with the financial stress you would be dealing with.
Taking all this in account, choose a bank which is safe to bank with. The least you can do is stay away from co-operative banks. They are very risky and every year, RBI takes some actions on few dozens on them and even shutting down a few. Choose carefully, so that you don't ever need to use the safety net of Bank Deposit Insurance – believe me the financial and mental stress is not worth it.