You might have received Whatsapp forward or read somewhere on social media about a new proposed Financial Resolution and Deposit Insurance Bill (FRDI) which has a "Bail-in" clause where in case of bank failure, depositors money like fixed deposits, savings bank account, etc can be used to absorb bank losses. This is just a proposed bill and it has not passed as law but still this has made every depositor very worried. Unfortunately many even may not know how safe are their deposits right now mainly because RBI made sure that most depositor have not lost money in any large bank failures. We tell you about Bank Deposit Insurance and How to increase it legally!
1. Bank Deposit Insurance is covered by Deposit Insurance and Credit Guarantee Corporation (DICGC) which is subsidiary of RBI.
2. The maximum deposit insurance cover is for Rs 1 lakh per customer per bank.
3. The insurance premium is paid by banks and depositors are not charged for the same.
4. The Deposit insurance was introduced in 1962 and the maximum cover was Rs 1,500.
Also Read: Highest Interest Rate on Bank Fixed Deposits (FD)
5. The Rs 1 Lakh limit was set in year 1993 and has not been revised for 23 years. Assuming modest 6% inflation the insurance amount should have been raised to Rs 4 Lakhs. I hope RBI is listening!
6. Earlier the insurance amount was revised regularly. Here is the deposit Insurance over the years:
1962: Rs. 1,500
1968 : Rs.5,000
1970 : Rs.10,000
1976 : Rs.20,000
1980 : Rs.30,000
1993 : Rs.1,00,000
7. Understanding 1 Lakh limit: The 1 lakh limit covers all your deposit with the bank in form of savings account, fixed deposit, current account, recurring deposit, etc. and any interest accrued. For e.g. If you have Rs 10,000 in your savings account and Rs 85,000 in fixed deposit and Rs 9,000 as interest due on your fixed deposit – you would still get Rs 1 Lakh even though your total amount due was Rs 1.04 lakhs (10,000 + 85,000 + 9,000).
Also Read: 21 Hidden Charges in Saving Bank Account
8. The Rs 1 lakh deposit insurance covers each bank and it does not treat different branch of the same bank separately. So if you have Fixed deposit of Rs 90,000 in SBI, Delhi and Rs 75,000 in SBI, Gurgaon – in case of bank default you would be paid Rs 1 Lakh only – as the deposit insurance is at bank level and not branch level. In a different scenario if you have Rs 90,000 FD with SBI, Delhi and Rs 75,000 FD with ICICI bank, Delhi – in case of both bank defaults – you would be paid separately for both i.e. Rs 90,000 for SBI and Rs 75,000 for ICICI.
9. The amount paid to depositor would be net of any dues payable to the bank. For e.g. as in the case above if you had to pay bank Rs 20,000 personal loan. You would be paid back Rs 1,04,000 – 20,000 = Rs 84,000 only.
10. The DICGC is liable to pay the insurance amount within two months of receiving the depositors list from the bank.
11. As of today all banks including commercial banks, local area banks, rural banks, foreign bank branches and co-operative banks in India, are covered under this scheme of DICGC except the co-operative banks of Meghalaya, Chandigarh, Lakshadweep and Dadra & Nagar Haveli.
12. There are some banks which are de-registered. You can get the list on DICGC website. Almost all these banks are co-operative banks which is a huge risk.
Also Read: Which bank offers highest interest rate on savings account in India?
13. The insurance is based on "same right and same capacity" as on the date of bank default.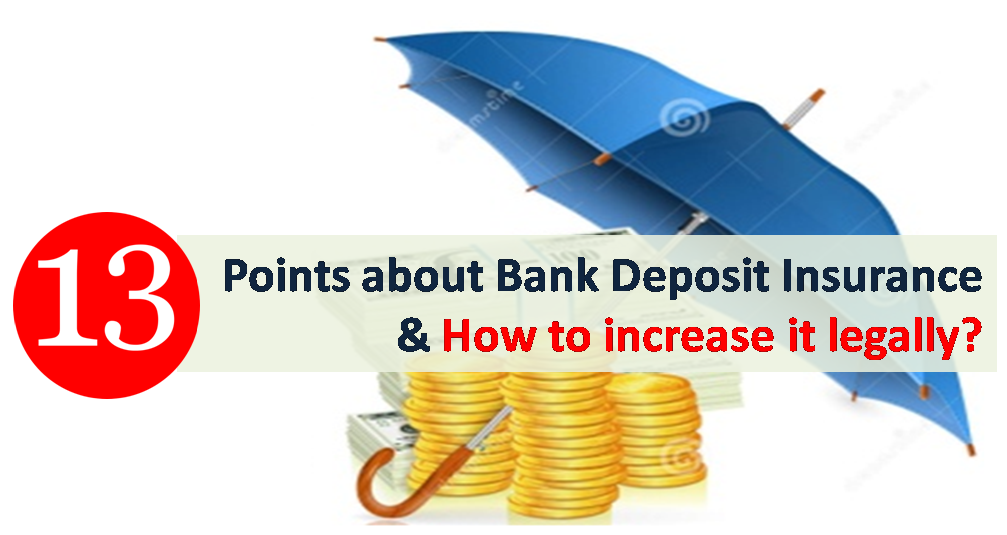 Understanding "Same Right and Same Capacity"
This is an important concept and can help you enhance the deposit insurance legally.
As stated above all deposits i.e. savings, current, FD, RD, etc. across various branches of the bank, held by you in your individual name, would be treated as in "same right and same capacity" and considered as one total amount for insurance purposes.
But would be treated as held in "different right and different capacity" in following cases:
Account held in the capacity of a partner of the firm
As a guardian of a minor
As a director of a company
As a Trustee
As a Joint Account
And so each of them would be separately insured as shown in the example below.
Deposit Insurance for Joint Accounts:
If you hold joint account, the sequence of name is considered as different entity. So if you have two joint accounts with your spouse where in one case you are first holder and in second case your spouse is the first holder, both accounts would be considered as 2 entities and separate deposit insurance would apply.
Also Read: Where to Park Money for Very Short Term?
How can you enhance your Deposit Insurance?
Taking example of 3 people in the family – husband, wife and child (H, W, C) – how much can be the max deposit insurance cover?
Individual accounts – H, W, C – 3 entities possible
Joint accounts for 2 (H,W) (W,H)  etc – 6 entities possible
Joint account for 3 (H,W,C) (W,H,C) etc – 6 entities possible
Theoretically if you use all combinations within family of 3, you can get deposit insurance up to 15 lakhs in one bank. If you use multiple banks, it would increase manifold.
The table below gives an illustration of the possibilities: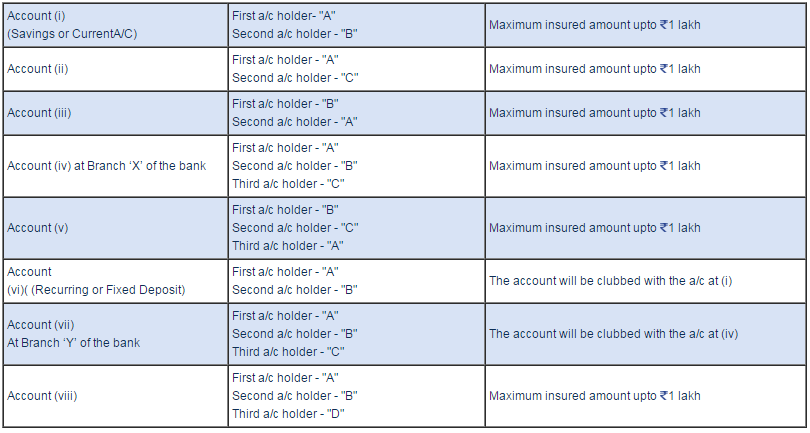 But here is the word of caution – it would be nightmare to maintain so many accounts. In case of joint account the tax liability is of the first account holder and tax clubbing provisions would apply if it's your money in all the accounts.
Also Read: How safe is your Bank Fixed Deposit?
Also there have been cases where the defaulting bank does not send depositor information to DICGC on time and so depositors keep on waiting.
So even though there is a safety net, you should choose the right bank so that you do not struggle if there is a default.