Aadhaar today is the most important identity document in India as this has to be linked to various services like bank accounts, investments, insurance, mobile connections, PAN card. Additionally you need Aadhaar for getting new mobile connection or open new bank account.
With rising importance Aadhaar, it is also eye candy for fraudsters mainly for identity theft. Thankfully UADAI, the authority which controls Aadhaar has come out with this new service where you can track your Aadhaar usage for last 6 months.
Type of Aadhaar Verification:
Aadhaar can be verified in the following ways:
Demographic (based on Name, Gender, Date of Birth, and Address): When you submit Aadhaar to insurance company, EPF, Mutual funds, these organizations verify the same form UADAI database.
One-Time Password (Through the use of one-time password): Used while linking your Aadhaar card to your bank account, insurance, etc
Biometric (Through fingerprints or IRIS): Used while opening bank account or getting a new SIM.
Combination of the above 3 methods: There can be two or more combinations of above verification methods.
Dynamic OTP through mAadhaar app: Dynamic OTP can be used in some cases like while changing address in Aadhaar.
Also Read: 5 Steps to Link Aadhaar to your LIC Policies Online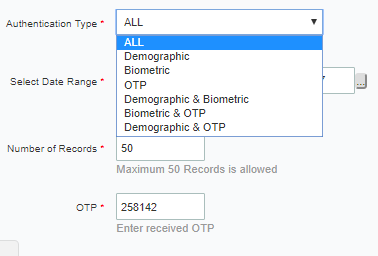 How to check Aadhaar Verification History?
You can easily check the Aadhaar Authentication/Verification history by following the following steps.
Step 1: Visit UADAI Aadhaar portal
Step 2: Click on Aadhaar Authentication History

Step 3: Enter your Aadhaar number and security code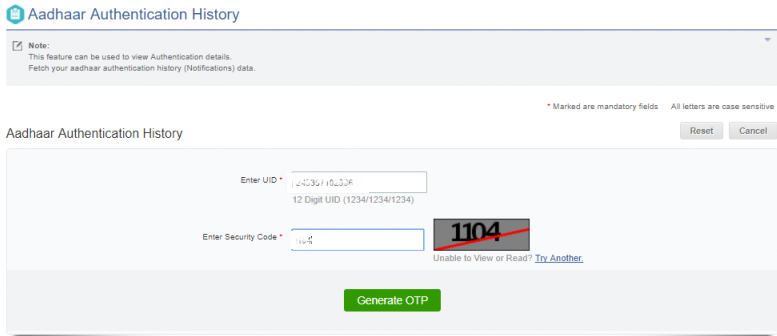 Step 4: Select the type of Verification (You can select ALL). Select the date range (Maximum allowed is last 6 months). Select the Number of Records (Maximum is 50 records).
Then enter the OTP received.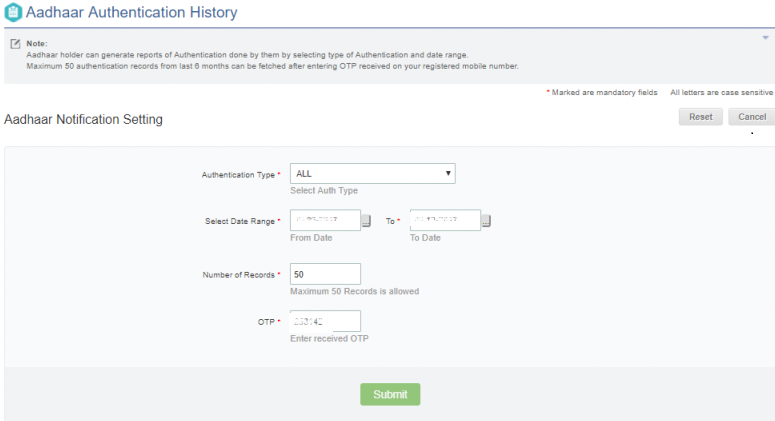 Step 5: Press Submit to View the Entries.
Most of data is in coded format and hence difficult to comprehend. But you can still make sense of most of it. You can check the results and compare to see if your Aadhaar has been misused! In case your email is registered in Aadhaar, you can compare above results with the email you might have received while each verification – check email from [email protected]