Everyone wants to save taxes but don't want to spend time to understand How they can do it! In fact saving and investing money is as important if not more than earning it.
Keeping this in mind I have prepared a 43 slides presentation covering all sections under which you can save tax for this financial year FY 2013-14 (AY 2014-15).
The focus of presentation is to give you a Quick, Simple yet Exhaustive list of tax saving sections/ options and respective investments.
This is start of the financial year and it would help you to plan your tax saving investments for the entire year in advance, saving the last minute rush and investing in products which you never wanted
[button link="https://apnaplan.files.wordpress.com/2018/02/how_to_save_tax_for_fy2013_14.pdf" size="large" style="download" color="darkcyan" text="light"]Download Tax Planning eBook for FY 2013-14 [AY 2014-15] (2.46 MB)[/button]
Here are some sample pages:
We always worry about taxes and have questions but don't know who to ask!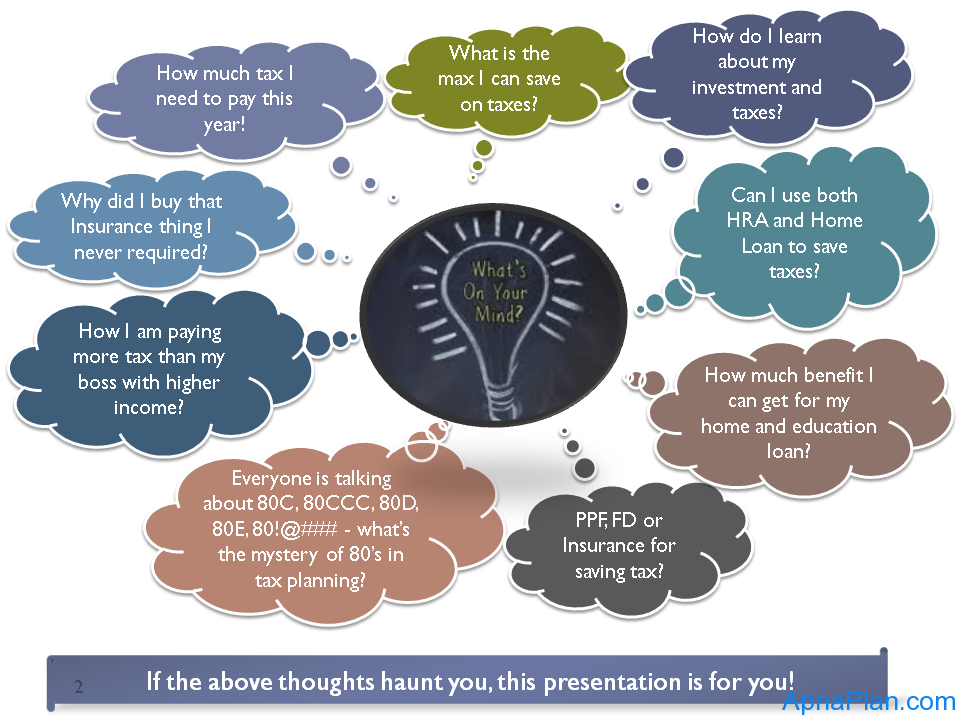 The presentation lists down all the tax saving sections available for individuals. Below is just one of the pages: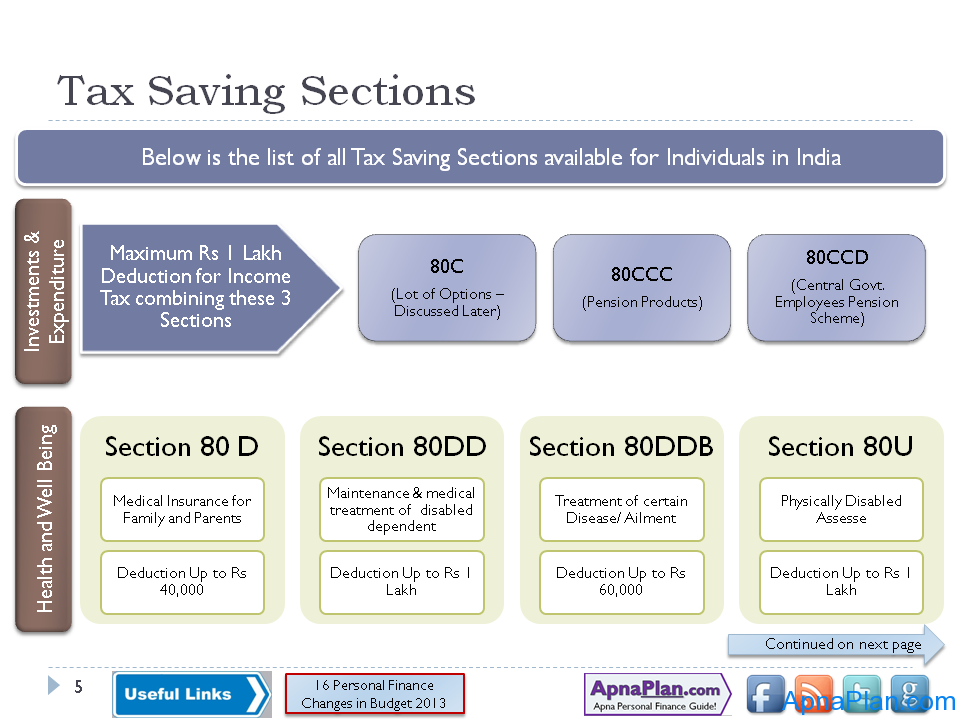 The list of investment options available u/s 80C, 80CCC and 80CCD. This is the most popular section for claiming exemption up to Rs 1 lakh. Look at the list and you might find some options of tax saving you might not be aware about!
PPF – One of the most popular tax saving options u/s 80C. The slides covers details of all the investment options in similar format listing a brief introduction, the pros and cons and some helpful tips!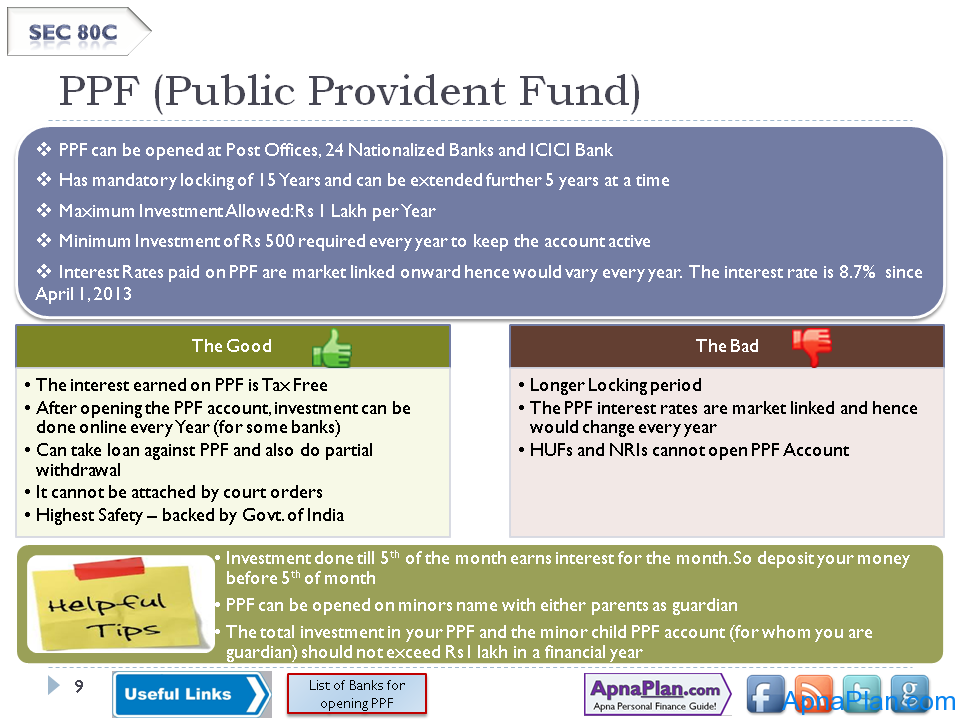 Some components of your salary are fully taxable while there are others which are partially taxable or tax free. In case you get the flexibility to design your salary, you should try to maximize the partially taxable or tax free component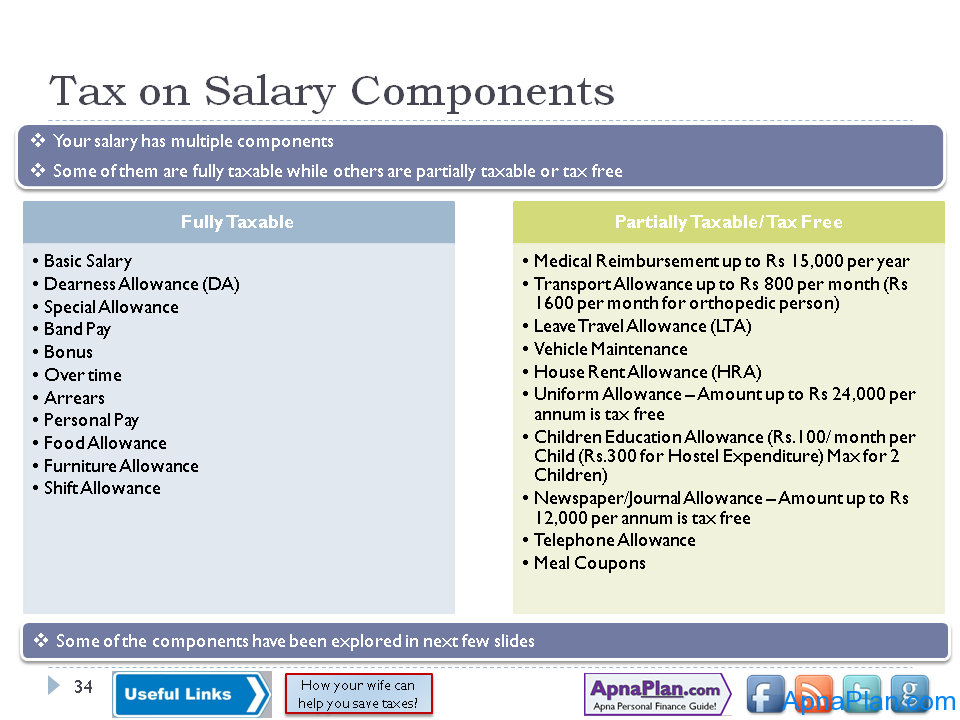 Example of Tax Free part of Salary – Meal Coupons, LTA, Mobile Phone Bills. The slide lists down some rules under which these allowances are tax free.
Download Link:
[button link="https://apnaplan.files.wordpress.com/2018/02/how_to_save_tax_for_fy2013_14.pdf" size="large" style="download" color="darkcyan" text="light"]Download Tax Planning eBook for FY 2013-14 [AY 2014-15] (2.46 MB)[/button]