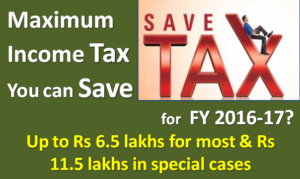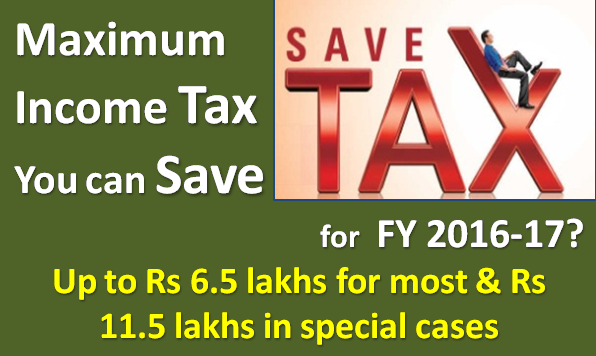 Paying taxes is painful and so everyone is looking ways to save tax. I am often asked – what is the maximum tax I can save?
Tax laws keep changing year on year especially in Budget. We publish a eBook every year after budget which tells you about all tax saving options that are available to an individual. In this post we summarize all the tax saving sections.
Broadly speaking If you are able to avail all these sections you can make more than Rs 11 Lakhs income tax free. But unfortunately not all sections would be applicable for you.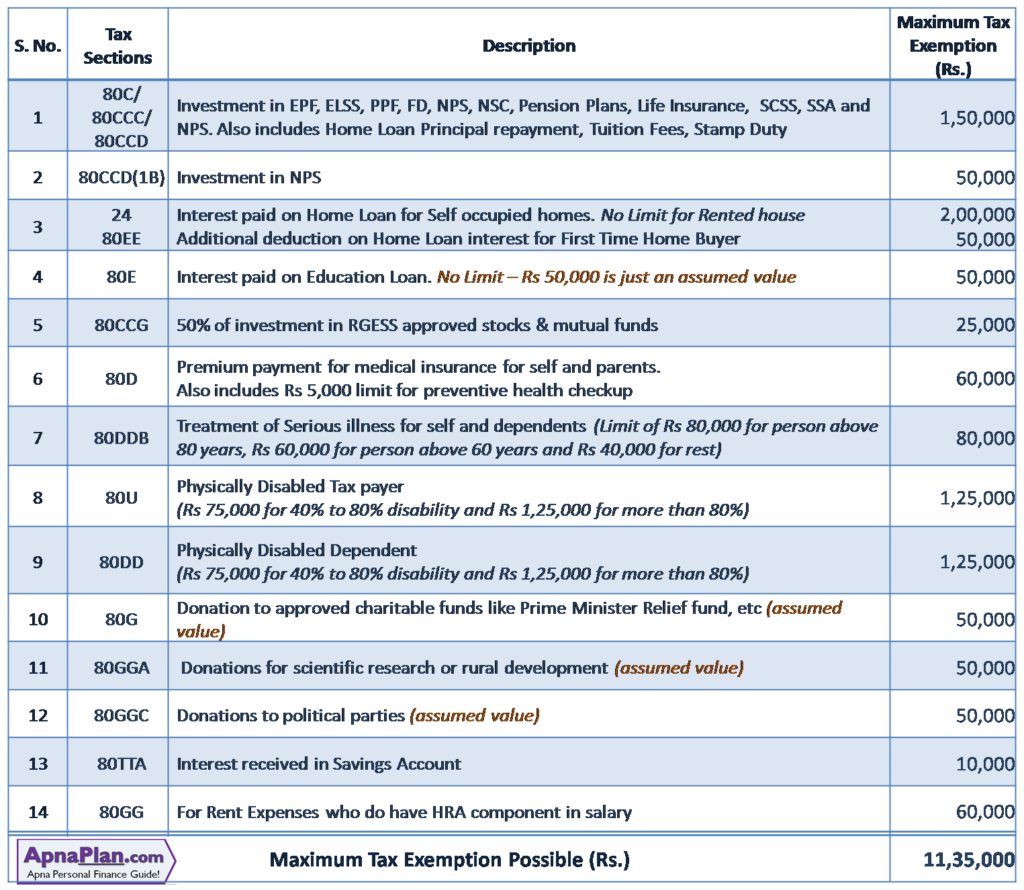 The Problem:
Though 11 Lakhs sounds big amount but most people would avail only few of the above. Here is the reason:
Rs 1.5 Lakhs exemption for donation:  Now people donate for a cause and their passion/empathy and not to save taxes. It's just that tax exemption sweetens the deal!
Rs 2.5 Lakhs exemption on account of tax payer or his dependent being physically disabled. This is a much needed exemption but applies to very few tax payers.
Rs 80,000 deduction for treatment of serious illness is something that very few tax payers would take advantage of.
Download: Excel based Income Tax Calculator for FY 2016-17 [AY 2017-18]
So out of Rs 11 lakhs, around 5 lakhs exemption would be claimed by very few tax payers and in special cases only.
Most tax payers even after using all the tax saving sections would be able to claim tax benefit up to Rs 6  to 6.5 Lakhs.
Tax Saving Sections Summary:
Below is the recap of all tax saving sections for FY 2016-17:
Section 80C/80CCC/80CCD: Investment in EPF, ELSS, PPF, FD, NPS, NSC, Pension Plans, Life Insurance, SCSS, SSA and NPS. Also includes Home Loan Principal repayment, Tuition Fees, Stamp Duty (Best Tax Saving Investments u/s 80C)
Section 80CCD(1B): Investment in NPS (Should you Invest Rs 50,000 in NPS to Save Tax u/s 80CCD (1B)?)
Section 24: Interest paid on Home Loan for Self occupied homes. No Limit for Rented house
Section 80EE: Additional exemption on Home Loan Interest for First time home buyers. (Budget 2016)
Section 80E: Interest paid on Education Loan. No upper/lower Limit! (Tax Benefit on Education Loan (Sec 80E))
Also Read: 25 Tax Free Incomes & Investments in India
Section 80CCG: 50% of investment in RGESS approved stocks & mutual funds. Max investment limit is Rs 50,000 (RGESS – Save Taxes up to Rs 25000)
Section 80D: Premium payment for medical insurance for self and parents. Also includes Rs 5,000 limit for preventive health checkup (Making Sense of Tax Benefit on Health Insurance u/s 80D)
Section 80DDB: Treatment of Serious illness for self and dependents (Limit of Rs 80,000 for person above 80 years, Rs 60,000 for person above 60 years and Rs 40,000 for rest)
Section 80U: Physically Disabled Tax payer (Rs 75,000 for 40% to 80% disability and Rs 1,25,000 for more than 80%)
Section 80DD: Physically Disabled Dependent (Rs 75,000 for 40% to 80% disability and Rs 1,25,000 for more than 80%)
Section 80G: Donation to approved charitable funds like Prime Minister Relief fund, etc
Section 80GGA: Donations for scientific research or rural development
Section 80GGC: Donations to political parties
Section 80TTA: Interest received in Savings Account
Section 80GG: In case you do not receive HRA from employer or are self-employed but NO house in your name (Claim Tax Benefit for Rent Paid u/s 80GG)