A lot of tax payers who had filed their return for AY 2017-18 have received email from [email protected] with subject "Communication u/s 143(1)(a) for PAN XXXxxxxxXX for the A.Y. 2017-18". The email reads as follows: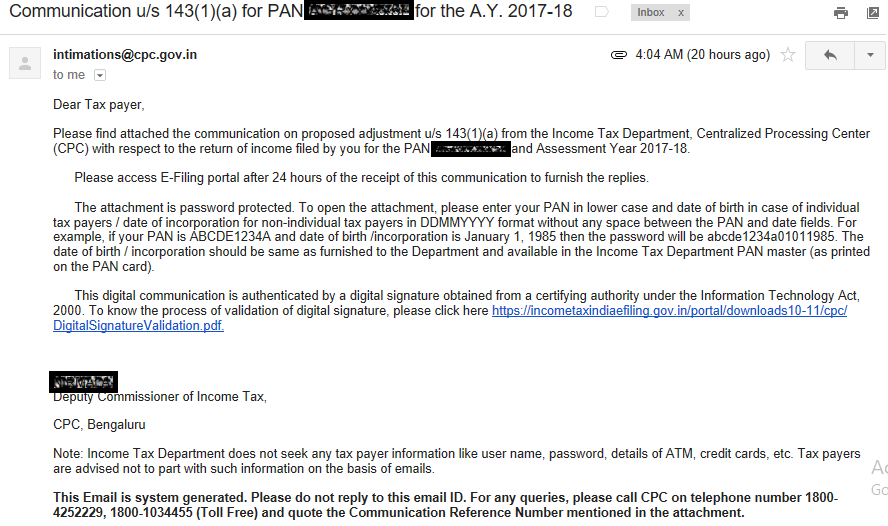 The PDF attachment is a notice from Income Tax Department with Subject "Communication of proposed adjustment u/s 143(1)(a) of Income Tax Act, 1961". You can read the complete letter below: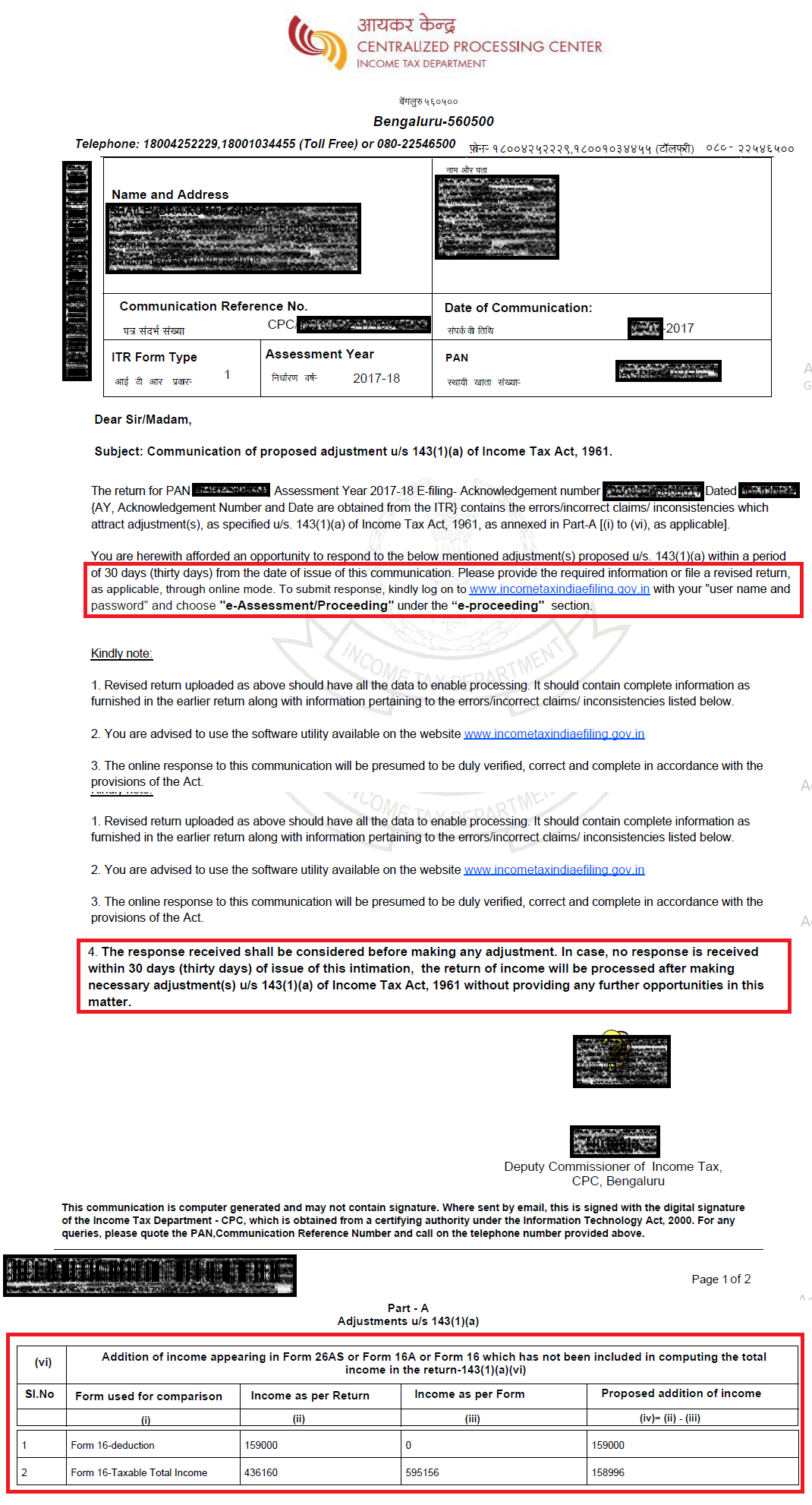 Here are important points:
The letter essentially says that there is a mismatch between the income and deduction you have filed when compared to Form 16, Form 16A or Form 26AS. So the income tax department has given a time of 30 days to respond to the notice.
Download: The ultimate ebook guide to Save Tax
It goes on to say "In case, no response is received within 30 days (thirty days) of issue of this intimation, the return of income will be processed after making necessary adjustment(s) u/s 143(1)(a) of Income Tax Act, 1961 without providing any further opportunities in this matter."
Then it goes on to show the calculation as below:
Unfortunately the calculation is confusing and many taxpayers get confused on what it means. What is happening the income tax department is making the deductions you claimed while filing returns under Chapter VIA (which includes 80C, 80CCD(1), etc.) as invalid.
As in the above example,
The total income was Rs 5,95,156
The deduction was Rs 1,50,000 under section 80C and Rs 9,000 u/s 80TTA for interest in savings bank account – making total deduction as Rs 1,59,000
So Net Taxable income = Rs 5,95,156 – Rs 1,59,000 = Rs 4,36,160
The tax would be calculated on Rs 4,36,160 which comes out to be Rs 8,874 including cess (as tax payer in this case is senior citizen).
What is happening now the tax department calculation is ignoring the deduction which makes NET taxable amount as Rs 5,95,156 leading to tax of Rs 40,202 including cess.
Who are impacted?
I have been receiving a lot of queries regarding such notices and as this is happening for the first time NO one was aware what needs to be done. It seems all people who have even slightest mismatch in there Form 16/16A/26AS with the tax filing have got the notice. This has impacted all Pensioners as the numbers cannot match for them as they are not required to furnish proof of tax saving investments to anyone. Also people who have claimed deduction which was not part of their Form 16 such as exemption of Rs 10,000 under section 80TTA have got such notices.
What to Do?
A lot of tax payers have enquired about this letter/notice with the Income Tax Helpline @ 18001034455 and it says there was some bug in the system which has generated these emails. Unfortunately it has been more than 3 days but NO official communication has been forthcoming from income tax department.
As there is No further clarification from Tax department you should start responding to the notice. Learn How to Respond to Notice u/s 143(1)(a) for A.Y. 2017-18?
If you think you disclosed all information and there is no fault of yours I would recommend you to wait for few more days. Anyway the Income tax return filing website has started crashing and you would not be able to work on it until July 31. Hopefully they would have some confirmation by then!
We received this comment from Apurva:
Hi, I also received the same notice and while checking in E-Proceedings > E-Assessment/Proceedings section, I found message of 'No records found'. I called to Call center no. 18001034455 mentioned in the communication and they told that ignore this communication for now and they will send the revised communication further. I also noted down the complaint no. while call. I request you to check E-Proceedings and call to Call Center if that is the case for you.
Please share your experience as it would be helpful for others too…