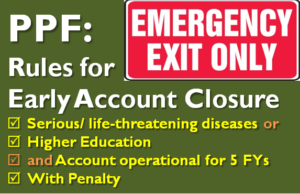 Government of India notified that PPF account holders can now close their PPF accounts prematurely in certain extreme cases with penalty. We explain you the conditions and the penalty impact.
When can PPF Account be Closed before Maturity?
The PPF account can be closed before maturity if it has been operation for at least 5 financial years and fulfils any of the two listed conditions.
Treatment of serious ailments or life-threatening diseases of the account holder, spouse, dependent children or parents. You will need to produce relevant supporting documents from competent medical authority.
Higher education of the account holder: In this case you will need to produce documents and fee bills showing confirmation of admission in a recognized institution in India or abroad
Other than this you cannot close your PPF account prematurely. However PPF account can be closed anytime on death of the account holder.
Also Read: All you wanted to know about PPF
Penalty for Premature Closure of PPF
The early closure of PPF comes with penalty. You will get 1% less interest than the notified interest rate every year since the account was open. This turns out to be hefty if the account has been operational since long. The table gives a case which shows the penalty for this premature closure.

As can be seen the effective penalty could be as high as 4% to 8% depending on tenure of your deposit and how much you have deposited in early years.
Download Excel based PPF Calculator for Maturity, Loan & Partial Withdrawal
Things to Note:
PPF is almost risk free and tax free investment and one of the best fixed income investments. Even before this notification you could make partial withdrawals or take loan against PPF balance – so you should first try those options. Premature withdrawal of PPF should be your last option.