PPF (Public Provident Fund) is one of the most popular and probably one of the best investment options in India. And rightly so because of the features, tax benefit and almost risk free returns that it offers. In this post we discuss everything you wanted to know about PPF.
Who can Open PPF Account?
Any citizen of India irrespective of Income Source can open PPF Account.

NRIs cannot open PPF account nor can they extend their existing PPF after maturity. However through a notification in July 2003, they are allowed to continue to make deposit to the existing account they opened before becoming NRIs.
HUFs are no longer allowed to open PPF accounts.
No joint holding is allowed in PPF. The account can only be opened in single name.
Can PPF Account be opened for Minors?
PPF Account can be opened for minors under the guardianship of the parent. Either of the parent (husband or wife) can be the guardian of the child.
Also Read: Download PPF Calculator – With Max Eligible Loans & Withdrawals
How to open PPF Account?
PPF account can be opened in Post Offices and the following banks:
| | | |
| --- | --- | --- |
| Allahabad Bank | Corporation Bank | Syndicate Bank |
| Andhra bank | Dena Bank | UCO Bank |
| Bank of Baroda | IDBI Bank | Union Bank of India |
| Bank of India | Indian Bank | United Bank of India |
| Bank of Maharashtra | Indian Overseas Bank | Vijaya Bank |
| Canara Bank | Punjab National Bank | ICICI Bank Ltd |
| Central Bank of India | State Bank of India | |
PPF account in most of the banks can now also be operated online.
At times banks may not be very keen to open PPF account as they do not get to use the money. The immediately transfer the money to RBI. They only get commission on the amount collected. So banks try to sell you products which are more profitable for them.
Also Read: Best Tax Saving Investments u/s 80C
Interest Rate on PPF
The interest rate is marked to the average Government bond yields and is notified at the beginning of every financial year on April 1 would be notified at the beginning of every quarter. This change is effective from April 1, 2016. The interest rate as of FY 2019-20 (April to June) is 8.0% (The interest rate is fixed 0.25 per cent above the 10-year government bond yield) (Click to check latest interest rates on PPF)

The interest is compounded annually and is credited to the account at the end of financial year.

The interest in PPF is calculated on minimum balance between 5th to the last day of the month. So you should make your investment before 5th of the month or it would not get interest for the month.
Also Read: Highest Interest Rate on Bank FD – compared across 48 banks
Best Features of PPF
PPF has sovereign guarantee which mean the principal and interest is guaranteed by Government of India. This makes its Credit risk almost zero!
PPF cannot be attached by courts or government under any circumstances.
The tax on PPF is EEE (Exempt- Exempt- Exempt) which means that there is tax benefit when investment is made, there is no tax when the investment earns interest every year and there is also no tax when the investment is withdrawn on maturity.
The investment in PPF up to Rs 1,50,000 is exempted from income tax u/s 80C. [Budget 2014]
Also Read: Best ELSS (Tax Saving Mutual Fund) to Invest in 2019
Withdrawals from PPF
The withdrawal from PPF depends on the number of years the account has been active:
The entire amount can be withdrawn on completion of 15 years

The first withdrawal can be made from 7th year of account being opened

The maximum that can be withdrawn in any year is minimum of (50% of balance at end of 4 years or 50% balance at end of previous year)

Only one withdrawal can be made in one financial year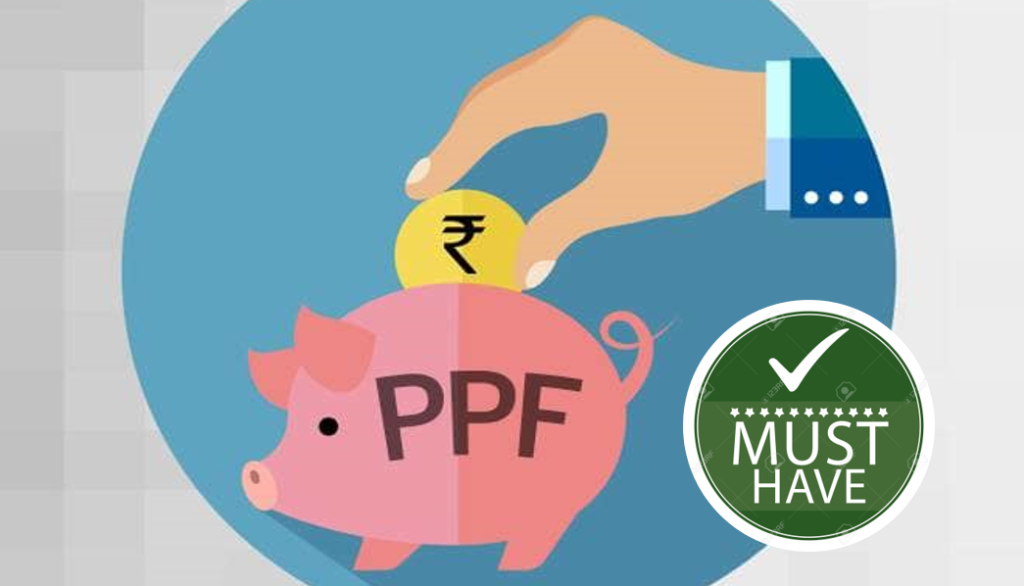 Premature Closure of PPF
Effective April 1, 2016 premature closure of PPF would be allowed in special cases such as cases of serious ailment, higher education of children etc. This shall be permitted with a penalty of 1% reduction in interest payable on the whole deposit and only for the accounts having completed five years from the date of opening.
Also Read: 13 Investments to Generate Regular Income
Loan against PPF
You can take loan against PPF balance based on the following conditions:
Loan can only be taken between 3rd year to 6th year of opening account
The interest would be 2% more than the prevailing interest rate on PPF
The repayment period is 24 months. The loan can be either paid monthly or in lump-sum
The maximum loan amount is 25% of the amount that was present 2 years back preceding to the current loan date
Extension of PPF Accounts
The PPF account can be extended by a block of 5 years after completion of compulsory locking period of 15 years. There is no limitation on number of times extension is sought. After completion of fist 5 years extension, a fresh request may be given for further extension. So you can keep a PPF account active indefinitely.
There can be two kind of extension request:
Extension without contribution – The balance in the account will continue to earn interest at the prevailing rates till the closure of account. In case the account is extended without contribution, any amount can be withdrawn without restrictions only once every year.
Extension with contribution – in this case withdrawal up to 60% of the balance at the beginning of each extended period (block of five years) is allowed.
Also Read: Should you Invest Rs 50,000 in NPS to Save Tax u/s 80CCD (1B)?
What happens after Demise of PPF holder?
Nomination facility is available for PPF Account. Infact it's compulsory to fill your nomination while opening PPF account

The PPF account can be closed on demise of the account holder even before completion of 15 Years and the amount is given to the nominee

The other option is to let the account remain open till maturity. It will continue to earn interest but no further contribution can be made to the account

If no Nomination was made, the amount would be passed to the legal heir
Limitations of PPF Account
One Person can only open one PPF Account. If additional account is found, no interest would be paid on that.
The limit for deposit on PPF has been increased to Rs 1.5 Lakhs per year from Budget 2014. If you manage to deposit more than that in financial year, no interest would be paid on that.
You need to invest minimum of Rs 500 in a financial year.
On non-deposit of at least Rs 500 in a financial year the account is discontinued. The discontinued PPF account continues to earn interest.
To revive the discontinued PPF account, you need to pay penalty of Rs 50 per year of non-payment along with the deposit of Rs 500 per missing payment year.
The deposit should be in multiple of Rs 10. You cannot deposit Rs 501 but deposit Rs 500 or Rs 510.
You can make maximum of 12 deposits in a financial year. It need not necessarily be monthly.

The above limit of Rs 1.5 lakh per year is on a person and not on account which means the total investment limit considers the sum of money deposited in own PPF account and other account in which you are the guardian.

For e.g. if you have one PPF account on your name and another PPF account on your minor child name with you as the guardian. So for calculating your total deposit limit you need to add investment in both the accounts. So for all practical purpose both accounts are seen as one.
Also Read: Child Plans from Mutual Funds – Should you Invest?
Conclusion
PPF is rightly one of the best fixed income investment options in India and can serve as a powerful instrument for accumulating savings for Retirement.