SBI CIF Number or Customer Identification File is a virtual file with the bank which contains all personal & financial details of a customer. This means it has all information including valid photo id, signature, address details, etc. It links all relationship of the bank like savings account, fixed deposit or loans. This is also used by banks to determine TRV(Total Relationship Value) or CRV (Customer Relationship Value) which in turn decides the customer tier and fees associated with different products. In simple terms CIF Number is your customer number with the bank and all your accounts are linked to the same CIF number.
How to find SBI CIF Number Online?
The SBI Net banking portal has your CIF Number and you can find that in multiple ways.
1. Click "View Nomination and PAN Details" on the welcome screen. Clicking this takes you to Account Information Screen which has CIF No.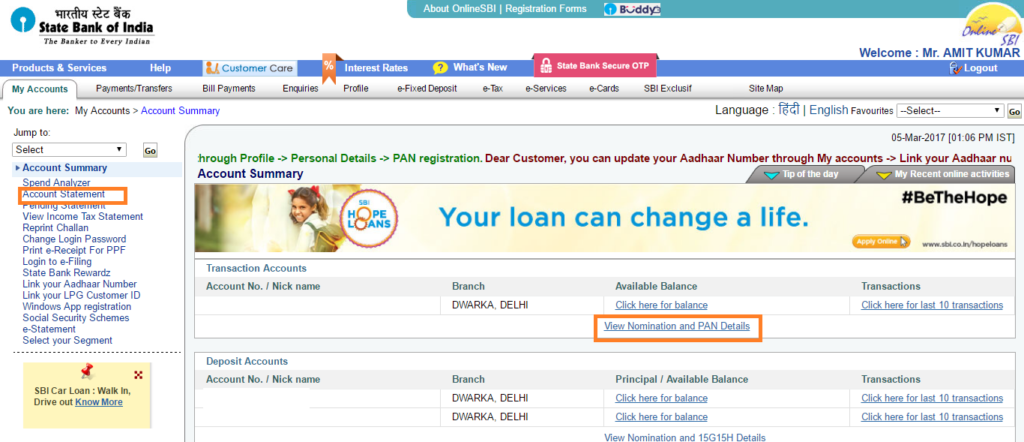 2. Just print account statement between any two dates. It has CIF Number, IFSC code, MICR code along with other details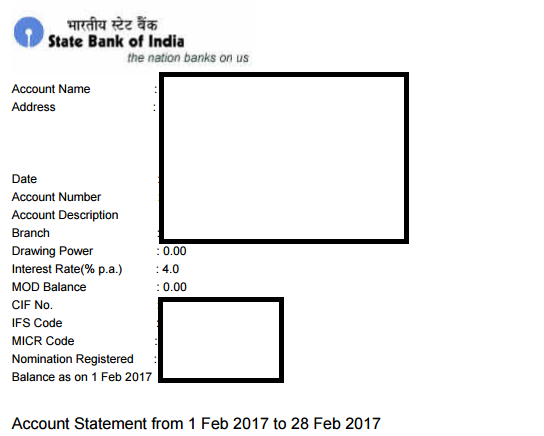 How to get SBI CIF number by App?
You can get your SBI CIF number using the YONO app. Follow the following steps:
Step 1: Login to the YONO app using your account details
Step 2: Click on Service tab
Step 3: Click "Online Nomination"
Step 4: Select type of account as "Transaction Account"
Step 5: Select your Account Number
Your CIF Number would be visible now.
How to get SBI CIF number by SMS?
There is No direct of getting SBI CIF number from SMS. However you can request for e-statement by sending SMS from your registered mobile number. You would get the e-statement on your registered email. Just open it and this has your SBI CIF number. There is no way to know the CIF number from a unregistered mobile number.
How to get SBI CIF Number Offline?
There are three ways you can find your SBI CIF number Offline:
1. In SBI Bank Passbook – The CIF No is printed on the first page of bank passbook along with your other details.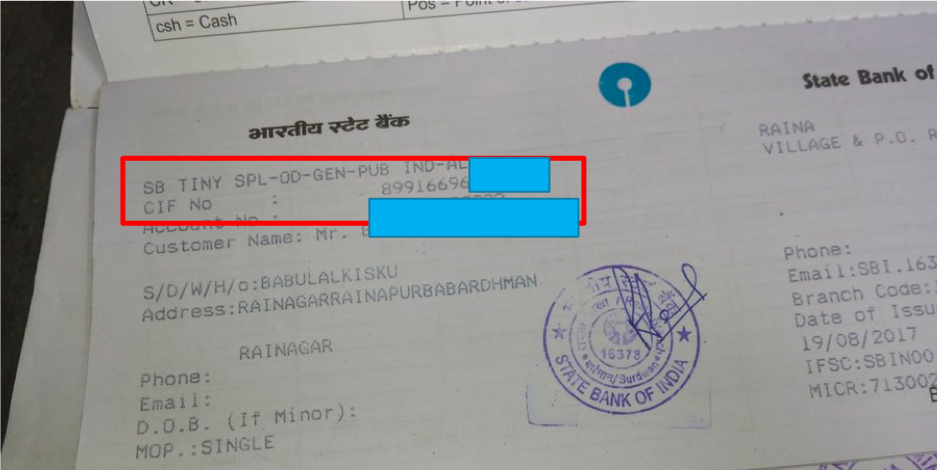 2. Visit Your Bank – Just tell your account number to your bank and they would give you your CIF No
3. Ask Customer Care – You can dial following toll free numbers of SBI – 1800 11 2211, 1800 425 3800 or 080-26599990 give basic details and get your CIF number
How many CIF Numbers you can have?
Earlier there could be multiple CIF numbers for a single person with a bank. But now as per RBI guidelines you a person should have only one CIF number with a bank. All his accounts should be linked to the same CIF.
Do you Know about Hidden Charges in Banks?
SBI CIF Number FAQs
✅What is Full Form of CIF Number?
CIF stands for Customer Identification File
✅How can I get my SBI CIF Number?
There are multiple ways to get your SBI CIF Number. You can get it online using the SBI internet Banking or YONO app. You can also find the same in the SBI bank passbook on the first page containing your details. If you don't have access to any of these you can get the same using phone banking and at last visiting any SBI branch.
✅Can I get SBI CIF Number Online?
SBI CIF number can be found using the SBI internet Banking or YONO app.
✅I don't have internet, how can I get my SBI CIF number offline?
Look at first page of your SBI passbook. It has all your details including name, address and CIF number.
✅Can I get SBI CIF Number from my ATM card?
ATM, Debit or Credit cards do not have CIF Number mentioned.
✅Does Passbook has CIF Number details?
The first page of passbook have all the details of the customer including the CIF number.
✅How to find CIF Number in Cheque book?
The cheque book has the Account number but not the CIF number.
✅How to get SBI CIF Number by SMS?
You cannot get CIF number directly by SMS. You need to request account statement using SMS.
Send an SMS 'ESTMT (space) (Account Number) (space) (code) to 09223588888.
Once you get the e-statement on email, it has the CIF number.
✅Is CIF Number different across banks?
Yes the CIF number is bank specific. For SBI its 11 digits.
✅Is CIF Number and Account Number same?
No you can have multiple account numbers with a bank but would always have one CIF number. So it cannot be same.
✅Is CIF Number and IFSC code same?
CIF number identifies the customer while the IFSC code is used to identify a bank branch uniquely. So both are very different and not related at all.
✅how to get SBI CIF number without passbook?
You can use SBI passbook, toll free number to find the SBI CIF number without passbook. You can also login to your Netbanking or YONO app and get CIN number from there.