The CBDT (Central Board of Direct Taxes) notifies the Cost Inflation Index for Capital Gain every year. The latest Cost inflation index for Financial Year 2021-22 / Assessment Year 2022-23 vide Notification No. 73/2021-Income Tax | Dated: 15th June, 2021 is 317.
What is Cost Inflation Index?
As the name "Cost Inflation Index" suggests it's an index (or number) which measures the inflation (or price increase) every year. We all experience price rise every year. For e.g. Last year you were paying rent for your house as Rs 20,000 per month. After one year, the landlord asked to increase the rent by 10% and now you pay Rs 22,000 per month. So the price increase or inflation on your rent is 10%. This increase can be termed as "personal rental inflation index".
Similarly government measures inflation across wide range of goods and services every year known as Inflation Index. The Cost Inflation Index is 75% of this Inflation Index and is notified every year.
How is Cost Inflation Index calculated?
The Cost Inflation Index is calculated every year by Government of India and is 75% of the consumer price index (CPI) for urban non-manual employees in the last year. The idea here is to give partial tax benefit on the price increase of an asset just due to overall inflation.
Download Capital Gains Calculator
You can download free Excel based Capital gains calculator for Property based on new 2001 series CII (Cost Inflation Index). It calculates both Long Term and Short Term capital gains and associated taxes. You need to feed your property sale & purchase date along with values. There is option to include cost of repairs/improvement that you might have incurred during the holding period.
Cost Inflation Index Table
Budget 2017 has changed the base year for cost inflation index (CII) for calculating capital gains from 1981-82 to 2001-02. This would in most cases be beneficial for tax payers.
The table below shows the Cost Inflation Index Table from FY 2001-02 to present financial year.
| | | |
| --- | --- | --- |
| Sl. No. | Financial Year | Cost Inflation Index |
| 1 | 2001-02 | 100 |
| 2 | 2002-03 | 105 |
| 3 | 2003-04 | 109 |
| 4 | 2004-05 | 113 |
| 5 | 2005-06 | 117 |
| 6 | 2006-07 | 122 |
| 7 | 2007-08 | 129 |
| 8 | 2008-09 | 137 |
| 9 | 2009-10 | 148 |
| 10 | 2010-11 | 167 |
| 11 | 2011-12 | 184 |
| 12 | 2012-13 | 200 |
| 13 | 2013-14 | 220 |
| 14 | 2014-15 | 240 |
| 15 | 2015-16 | 254 |
| 16 | 2016-17 | 264 |
| 17 | 2017-18 | 272 |
| 18 | 2018-19 | 280 |
| 19 | 2019-20 | 289 |
| 20 | 2020-21 | 301 |
| 21 | 2021-22 | 317 |
Cost Inflation Index Table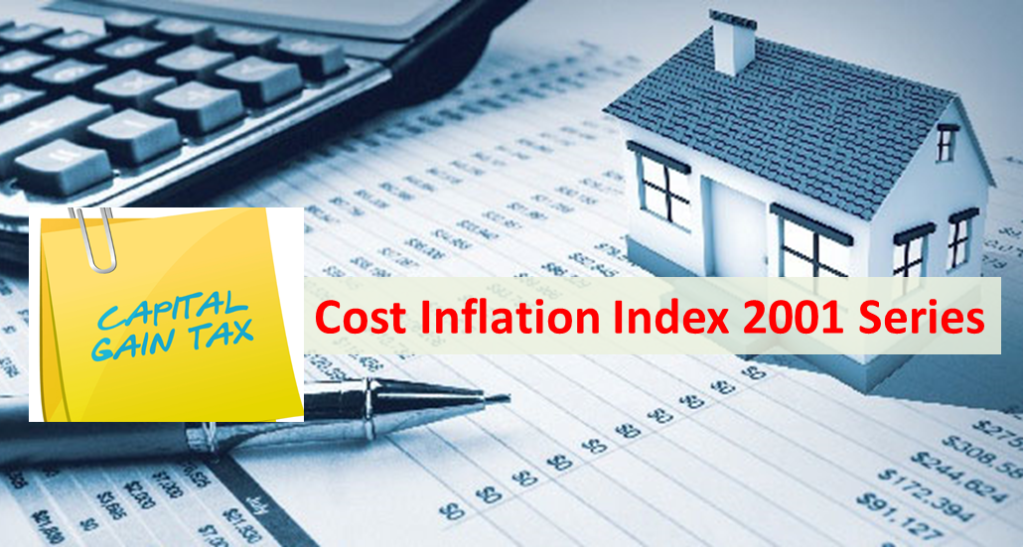 Cost Inflation Index Chart PDF
You can download the Old and New Cost Inflation Index Chart in PDF from the link below