Dengue is in news again and it's time we all take precautions to avoid it. But it's also time to plan what if you get that bite and Dengue strikes. You might want to look at Apollo Munich 'Dengue Care' Health Insurance Plan, a health insurance to take care of out-patient and hospitalization expenses related to Dengue.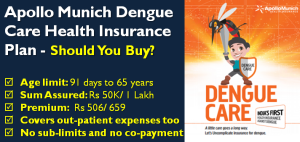 Salient Features:
Below are the features of the Apollo Munich 'Dengue Care' Health Insurance Plan:
Age Eligibility: Available for age group 91 days to 65 years.
Renewal: The policy can be renewed lifelong even after 65 years of age. There is Grace Period of 30 days for renewing the policy.
Sum Assured: There are two sum assured to choose from – Rs 50,000 and Rs 1 Lakh.
Premium: The premium is Rs 506 (including taxes) for Rs 50,000 sum assured and Rs 659 (with taxes) for sum assured of Rs 1 Lakh. The premiums are same for all irrespective of the age.
No Medical Tests are required. Only a declaration is needed that "I do not suffer from dengue".
There are no sub-limits or co-pay clause for hospitalization. (Generally health insurance have restrictions on amount to be spend on room rent, medical procedures, etc called sub-limit. Co-Pay means you pay certain percentage of overall expenses.)
You also get cover for out-patient treatment expenses up to Rs 10,000. This includes consultations, diagnostic tests, medicines, Home Nursing etc taken without getting admitted to the hospital.
Pre and Post Hospitalization Expenses: 15 Days of before and after hospitalization expenses are covered
Waiting Period: A waiting period of 15 days is applicable for the first year. There is no waiting clause on subsequent renewals. Waiting Period means you cannot claim insurance if anything happens in this period. This is to control fraud by insurance company in case a person already suffering from dengue takes the policy.
Tax Benefit: As this is health insurance, the Premium paid is eligible for tax deduction u/s 80D
Also Read: Making Sense of Tax Benefit on Health Insurance u/s 80D
Discount for online buying: A discount of 10% is applicable if you buy it directly from their website.
Cost of Dengue Treatment:
The cost of dengue treatment mainly consists of diagnostic tests (multiple times) and in case it's severe the patient requires hospitalization and platelets transfusion. The diagnostic tests cost anywhere between Rs 5,000 to Rs 10,000 depending on the hospital while the average hospitalization cost could come up to Rs 35,000 and can go up to Rs 70,000 for expensive hospitals.
Recommendation:
Your regular health insurance also covers you for hospitalization expenses related to Dengue, so if you have adequate health insurance you might skip this.
However taking Apollo Munich 'Dengue Care' Health Insurance Plan with existing health insurance plan has three advantages:
Covers out-patient expenses up to Rs 10,000 which most of health insurance excludes
There are no sub-limits and no co-payment clause
You would not lose out on "No Claim Bonus" on your health insurance premium, if you get claim from this plan for Dengue
Also Read: Does Your Life Insurance Offers Tax Benefit?
There is also different school of thought, instead of buying Dengue Care Health plan you can enhance the overall health insurance. For e.g. the premium difference between Rs 2 lakhs and Rs 3 Lakhs plain vanilla health insurance plans is in the range of Rs 700 to Rs 1,600 (shown in table below). This in turn covers more risk.
So my suggestion is
In case you do not have Health insurance, you should first buy health insurance for you and your dependents.
In case you have low sum assured increase your insurance.
And finally when you are adequately insured look for disease specific plans as top-ups to retain no claim bonus.
Whats your thoughts on Apollo Munich Dengue Care Health Insurance Plan?