You might have heard stories where a serious medical condition in a family has drained them of their wealth. These are not just stories but can happen to anyone. To guard against such issues – you must buy Health Insurance. The good part is you also get tax benefit on premium paid for Health insurance. In this post we resolve what's and How's of Tax Deduction on Health Insurance sec 80D!
How much Tax Benefit I get on Health Insurance?
Budget 2018 has enhanced the limit of Health Insurance premium eligible for tax deduction under section 80D for Senior citizens. The limit is Rs 25,000 for people with age less than 60 years and it's Rs 50,000 for senior citizens. You can also claim Rs 5,000 for Preventive Health checkups. This is within the Rs 25,000/50,000 limit.
You can also claim additional tax benefit on Health insurance premiums paid for your parent.
What's the Tax Benefit for Health Insurance of Parents?
You can claim additional tax deduction on the premium paid for Health Insurance of your parents. This can be up to Rs 25,000 in case your parents are below 60 years of age and Rs 50,000 in case any one of your parents is above 60 years of age.
But just paying premium is not enough. The policy should have been bought by you i.e. you should be the proposer of the policy. There are cases when people pay premium for an existing policy which was bought few years back by their parents and claim tax deduction u/s 80D. This can land you in trouble. So the best way is to either buy a new policy or write to the concerned insurance company to change the proposer at the time of renewal.
Can premium be split between Husband and Wife for tax benefit?
Suppose you bought family floater Health insurance which has premium of Rs 35,000 which covers self, spouse and children. Now can you split this premium between husband and wife so that both can claim benefit? The answer is NO. The reason being there can only be one proposer for a policy and hence the tax benefit can only be claimed by one.
To get around this you may opt for two separate policies but keep in mind the overall premium might be higher. So do your calculations before deciding.
Also Read: What is the Maximum Income Tax You can Save for FY 2018-19?
What's the tax Benefit on preventive health checkup?
Tax exemption up to Rs 5,000 is allowed for preventive health checkup of Self, Spouse, dependent Children and Parents. This limit is within the Rs 25,000/Rs 50,000 deduction.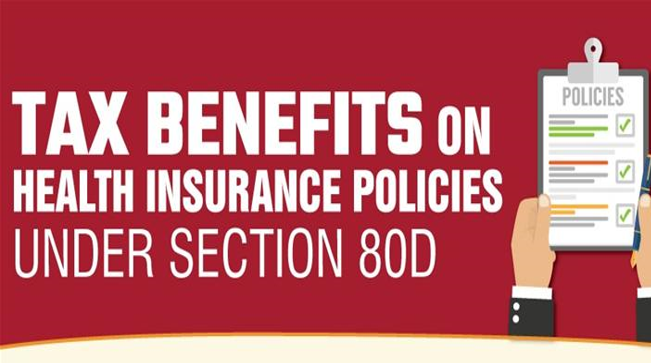 Important Points:
1. The maximum tax deduction u/s 80D can be Rs 1,00,000 in case you buy Health insurance for self and your parents and both you and your parents are senior citizens.
2. HUFs can also claim this deduction for premium paid for insuring the health of any member of the HUF
3. To avail deduction the premium should be paid in any mode other than cash. However the payment for Preventive Health checkup can be done in cash.