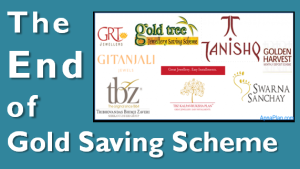 In 2011/2012 a lot of Gold jewelry companies/shops had launched Gold Saving Scheme – an innovative way to sell jewelry which had become unaffordable due to sharp increase in Gold Prices. The broad scheme structure was the customer needed to pay for 11 installments and the company paid the last installment. The entire money could then be used to buy jewelry from that shop. There were multiple versions of the same with time period ranging from 1 to 5 years.
The best part of such schemes was that the return was more than 15% as compared to 9% return of fixed deposits. But there was no customer protection as these schemes were not controlled by any regulators. Fortunately we did not hear of any fraud in these schemes, but had the Gold prices been volatile there were high chances of small shops not valuing their commitments.
But now with implementation of the New Companies Act from April 1, 2014, "Gold Saving Schemes" in present form is illegal until they comply with the new regulations.
What has changed with New Companies Act?
The Companies Act says that any deposit taken where the delivery of goods is after then 365 days, it would be considered as "Public Deposit". Now these deposits are governed by a set of rules. These are:
Appointment of Independent Trustee

A Deposit Redemption Reserve

Get Credit Rating for the Company

The total deposits has to be less than 25% of the net worth of the company

Mandatory Disclosures such as any default in the past, legal cases, etc

Get deposit insurance cover

The maximum interest that can be offered should be less than 12% per annum
So essentially, the new Company Act has made companies difficult to launch such schemes but the good thing is the customers are much more protected now. Also to be compliant, the companies need to return such deposits before April 1, 2015.
Tanishq Golden Harvest and Swarna Nidhi Scheme:
Golden Harvest and Swarna Nidhi Scheme were popular "Gold Saving Scheme" from Tanishq. But to be compliant with the new regulations they have to close these schemes and return the deposits to customers.
Here is the notice that Tanishq published for their Golden harvest and Swarna nidhi Customers: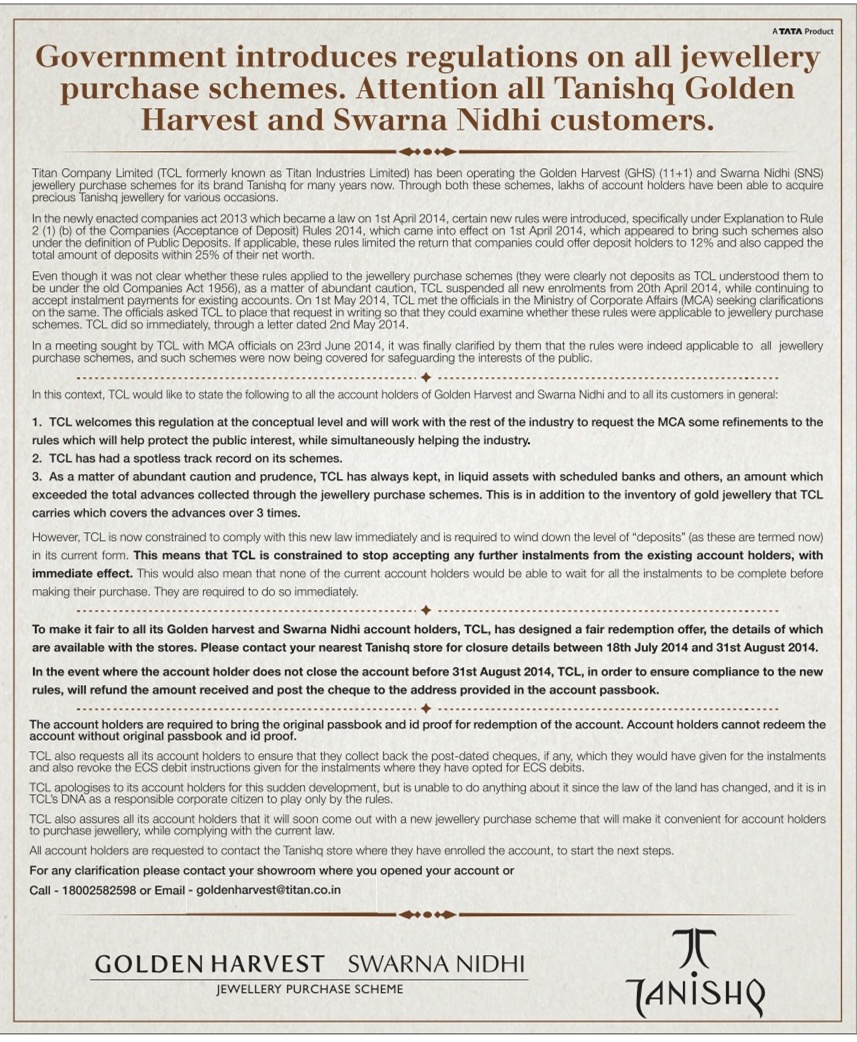 Here is the Summary:
Tanishq had suspended new enrolment in its Golden harvest and Swarna nidhi schemes from April 20, 2014 but was still accepting installments for the existing accounts

On Tanishq's request The Ministry of Corporate Affairs (MCA) clarified that the Gold Saving Scheme comes under the new act and so these schemes need to adhere to all the above requirements.

As these schemes are not compliant right now Tanishq has stopped taking further installments and they would close all accounts before August 31, 2014.

In case you had enrolled for any of the above schemes you should take your money back. In case you do not do so, Tanishq would mail the amount on the registered address.

In case customer has made more than 6 months of deposits, he would get 50% contribution of a month from Tanishq if he opts for cash or 75% of a monthly deposit he opts for jewellery.
PC Jewelers too has stopped its "Jewels for Less" scheme and asking its customers to either take their cash back or purchase jewelry of the equivalent amount.
What should Customers do?
Customers don't have much choice. You should either take your money back or buy jewelry, whatever suits you. But keep away from Gold Saving Scheme by any other company for now especially if its duration exceeds more than a year.
One more thing to note is the Companies Act is only applicable to companies and not sole proprietorship or partnership firms which may still continue to run such schemes.
Going forward companies might relaunch Gold Saving Schemes which are compliant to the new laws or are of lesser duration than 1 Year.
In the mean time if you want to invest in Gold, you can buy Gold ETF or do SIP in Gold Mutual Funds!