In the last post we had written about the Death Settlement Ratios of Life Insurance companies for FY 2012-13. In this post we check how much time it takes for different life insurance companies to settle a death claim after submission of all documents.
The time to settlement too becomes an important factor as it's difficult to wait for life insurance claim after the demised of the earning member. Moreover it tells that which companies are more efficient and where you would need to do the least follow-ups/running around.
The table below gives the percentage of death claims settled in 1 Month, 1 – 3 Months, 3 – 6 months, 6 months to 1 year and more than a Year.
Private insurance companies settle 70% of claims within 1 Month while LIC Settles 83% of claims within 1 month. Only 3 private companies – ICICI Prudential (settles 92% claims in 1 Month), HDFC Standard (settles 85% claims) and SBI Life (settles 84% claims in 1 month) are better than LIC.
The above analysis was based on numbers. The table below does the same analysis but based on Rupee value of the claim.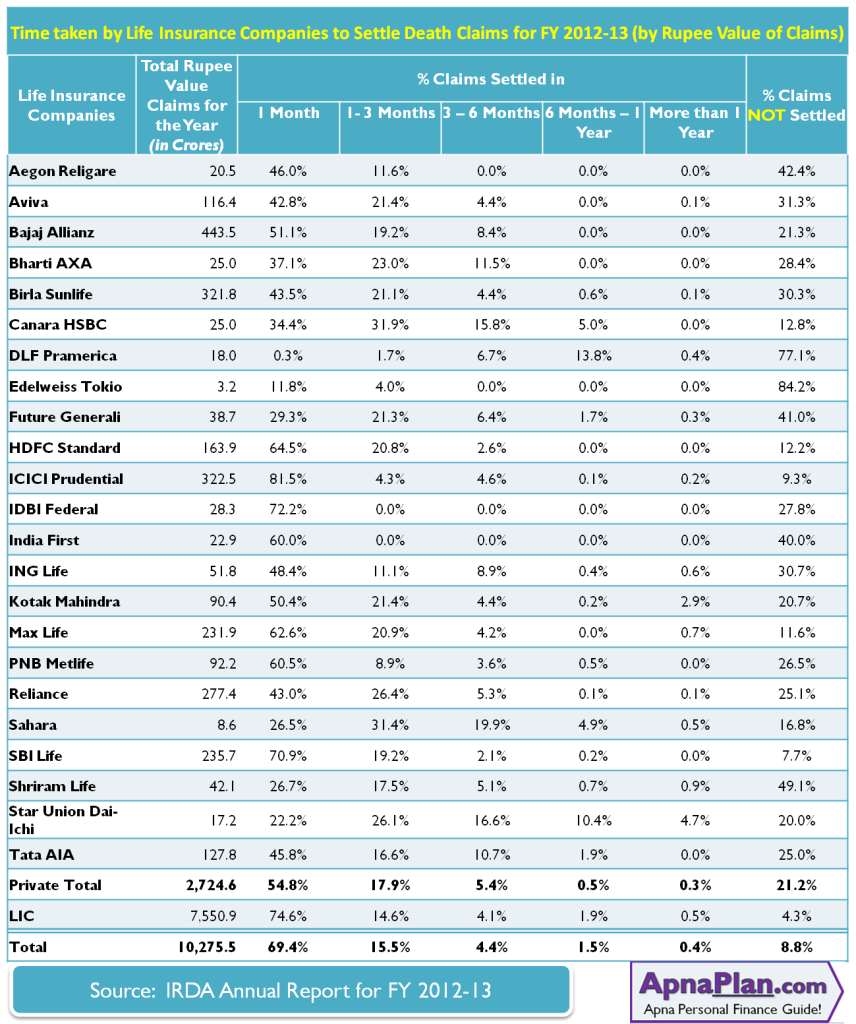 Here ICICI Prudential is the best performance settling 82% claims within 1 month while LIC is second with 75% claims settled in 1 month. For the combined Private players this rate reduces to 54.8%.
What can we conclude?
We can draw the following conclusion from the above two tables:
Lower value claims are settled faster than higher value ones. This is more pronounced in case of private players.
Again since the data is not split between Term Insurance, ULIP and Endowment Plans. My guess would be Term plans that have higher value of death claims are taking more time to settlement.
ULIPs are easiest to settle as in most cases the death benefit is higher of fund value or insured death benefit. So if ULIP has been running for a few years, usually the fund value is greater than the death sum assured and hence can be paid to nominee without much investigation.

Also note that for new insurance companies the above tables may look bad as they would be getting claim within 2 years of insurance, which needs a more thorough investigation and hence more time.
What company are you insured with and does the above numbers make you rethink about your Life Insurance Policy?