This post covers SBI Recurring Deposit Interest Rates, features, maturity amount along with other details. Recurring Deposit is a good way to accumulate money for any goal in safe and consistent manner. You deposit a fixed amount every month and at the end of it – on maturity you get your principal and accumulated interest.
SBI Recurring Deposit Scheme – Features
The tenure of SBI recurring deposit may be from from 12 to 120 Months – in multiple os 3 months like 3, 6, 12, 15 months and so on.
SBI RD is available both online and in Offline mode in all branches
Nomination facility available
The minimum amount of monthly instalment shall be Rs 100.
There is NO limit on maximum amount you can deposit in RD
The amount of instalment and number of instalment can not be changed after opening of the account.
Loan against security of the balance in the Recurring Deposit accounts available to the extent of 90% of the deposit, at 0.5% p.a. above the rate of deposit
TDS (Tax deduction at source) at the rate of 10% is deducted, if the interest income is more than Rs 40,000 in financial year
Passbook Issued
Hassle free premature spot payment anytime
Senior citizens get up to additional 0.80% interest rate (Customers with age greater than 60 years are Senior Citizens) depending on the tenure of RD
Can open RD online in SBI through e-RD feature in SBI internet banking
Charges for RD pre-mature closure – Interest will be applied on premature withdrawal of RD at 1.00% below the rate applicable for the period the deposit has remained with the bank.
The SBI Recurring Deposit account can be transferred from one branch to other.
SBI Recurring Deposit Interest Rates 2021
SBI Recurring Deposit Interest Rates has been last revised on 8th January 2021. General Public can get 3.90% – 5.40% while senior citizens get 4.40% – 6.20% depending on the tenure of deposit. The table below gives the details.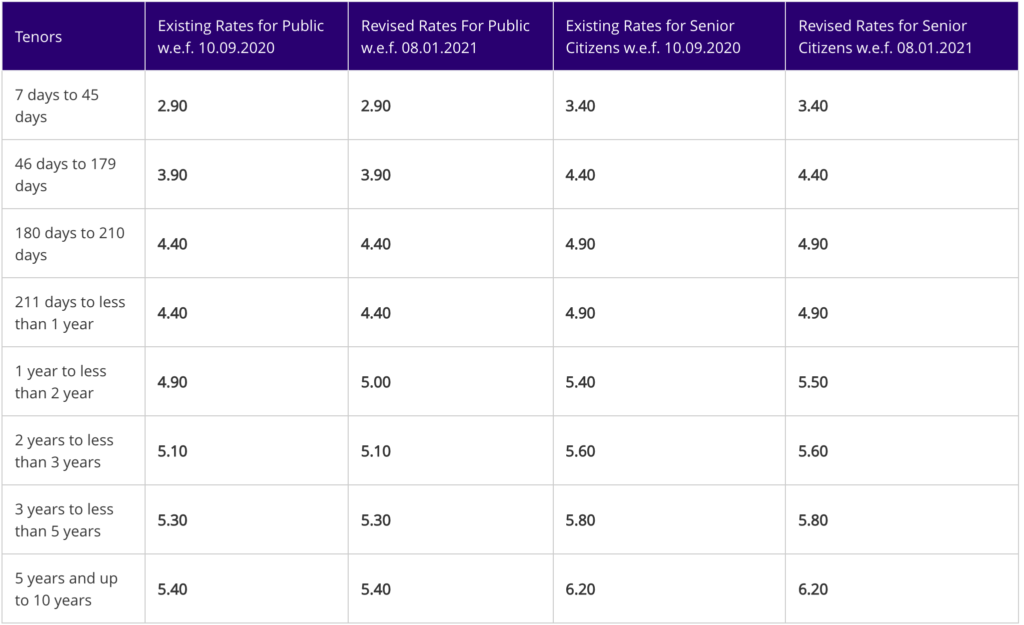 SBI Recurring Deposit Interest Rates 2021 & Maturity value
The table below shows SBI Recurring Deposit Interest Rates & the maturity value for Rs 1,000 monthly deposit for general public and senior citizens for 1 to 10 years.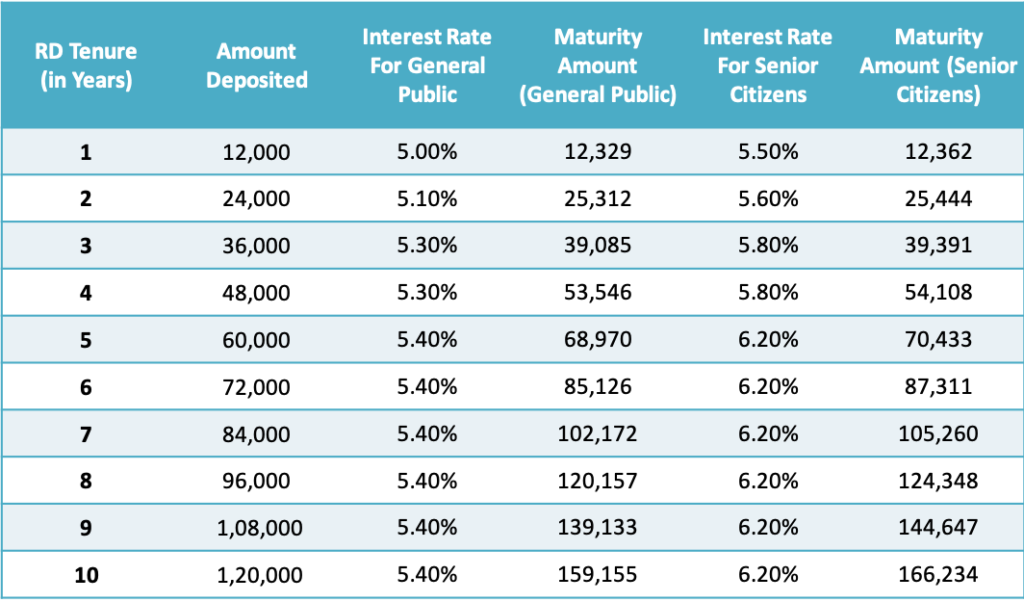 How to Calculate Maturity Amount on SBI RD
The interest on SBI Recurring Deposit is compounded quarterly and is computed using the formula below.
M=R[(1+i) (n-1)]/1-(1+i)(-1/3))

Where, M = Maturity value
R = Monthly Instalment [60 for Post office RD]
N = number of quarters (tenure) [20 for Post office RD]
i = Rate of interest/400
Helpful Posts on Recurring Deposits
Who should open SBI Recurring Deposit Account?
SBI Recurring Deposit suits someone with consistent regular income (like salary) and would like to accumulate certain amount for a goal without taking much investment risk. An example could be if you want to buy car in next 2 years, you can easily open a RD account with any leading bank and start saving. If you deposit Rs 5,000 every month for 2 years at 7%, you would get about Rs 1,29,000 at maturity. This would be good for downpayment of the car.
It's also for someone who may not have lump sum amount available for fixed deposit but would like to lock prevailing higher interest rate for long period of time. An example situation is – In March 2013 SBI was offering 9% interest rate on their recurring deposits for 10 years. I had opened a RD with Rs 5,000 just to lock a high interest rate for 10 years. On maturity I would get about Rs 9.7 lakhs – which is good accumulated amount. As of today SBI is offering 5.4%. So I have a good investment. It's always good idea to lock when interest rate cycle reverses and it goes high.
SBI RD Penalty for Default in Instalment Payment
Whenever a depositor fails to pay the instalment on due date for three consecutive months a service charge of Rs 10/- is applicable. Penalty in case of delay in payment of instalment of RD of 5 years or less shall be Rs 1.50 for every Rs 100 per month and Rs 2.00 for every Rs. 100 per month for the account on more than 5 years. For example, if you deposited Rs 1,000 every month in SBI RD for less than 5 years maturity – If you miss payment for 1 month, you will need to deposit that instalment next month with Rs 15 as penalty (1.5 * 1000/100). If the same RD was for more than 5 years tenure, your fine would be Rs 20.
In case there is no instalment payment for six consecutive months, the SBI recurring deposit account would be closed and the available balance would be paid back to the linked account.