Paytm like most other eCommerce players Amazon, Flipkart has launched Paytm First Credit card in partnership with Citibank on May 14, 2019. The card uses Visa network. Visa has recently tied up with Paytm, until now Paytm was only issuing Rupay debit cards which still has limited coverage. Paytm First is the name of Paytm's loyalty program with some good benefits. This card gets its name from there. Paytm has 15 crores active number of users on its platform and with this tie-up Citibank want to grow its user base significantly.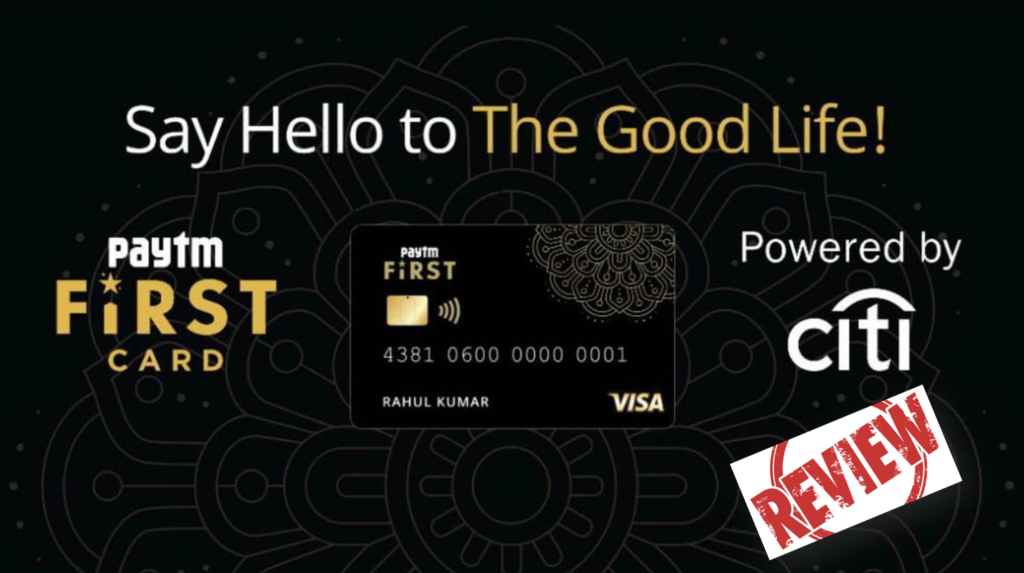 Paytm First Credit Card: Fee, Rewards, Benefits
Fees:
Annual Fee: Rs 500 + GST
The annual fee is waived off if you send more than Rs 50,000 in a year
The low fees and waive off clause is good as it would encourage many people to apply for the card.
Also Read: Know how to get Credit card against Fixed Deposit
Reward Points:
The card offers cashback of 1% on all your spends without any restrictions.
There is no upper limit on cashback and no spending category specific rewards.
This has made the rewards easy to understand.
Reward Redemption:
The cashback is auto-credited in the credit card statement every month. This is a great feature as it does not have restrictions of minimum accumulation limit before redemption or any associated redemption fee. Also, cashback auto-credit is as good as cash and this is the best value credit card rewards can offer.
Other Benefits:
You would get Paytm coupons worth Rs 10,000 on spending Rs 10,000 in first 4 months. These coupons can be used for booking movie tickets, bill payments, mobile recharge or travel. (More info here)
You can view the card transaction details on the Paytm passbook. This passbook will also highlight exclusive offers from both Paytm and Citibank on a real-time basis.
Evaluating Paytm First Credit Card
The Good?
Rewards: 1% cashback on all spending with no capping. This is better than most other cards with low fee.
Fee wavier on spending of Rs 50,000 annually.
The Bad?
Fee of Rs 500. There are cards with 0 fee.
No special benefit on Paytm
How to Apply for Paytm First Credit Card?
Right now the card is "invite only" which means you can only apply if Paytm tells you that you are eligible for the card.
Recommendation:
Paytm First Credit Card seems like a good entry level card. The simple reward structure of 1% cashback is great and beats most of the competition. If offered you may compare it with Amazon Pay ICICI Bank Credit Card (good value if you are loyal Amazon shopper) and newly launched Ola Money SBI Credit Card (good value if you are frequent OLA/ClearTrip user) before applying.