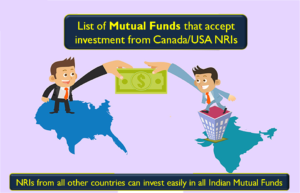 India is one of the fastest growing economies in the world and hence even NRIs are interested to invest here through mutual funds. Unfortunately most mutual fund houses in India do not accept investments from people based in USA or Canada. This is because Foreign Account Tax Compliance Act (FATCA) enacted by USA.
According to this law, any individual who is resident of USA (citizens or green card holders) or financially connected to the US or have any tax residency in US have to declare all their foreign income and investment details to US Tax Authorities. The law was enacted to prevent tax evasion through offshore investments by US residents.
India is signatory of the above law and hence all the financial entities like Banks, Insurance Companies, Mutual Funds, Brokerages, etc have to furnish their client information to the Indian Government, which in turn would share it with US Government. This has lead to cumbersome paperwork and reporting complexities leading to compliance risk for MF houses and hence they had stopped taking any further investment from USA/Canada.
Also Read: How to do FATCA Declaration online for Mutual Funds?
Mutual Funds Accepting Investment from Canada/USA NRIs:
As per Economic Times following 8 fund houses are accepting investment from Canada/USA.
Birla Sun Life Mutual Fund
SBI Mutual Fund
UTI Mutual Fund
ICICI Prudential Mutual Fund
DHFL Pramerica Mutual Fund
L&T Mutual Fund
PPFAS Mutual Fund
Sundaram Mutual Fund
However some fund houses have certain conditions for investment.
ICICI Prudential, Birla Sun Life and SBI Mutual Fund allow investments only through offline transaction with additional declaration signed by the client.
L&T Mutual Fund doesn't allow US and Canada based clients to invest in close-ended funds.
Important Points for NRIs:
NRIs from all other countries (except Canada/USA) can easily invest in Indian mutual funds just like any resident Indian.
NRIs are allowed to invest in mutual funds in India on a repatriable or non-repatriable basis subject to regulations prescribed under the Foreign Exchange Management Act (FEMA).
In case an existing investor moves from India to US/Canada, the fund house can stop taking any further investments from the person and cancel all pending SIP installments. But if the MF accepts US/Canada investments, you just to comply with some additional paperwork.
Please help us add to the list in case you are aware of the same.