Bharti Airtel would launch India's first Payment Bank on January 12. RBI had granted payment bank licence to 11 entities in August 2015 – Airtel became the first to launch its payment bank followed by PayTm which would launch its payment bank on January 15. We tell you everything you need to know and if you should open an account with them.
Airtel Payments Bank had launched a pilot in November in Rajasthan followed by Andhra Pradesh and Telangana in December.
Airtel Bank – What's on Offer?
Airtel Bank is offering following to its account holders:
5.5% interest on its bank account (paid quaterly) – which is higher than any savings bank account
Free personal accident insurance of Rs 1 lac
Equivalent talk time minutes for every rupee you deposit (this is for the first deposit only with validity of 1 month)
Also Read: Which bank offers highest interest rate on savings account in India?
How to Open Airtel Bank Account?
The Airtel account can be opened by visiting any of the designated Airtel retail outlets nearby. The account opening is totally digital and just need your Aadhaar number. The outlet would e-verify your Aadhaar number to complete your KYC and the account is opened in just few minutes.
Anyone with or without Airtel number can open an account
The mobile number would be your Airtel Payment Bank Account Number
As of today there would be no Debit/ATM card. However you can visit designated retail outlets to deposit/withdraw cash.
Airtel Bank Account – Features:
You can do balance inquiry, fund transfer etc using the Airtel Money app, USSD or IVR over your mobile phone. The phone number for airtel Customers is 400 an for Other operators: 8800688006 (Standard calling rates apply). IVR will be available in Hindi, English and Major regional languages.
Also Read: Highest Interest Rate on Bank Fixed Deposits
Airtel Bank Account Charges?
The account opening is free. There are no charges for depositing money using internet banking, mobile apps or retail outlets. Also transferring money is free between Airtel payment bank accounts. However there is fee of 0.5% for transfer to other banks.
There are charges for cash withdrawal and fee of Rs 50 for account closure. The details of charges are shown below: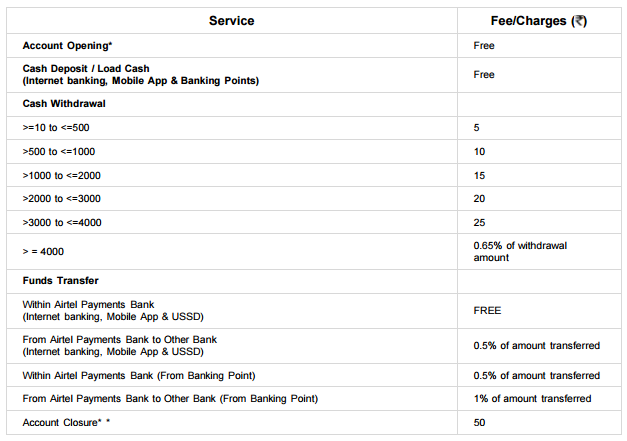 Also Read: 7 High Rated Companies Offering more than Bank Fixed Deposits
Airtel Payment Bank Account – Limits on Deposit, Withdrawal & Transfer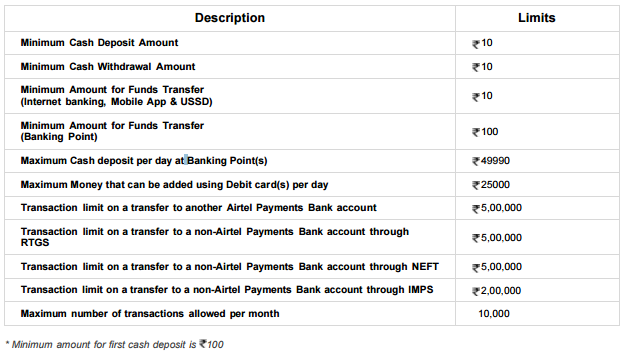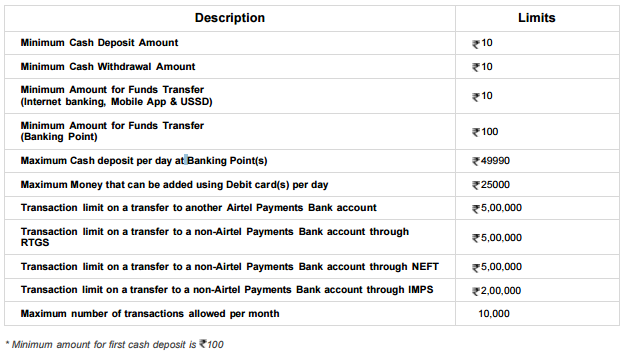 Airtel Bank – Fine Prints:
As per RBI rules maximum savings account balance at the end of the day shall not exceed Rs 1,00,000. In case the limit is exceeded, the balance in addition to one lakh rupees will not accrue interest.
Customer is permitted to maintain and operate only one Bank Account.
Bank pays interest quarterly on the daily end of day balance in the savings accounts.
The Account would be "Dormant" if it remains inoperative for continuous period of two years and no transactions are carried therein
Nomination facility is available for the Account. The Customer can nominate one individual for the purpose. The nominee can be changed as desired by account holder.
Account cannot be closed within 30 days of opening. There is fee of Rs 50 to close the account.
Also Read: Highest Tax Saving Bank Fixed Deposit Rates u/s 80C
Airtel Bank – Contact Details
You can contact Airtel Bank though phone or email as stated below:
Call Center: For airtel Customers: 400; For Other operators: 8800688006 (Standard calling rates apply)
Email: [email protected]
Website: www.airtel.in/bank
Airtel Payment Bank Review:
As stated above Airtel is the first payment bank, PayTm would be launching their payment bank in next few days. This is going to be fiercely competitive space and interest on the account would be higher than offered by regular banks. But 7.25% is too high and would not last for long. As per regulations payment banks can only invest in government bonds and so they cannot sustain with such interest rates.
Expect more offers/coupons on bill payments etc. If you are someone who loves to embrace new things, go ahead and open an account. And if you are cautious wait and watch- there is nothing to lose!