Kosamattam Finance has come out with 14th public issue of non-convertible debentures (NCD) offering up to 10.25% interest rate. The issue is already open for subscription and closes on August 23, 2018.
Kosamattam Finance Ltd is a Kerala Based NBFC engaged in gold loan finance business. They lend money against the pledge of household Jewellery in the state of Kerala, Tamilnadu, Karnataka, Andhra Pradesh, Delhi and in the Union Territory of Puducherry. They also offers fee based ancillary services which include money transfer services, foreign currency exchange and air ticketing services.
Kosamattam Finance NCD – Significant Points:
Offer Period: August 23 to September 21, 2018
Annual Interest Rates for Retail Investors: 9.75% to 10.25% depending on tenure
Price of each bond: Rs 1,000
Minimum Investment: 10 Bonds (Rs 10,000)
Max Investment Limit for Retail Investor: Rs 10 Lakhs
Credit Rating: IND 'BBB' by India Ratings & Research Private Limited
NCD Size: Rs 125 crore with option to retain over-subscription up to Rs 150 crore
Allotment: First Come First Serve
Listing: Bonds would be listed on BSE and will entail capital gains tax on exit through secondary market
Also Read – Know NCD – Investment Tips, TDS and Taxation
Kosamattam Finance NCD – Investment Options:
There are 8 options of investment in Kosamattam Finance Limited NCD.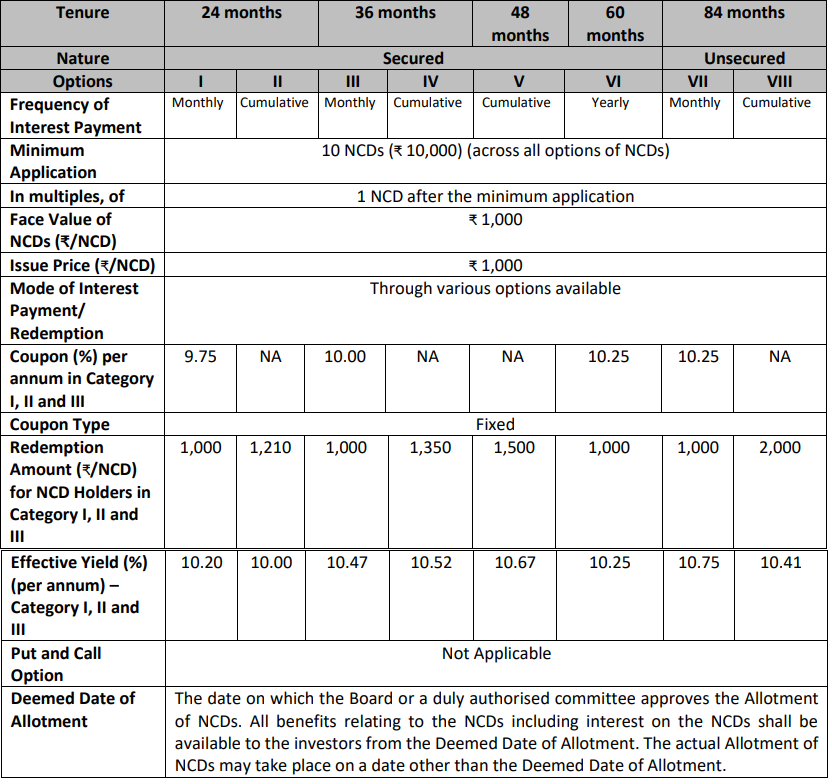 Kosamattam Finance NCD – Who can Apply?
This issue is open to all Indian residents, HUFs and Institutions.
Category I – Institutional Investors – 30% of the issue is reserved
Category II – Non-Institutional Investors, Corporates – 20% of the issue is reserved
Category III – Retail Individual Investors including HUFs – 50% of the issue is reserved
However NRIs cannot apply for this NCD.
Also Read: 25 Tax Free Incomes & Investments in India
Why you should invest?
The NCD is secured, which means the above debt is backed by assets of the company
No TDS if invested in Demat Form
Also Read: Small Bank BIG Interest Rates (up to 9% by Fincare Bank)
Why you should not invest?
"BBB" rating can be considered poor rating and has higher risk of default or non payment – retail investors should stay away
The profits of the company declined as compared to the previous year
You can also invest in high rated company fixed deposits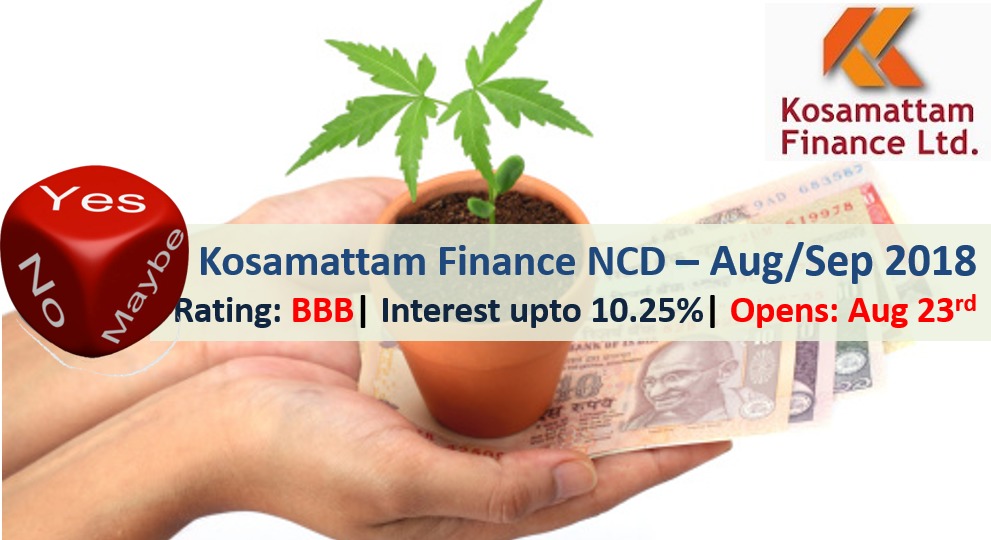 How to Apply?
You can apply online by ASBA facility provided by banks. It's the easiest way to apply and also avoids a lot of hassle in terms of KYC and paper work.
In case you don't want to do it online, you can download the application form from company site or Financial Institutions and submit to collection centers.
Recommendation:
My recommendation is to stay away due to NOT SO GOOD credit rating – as the returns do not justify the risk.