We have always stated that Mutual Funds are one of the best ways to create and manage wealth. It's convenient, low cost, well-regulated, transparent and gives benefit of diversification. Starting January 1, 2013 SEBI had mandated all fund houses to have two version of each scheme – Direct & Regular.
Direct vs. Regular:
As the name suggest 'Direct' plan are low cost plans where the investor invests directly with the mutual fund AMCs. The direct plans have lower expense as they do not incur cost in terms of commission to intermediaries. The difference in returns can be in the range of 0.25% to 1% between direct and regular plans – which in long term converts to substantial amount. Therefore you should always prefer invest in Direct Pans of Mutual Funds.
In the post we have listed all the ways that you can use to invest Direct.
Through Mutual Fund Website
Almost all major Mutual Funds AMCs provide facility for managing investment online which includes purchase, redemption, switch and setting up SIP. To start investing you just need to sign up with the AMC website.
The Good:
There is NO third party involved and the transaction happens between you and the AMC. In case of any issues you can directly contact the mutual fund helpline. This suits investors who have investment across few mutual fund houses.
The Bad:
The biggest problem is if you have investment across multiple fund AMCs you need to remember separate login details of each AMC – which might be overwhelming for some.
The second issue is the investment or redemption process varies across portals, in case you are not tech savvy you might have issues navigating through different portals.
The Third issue is you cannot view and analyse all your investments at one place. However the common account statement solves this problem to a large extent.
Also Read: SIP Vs. Lumpsum – Which is the Best way to Invest in Mutual Fund?
Through RTAs (CAMS/karvy)
RTAs or Registrar and Transfer Agent are the one who handle transactions on behalf of mutual funds. There are four RTAs in India. Most mutual funds are served by CAMS & KARVY (list below) while Templeton RTA serves Franklin Templeton Mutual Fund and Sundaram RTA serves Sundaram Mutual Fund. Both Karvy & CAMS offer online investment through their website and Apps.
In case you are not tech savvy you can just walk-in any of the RTAs service center and submit the offline physical investment forms.
Karvy
CAMS

Axis Mutual Fund
Baroda Pioneer Mutual Fund
BOI AXA Mutual Fund
Canara Robeco Mutual Fund
DHFL Pramerica Mutual Fund
Edelweiss Mutual Fund
Franklin Templeton Mutual Fund
IDBI Mutual Fund
Indiabulls Mutual Fund
INVESCO Mutual Fund
JM Mutual Fund
LIC Mutual Fund
Mirae Asset Mutual Fund
Motilal Oswal Mutual Fund
Peerless Mutual Fund
Principal Mutual Fund
Quantum Mutual Fund
Reliance Mutual Fund
Sahara Mutual Fund
Taurus Mutual Fund
UTI Mutual Fund

Birla Sun Life Mutual Fund
DSP BlackRock Mutual Fund
HDFC Mutual Fund
HSBC Mutual Fund
ICICI Prudential Mutual Fund
IDFC Mutual Fund
IIFL Mutual Fund
Kotak Mutual Fund
L&T Mutual Fund
Mahindra Mutual Fund
PPFAS Mutual Fund
SBI Mutual Fund
Shriram Mutual Fund
Tata Mutual Fund
Union KBC Mutual Fund
The Good:
You just need to remember 1 or 2 login details as most of mutual funds are handled by Karvy or CAMS.
You can invest both offline & Online through Apps & Website
The Bad:
There are no cons as such but you have to remember 4 login details in case you want to invest in Franklin Templeton Mutual Fund, Sundaram Mutual Fund and others.
Also Read: Best ELSS (Tax Saving Mutual Fund) to Invest in 2017
Through MF Utility (MFU)
MF Utility (MFU) is a transaction aggregating portal which connects investors, distributors, collection banks, payment aggregators, mutual fund houses, and RTAs. As of today it supports 27 mutual fund AMCs and once you have an account with MFU you can invest across all these fund houses seamlessly. MFU provides a common account number (CAN) which can be used across all 27 participating AMCs.
The Good:
You can invest in 27 mutual fund AMCs by logging in to one MFU portal.
Multiple transactions across participating mutual funds can be executed through one form which makes it convenient to use. Additionally you just need to make one single payment for investing across multiple schemes if done at a time. This facility is not available in any other channel.
The Bad:
MFU still services 27 out of 45 Mutual Funds. So you cannot use MFU if you want to do transactions outside of these 27 AMCs.
The user interface is NOT great and there is scope of improvement.
There has been NEWS at times about selling the MFU Portal (which has been denied by concerned authorities). But in case the MFU platform is sold-off, it might not offer DIRECT schemes or may offer for a fee!
Also Read: How are Mutual Funds Taxed?
Through Demat Account (Zerodha COIN)
As of today only Zerodha offers DIRECT mutual fund plans through its COIN platform. The service costs Rs 50 per month. The COIN platform is based on the BSE STAR Mutual fund and you can transact across all mutual funds.
The Good:
You can have consolidated view of all your investment at one place.
You just need to remember one login and you can invest across mutual funds, stocks, bonds, etc.
The Bad:
The Zerodha COIN comes with a monthly fee of Rs 50.
In case you do not trade in stocks, opening a demat account just to transact in Mutual Fund is not a good idea as demat account has annual charges.
Word of Caution: You can invest in mutual funds from almost all demat accounts. However please remember they DO NOT have the option of DIRECT plans and offer you REGULAR plans. As of today only Zerodha COIN offers direct. Hopefully some more demat account providers would join!
Robo-Advisory APPS & Websites:
In last 1 to 2 years there have been a lot of new age websites and apps who offer direct plans for mutual funds. These sites and apps also provide advisory service for a fee. At the last count we could find around 13 such sites. Some of them have MFU at their back-end while others are directly integrated to the Mutual Fund AMC. We list them for you and you can explore them.
Bharosa Club (https://www.bharosaclub.com/)
Clearfunds (https://www.clearfunds.com/)
Expowealth (https://expowealth.in/)
Invezta (https://www.invezta.com/)
Kuvera (https://kuvera.in/)
Moneyfront (https://www.moneyfront.in/)
ORO Wealth (https://www.orowealth.com/)
Piggy (https://piggy.co.in/)
Savvy (https://getsavvy.in/)
Unovest (http://www.unovest.co/)
Upraise (https://www.upraise.in/)
WealthTrust (https://www.wealthtrust.in/)
Wixifi (https://www.wixifi.com/)
Groww (https://groww.in/)
directmf.in
PayTm Money (https://www.paytmmoney.com/)
Also Read: Mutual Funds to Park money for Short Time
The Good:
The interface and user experience is top notch across most of these websites/Apps.
They can be helpful if you need advisory for fund selection. Please note most of these sites provide Robo-advisory which means the suggestions don't come from an expert but from algorithms guided by experts. In case of expert advisory, it may cost more.
The Bad:
You need to understand their fee structure. Some offer paid advice but free investment, while others offer free service up to a limit. You need to explore each of sites to know more about them.
I am sure I would have missed some of these portals/apps. Please help us keep this list updated. We plan to do a separate post comparing cost and service across above portals.
How to Choose the Right Platform?
You should keep the following in mind while choosing the right investment platform for you.
How many Schemes you invest in? In case your investment is concentrated through few mutual fund AMCs, you can manage through their portal or RTAs itself.
Do you need help to select schemes? If the answer is yes you can opt for the new-age robo-advisory web portals and apps. But you might have a hard time scanning through so many portals and finalizing one!
Fees: I personally prefer free platforms for investment. But if you think you are OK to pay fee for the services offered, pay a fee which is flat (monthly/annually) irrespective of investment amount. This is because as your corpus grows the flat fee would work much better as compared to percentage of amount invested or corpus.
Also Read:Child Plans from Mutual Funds – Should you Invest?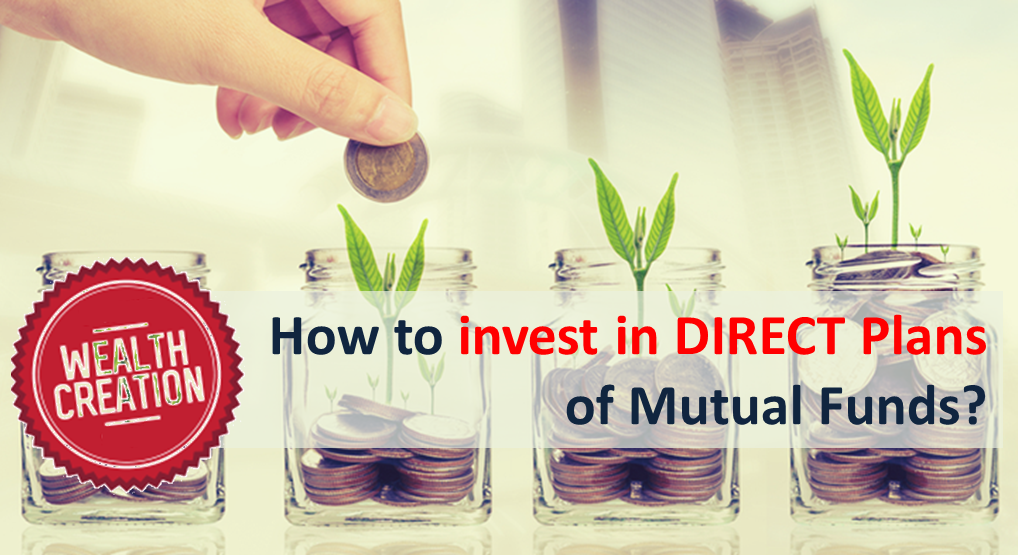 What is NOT Direct Investment?
Here are some common channels of investing in Mutual Funds which are not considered as 'Direct' investment
Demat Account – Though you get the advantage of all investment through a single portal and consolidated portfolio view but investment through Demat account is not considered as direct investment. As explained above as of today only Zerodha COIN offer 'Direct' Investment option.
Brokers/ Distributors/ Financial Planners – if you invest through your broker/ distributor or planner, the investment would not be considered direct.
Banks – Many people have the miss-conception that banks with similar names to Mutual fund AMCs are same entities. For example if you invest in HDFC Mutual Fund through HDFC Bank, it is not a direct investment. Here HDFC Bank is acting as broker to HDFC Mutual Fund and would get its commission.
Websites – I know of three websites which offer online investment in mutual funds. These are
fundsindia.com
fundsupermart.co.in
scripbox.com
The investment through them is not direct as they are brokers to the mutual funds.
Also Read: Investment Risks and How to deal with them
To Conclude:
As you can see there are multiple ways to invest Direct in Mutual Funds. Personally I prefer investing through AMCs Website and their RTAs. I have not tried any of the new-age robo-advisory platforms but some people who use them are quite happy with them. So go ahead and make your Direct investment in Mutual Fund Schemes and get that extra return!