The IRDA annual report for FY 2012-13 is out and the death claim settlement ratio has improved slightly for LIC (Life Insurance Corporation) at 97.7% while it has deteriorated slightly for all Private Insurers combined at 88.6%. Overall it's at the same level at 96.4%.
The table below compares the death claim settlement ratio: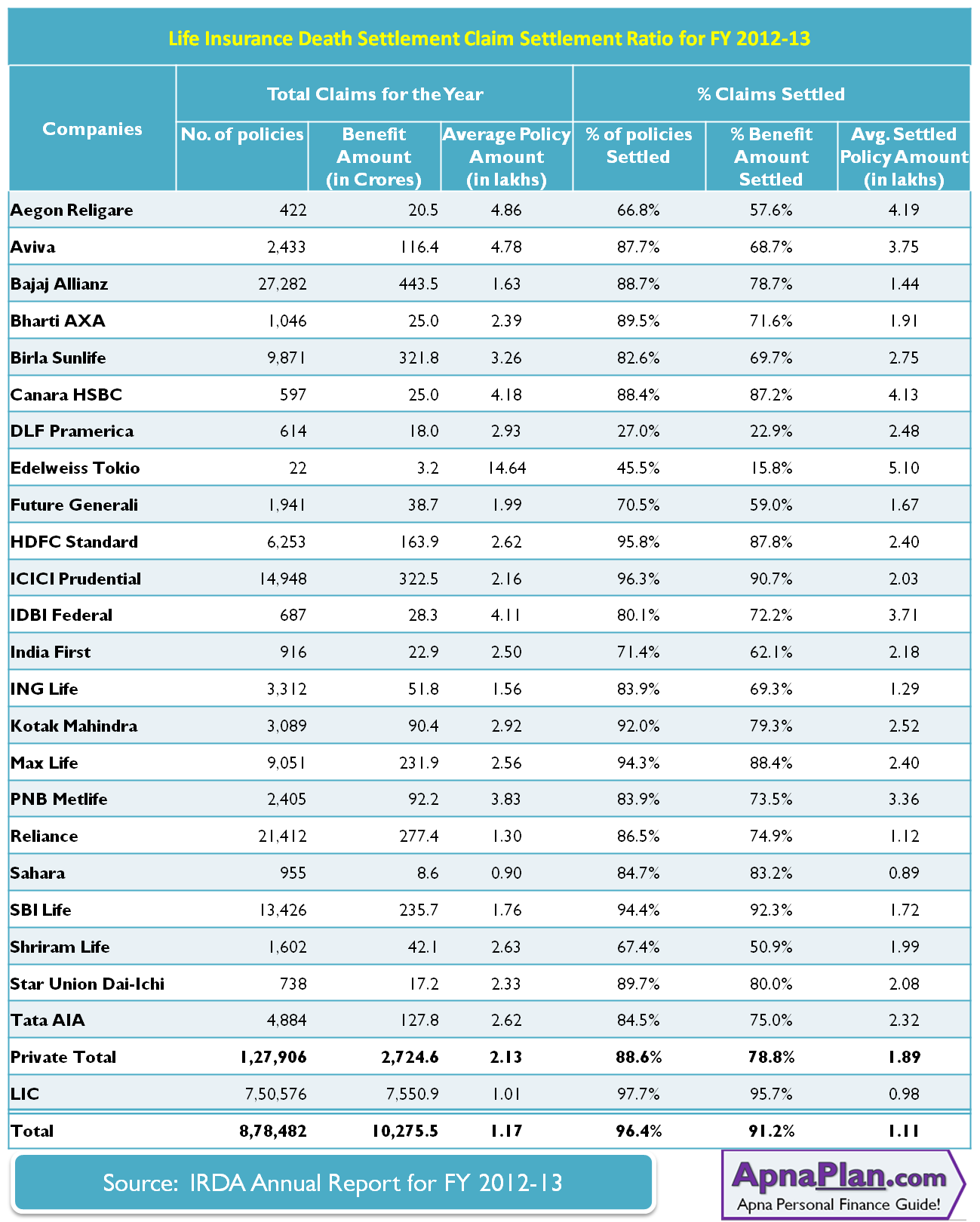 Few Points to note:
The average life insurance claim is for just Rs 1.17 lakhs. This is really sad as such low amount would not support most of the families after the demise of the main earner. To put things in perspective a daily wage laborer earns more than Rs 8,000 per month. So the average death claim is like annual salary of a daily wage earner. As this is average a lot of claims would be of even lower amount!
The average amount for settled death claim is Rs 1.11 lakhs. This means that the higher value claims are not being settled as successfully as the lower value claims. This difference is higher for Private Insurers combined, as the average claimed amount is Rs 2.13 lakhs Vs Rs 1.89 lakh for the claims settled.
LIC average claim settlement amount is just Rs 98,000 as compared to Rs 1.89 lakhs for private insurers. This is also a factor of LIC covering all strata of the society.
LIC by far has the best death claim settlement record at 97.7% followed by ICICI Prudential (96.3%), HDFC Standard (95.8%), SBI Life (94.4%), Max Life (94.3%), Kotak Mahindra (92.0%). Rest all insurance companies have settlement ratio of less than 90%.
The difference between average amount claimed and average amount settled is as high as 22% by some companies like Bharti AXA, Birla Sunlife, Reliance, ING Life, Kotak Mahindra. This can be due to either more fraudulent claims are coming with higher amount or companies rejecting higher claim amounts willfully! This might also mean Term Insurance which generally has higher death benefit have lower settlement ratio.
The data does not tell the settlement divided by type of insurance like ULIP or Term Plan. Also I am not sure if payment of only Fund value (and not complete death benefit) is considered as settlement in this report.
Life insurance companies have a very high rate of rejection in the 'early claims' – so if there is a claim made within 2 years of taking the policy, there is a far greater chance of it being rejected. So all the companies which have started operation in last five years would obviously have low settlement ratio.
You can read the previous Claim Settlement Ratio for Life Insurance Companies for FY 2011-12, 2010-11 and 2008-09.