Are you bored of the same old way of banking? Here is a new age bank account from Kotak Mahindra Bank – JIFI! This is targeted to the hashtag generation i.e. someone who would love to operate his account right from his social media account and without worrying for security!
Why Kotak JIFI?
Here are some of the reasons you might want JIFI:
1. Ease of Opening Account – You just need an email id or an account on Facebook to get started. Most of the process is online and so it helps to avoid the clerical errors with your names and addresses. This also means you can get started anytime even at midnight!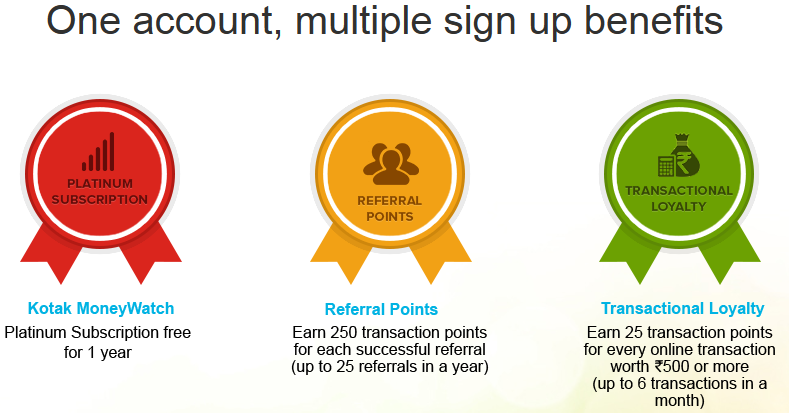 2. Zero Balance Account – Everyone has their share of cash crunch days but paying fines for withdrawing our own money hurts. You might not have to worry about those cash crunch days with Jifi Account. This is a zero balance account and hence it does not matter if you have no money in the account.
3. Swap to Fixed Deposits – You need not worry of excess money that is in your account. As soon as the balance is more than Rs 25,000 the amount automatically goes in for fixed deposits earning higher interest rates. Also the money is liquid, as soon as you want to withdraw more than Rs 25,000 the most recent FD is broken and money transferred back to your savings account. This is very good feature to have so that the money is not lying ideal in the account.
4. Access your Account from Twitter – More than anything else it gives you the bragging right! You can check your balance, request checkbooks, check transaction history and lot of other day to day things right from your twitter account. You can also find the nearest ATMs by just sending a message on Twitter! This is all secured as all the above happens through private messages!
5. Refer to Earn – It does not hurt to earn a little extra by referring something you love yourself. You would get 250 points (where 1 Point = Rs 1) for referring your friend. This can be done by sharing unique link on social media or email but is limited to 25 referrals a year.
6. Get rewarded for Transacting – You would get rewarded in the form of Transaction points every time you do a transaction. You get 25 points for any online transaction/ bill payment above Rs 500 with a maximum limit of 150 points per month. Here too each point is equivalent to Rs 1.
7. Social Points – In addition to the above Transaction points you also get social points for inviting friends to Jifi circle, commenting and interacting with Kotak Facebook Page. These social points are also transferable among friends and can be redeemed for various options!
8. Platinum Debit Card – To add to the glamour and bragging rights the account comes with chipped Platinum Debit Card. You can withdraw up to Rs 50,000 and swipe for Rs 2 lakhs daily. Also the card comes with the card fraud and misuse insurance which is a great feature to have. The card is free for the first year and then Rs 199 every subsequent year.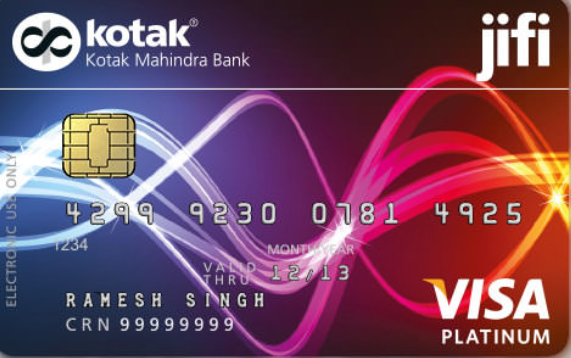 9. Free Subscription to Kotak Money Watch (KMW) – KMW is a personal finance tracker application from Kotak where you can get a 360 degree view of your finances. You get the platinum version worth Rs 1,499 of this app free for first year. After the first year it would be converted to basic version. You can keep the platinum version running on payment of annual subscription fee of Rs 1,499.
10. Mobile App – You can download the Kotak bank mobile app and enjoy 24 hrs banking everyday everywhere through your Smartphone! Another app Kotak Offers app would give alerts about discounts and offers you can use exclusively with your account
11. Reasonable Charges – if you check the charges for the Jifi account they seem quite reasonable.
There are no charges for NEFT/RTGS transactions which other banks charge around Rs 5 – 10 for every transaction.
There is also no additional cost of Debit Card Misuse Insurance.
No charges for receiving alerts about transactions and alerts through SMS. Most banks charge around Rs 15 to 25 per quarter for this service.
No charges for ATM Transaction Declines due to insufficient balance while using Kotak ATMs. In case you use other ATMs a charge of Rs 25 would be deducted.
There is no charge if your transaction is declined due to insufficient funds while swapping your debit card at merchant outlets. Again the awareness for such charges is low but some banks charge for any such declines and that too multiple times!

You can use other bank ATMs free for 5 times per month. Any additional use is chargeable. This is similar to most of the banks.

There are no account closure charges. So in case you are not satisfied with this account you can close it without any charges. You might not know this but a lot of banks charge you Rs 100 to 500, if you close your account within one year of opening it.
Points to Note:
You need both Facebook and Twitter Account for opening Jifi Account.
Kotak Jifi is Current Account and there is no interest paid on the money kept in this account (up to Rs 25,000 – Any amount higher than this is swapped to 180 days FD account which earns 8.5% as of today). So you would not be earning 4% interest on Rs 25,000 as in case of normal savings account. This means a loss of Rs 1,000 every year. Given their low charges on everything else and the swap in feature I think this should not be a deterrent!
The swap in fixed deposit created would in multiples of Rs 5,000 and would earn interest of 180 days FD. The interest rate is 8.5% as of today.
The lost card liability insurance is up to Rs 2 lakhs and it covers any misuse up to 30 days prior and 7 days after reporting loss of card. This is a great feature to have.
The KYC documents required for the account is same as for any other bank account. You would need your ID Proof and Address proof.
You would also need to give a cheque of Rs 5,000 at the time of account opening. After the account is activated you can withdraw the complete amount.
Right now the account is available in the following cities – Bangalore, Bhubaneswar, Chandigarh, Chennai, Coimbatore, Delhi, Hyderabad, Jaipur, Kolkata, Lucknow, Mumbai and Pune. So if you are some other city you will have to wait until Kotak expands in other cities.
To Conclude:
It's an innovative product for someone who is active on social media. Going forward I expect to see a lot more competing products from different banks but Kotak has got the first mover advantage. I personally feel zero balance account; swap in feature, free debit card insurance against misuse, etc should be essential features for any savings account. With all the above features and reasonable costs Kotak Jifi is a strong contender for everyone looking for a Bank Account and more so for the Hashtag generation.
Go ahead and Get your Invite for JIFI at kotak JIFI official Site.