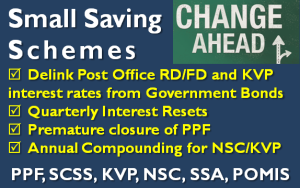 Ministry of Finance has come out with additional guidelines and new rules the way interest rates are determined for small saving schemes. These small saving schemes cover the following investments:
PPF (Public Provident Fund)
Sukanya Samriddhi Scheme
Post office Monthly Income Scheme
Senior Citizen Savings Scheme
KVP (Kisan Vikas Patra)
NSC (National Savings Certificate)
Post Office Time (Fixed) Deposits – 1, 2, 3 and 5 years
Post Office 5 years Recurring Deposits
Changes: Small Saving Schemes
1. Delink Post Office RD/FD and KVP interest rates from Government Bonds
The interest offered on small saving schemes is linked (with small mark up) to the yield of government bonds of similar maturity. For e.g. Senior Citizen Savings Scheme (SCSS) has markup of 1% to the government bond yield. So if the government bond yield is 8.3%, the interest on SCSS would be 9.3%.
Also Read: PPF – A must have investment
With new rules, the government has delinked the Post Office Fixed Deposits (1, 2 and 3 years tenure), Recurring Deposits and Kisan Vikas Patra from government bond yields. The interest rate on these investments would be market determined and would be similar to that of banks. For other long term or socially important small saving schemes like PPF, SCSS, Sukanya Samriddhi Scheme and NSC the mark up has not been changed. The table below summarizes the change in markup.
Impact: With the multiple rate cuts on bank fixed deposits last year post office RD and FD had become very attractive. It is offering 8.4% while most banks are offering interest in the range of 7.25% to 7.75% on their RDs and FDs. This would change now. As there is no benchmark for setting interest rates on Post Office RD/FD and KVP, expect rates similar to that offered by SBI. These schemes would surely become unpopular in coming times.
2. Quarterly Interest Resets
Until now the interest rates on the Small saving schemes were reset at the start of every financial year i.e. on April 1. Going forward the interest would be reset every quarter as per the schedule below.

Impact: This is good step as it would help the interest rates more aligned with the markets and would capture any sudden movement in interest rates.
Also Read: All about Senior Citizens' Savings Scheme
3. Premature closure of PPF
Premature closure of PPF would be allowed in special cases such as cases of serious ailment, higher education of children etc. This shall be permitted with a penalty of 1% reduction in interest payable on the whole deposit and only for the accounts having completed five years from the date of opening.
Impact: This is good move and would provide more liquidity for PPF investors in case of emergency.
4. Annual Compounding for NSC & KVP
Until now the interest compounding on KVP and NSC was biannual. From April 1, 2016 the compounding would be annual. This means loss for the investors of these instruments. For 10 year NSC which offered 8.8% the maturity value would change from Rs 2,36,597 to Rs 2,32,428.
The other problem is this is retrospective in nature i.e. the rule is applicable even for your existing NSC & KVP.
All the changes are effective from April 1, 2016
Wrong Media Reports:
A lot of newspaper are reporting that there would be no cut in interest rates of SCSS, PPF, SSA, etc. This is not true. According to the official notification only the spread is unchanged and still linked to Government bond yields. The new interest rates would be declared on March 15, 2016 in accordance with the government bonds yields and then reset every quarter.
Also Read: What is the Maximum Income Tax You can Save for FY 2015-16?
Reasons for above Changes:
As per the press release by Ministry of Finance, the above changes were done to make the operation of National Saving Schemes market-oriented in the interest of overall economic growth of the country. Banks along with RBI were of the view that due to higher interest rates on these investments, people are avoiding bank deposits and so they are not able to cut interest rates further.
My view is this was just another excuse by banks to keep the lending rates high. The main reason for higher lending rates is the ever growing NPAs of the banks and their inefficiencies. With these changes only the savers would lose further!