IIFL Non Convertible Debentures (NCD) opens today for subscription. The IIFL NCD issue has been rated (AA-) by both ICRA and CRISIL meaning the investment is safe. It has six-year repayment duration with coupon rate of 12.75% per annum (p.a.), which would double your money at maturity. You can read the details by clicking here.
Also the chart below summarizes the IIFL NCD issue.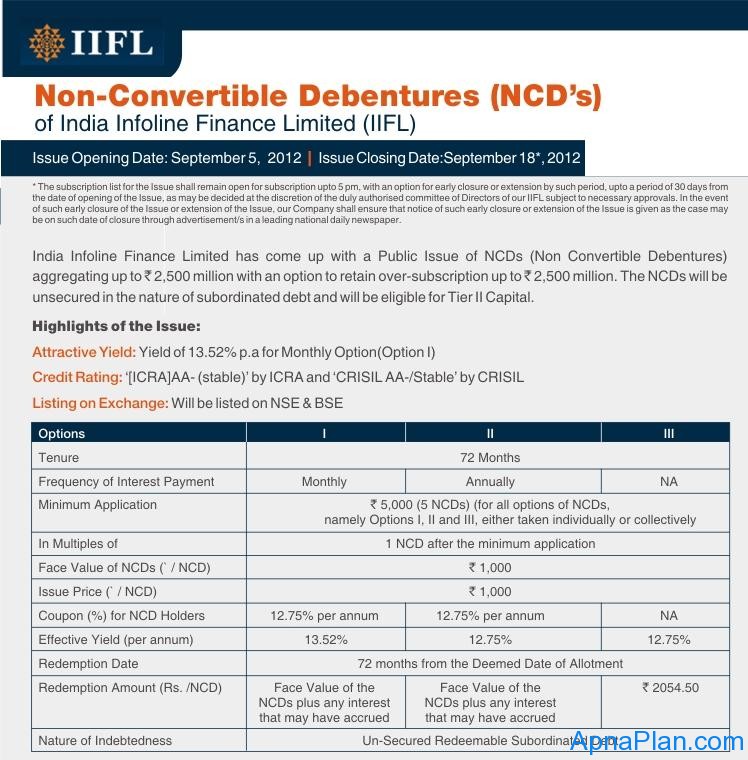 Why you should invest?
Attractive Interest Rate: Interest rate of 12.75% with monthly compounding for six years gives a yield of 13.52%. This would double your money in six years.
Safe Rating by Credit rating: AA- rating by ICRA and CRISIL means that the investment is safe
Good Parentage: The NCD is being issued by subsidiary of India Infoline which is listed and deals in stock broking and distribution of mutual funds, insurance, lending, etc
Why you should not invest?
IIFL NCD is a "subordinated debt" which means that on liquidation, there are going to be others in the queue that will have to be paid off in full before you get anything.
Here is more explanation on subordinated debt or unsecured debt risk: (Risk factors, item no 12 in the offer document)
"The NCDs will be in the nature of subordinated debt and hence the claims of the holders thereof will be subordinated to the claims of other secured and other unsecured creditors of our Company. Further, since no charge upon the assets of our Company would be created in connection with the NCDs, in the event of default in connection therewith, the holders of NCDs may not be able to recover their principal amount and/or the interest accrued therein in a timely manner, for the entire value of the NCDs held by them or at all. Accordingly, in such a case, the holders of NCDs may lose all or a part of their investment therein. Further, the payment of interest and the repayment of the principal amount in connection with the NCDs would be subject to the requirements of RBI, which may also require our Company to obtain a prior approval from the RBI in certain circumstances."
The second factor is the company IIFL here is not the India Infoline which is listed on stock exchange. This issuer is a NBFC (non-banking finance company), owned almost entirely by the listed entity which lends money in the form of gold loans, loans against shares, etc.
The third reason financials of the company – the return on equity has ranged from 4% – 8% in last five years. This is not a great return by any means. So the company is paying much more to debtors than to its shareholders.

Performance of Past NCDs:
Last year around ten NCDs of companies like Shriram Transport Finance, Shriram City Union Finance, Muthoot Finance, Manappuram Finance, Religare Finvest and India Infoline Investment Services Ltd were listed. All the issues, except Shriram Transport Finance NCDs, listed at a discount and some at a very deep discount of 5-8%. So it might not be a bad idea to wait and buy NCDs from secondary market once they list on exchanges.
Conclusion:
You need to look at both the returns and risk associated with it before you make the final decision of investing. There are four more NCDs from Shriram City Union Finance, Muthoot Finance, SREI Infrastructure Finance and Religare Finvest going to hit the market by the end of this month. Also it might be wise to buy the same NCD at a discount once it lists on exchanges. So you should not be in a hurry to invest.