Axis Bank yesterday launched a new Home Loan product named – Happy Ending Home Loan. This has a built-in EMI waiver scheme under which the bank will write off the last 12 installments if the customer stays with it for at least 15 years.
A few more conditions for EMI waiver:
The initial term of the loan should be 20 years or more.
You need to pay all your EMIs on time
This is a new Home Loan product in the Indian market and would turn out to be beneficial for both home loan customers and the bank. It would encourage customer to stick to the bank for the entire tenure of the loan and also encourage timely EMI payments.
Now the next question is how beneficial is Axis Bank Happy Ending Home Loan and how does it compare to the best home loan offer by SBI?
Here are the interest rates for Home Loans of Axis Bank and SBI
Accordingly we take three cases:
20 Lakhs Home loan for 20 years from Axis at 10.75% and SBI at 10.25%
50 Lakhs Home loan for 20 years from Axis at 11.00% and SBI at 10.40%
1 Crore Home loan for 20 years from Axis at 11.25% and SBI at 10.40%
Now we would compare which one is better for customers.
Here are the steps and assumptions:
There is no pre-payment for the entire tenure of 20 years.
Any investment made would give a return of 8%.
Tax Benefit on home loans has not been considered.
Also no tax has been taken into account for any investment made.
As the EMI paid in SBI would be less than that of Axis, we would invest the difference every month till the end of 19 years giving return of 8% p.a. For e.g. In the case of 20 Lakh loan it would be like a recurring deposit of Rs. 672 giving 8% return per annum till the end of 19 years. For 20th year there would be EMI waiver in case of Axis bank and hence you would save the entire EMI for Axis Bank. The calculation assumes that you would invest these 12 EMIs giving 8% till the end of 20th year. Also the sum which was generated by the difference in EMIs would be invested for 20th year yielding 8%.
As you can see in the table above you still gain by going with SBI and it increases as the Home Loan amount goes up.
Next we can calculate the effective interest rate of Axis Bank taking the saving made in last 12 EMIs.
So we do some calculations backwards.
As in the above calculation the saving at the end of 20 years for 20 Lakhs loan is Rs. 254,408. So its value by discounting it @ 8% at end of 19th year is Rs. 235,563.
Next we need to calculate the difference amount which when invested at 8% p.a. as in the above table would give the value of Rs. 235,563 at the end of 19 years. The difference turns out to be Rs. 443. So effectively you are getting a discount of Rs. 443 on your EMI of Rs. 20,305. So your net EMI turns out to be Rs. (20,305 – 443 = 19,862).
At 10.43% interest rate your EMI turns out to be Rs. 19,874. With all this complex calculation Axis Bank is offering an indirect discount of 32 basis points or 0.32% on its interest rates [1 percent = 100 basis point].
So Axis Bank turns out to be a better option for Rs. 20 Lakh loan if the competition interest rate is more than 10.43%.
Similarly for Rs. 50 Lakh loan the effective interest rate turns out to be 10.67% a discount of 33 basis points and in case of Rs 1 Crore loan the effective interest rate comes to be 10.91%.
So with all the above assumptions you can assume that the 12 EMI wavier turns out to be an indirect discount of 0.33% on Home Loan interest rates of Axis Bank. This would change with change in assumptions.
The press release by Axis Bank also mentioned that this Happy Ending Home Loan is only for new customers and old home loan customers could switch to this scheme by paying relevant processing fee which is 1% of outstanding Loan amount.
Does it make sense for existing Home Loan customers to switch to Happy Ending Home Loan at same rate of Interest?
This is simplest of all the above calculation. We take the same three cases of Rs. 20 Lakh, 50 Lakh and 1 crore home loan. We assume that you have taken the home loan a few days back and hence your principal outstanding has not changed.
There are two options:
In first case you pay the processing fee for switching your Loan while
in the other case you continue with your loan and invest what you have paid as processing fee. The decision to switch your Home Loan would depend on the return that you expect on this investment.
As shown in the calculation above it makes sense to switch to the Happy Ending Home Loan scheme if your return on investment is less than 13.5%. This kind of return is not feasible for most people under ordinary circumstance and hence it makes sense for those to switch their home loan, provided they pay all EMIs on time.
Conclusion:
Axis Bank – Happy Ending Home Loan is a innovative product and would see a lot of interest from consumers and lending institutions. The product is a bit complex and its benefit would be misunderstood by many [People who would ignore Time value of Money]. This is a nice product but your calculations before opting for it!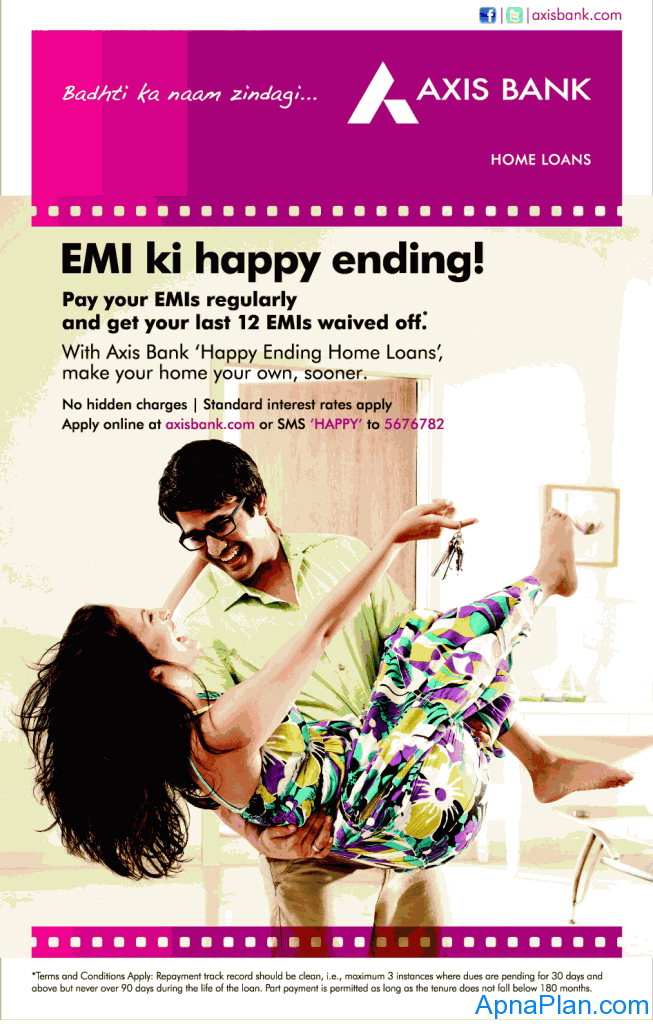 Disclaimer: The above analysis is based on Press Release by Axis Bank. The full details of the product is still awaited and hence some parts of this analysis may not hold true.