IFCI (Industrial Finance Corporation of India) a Government of India undertaking which caters to the long-term finance needs of the industrial sector has come out with Rs 250 crore (with an option to retain over-subscription up to Rs. 790.81 crore) public issue of non-convertible debentures (NCD) offering up to 9.50% interest rate.
IFCI Ltd. NCD – Significant Points:
Offer Period: January 01 – February 04, 2015
Annual Interest Rates for Retail Investors: 9.45% to 9.50% depending on tenure
Price of each bond: Rs 1,000
Minimum Investment: 10 Bonds (Rs 10,000)
Max Investment Limit for Retail Investor: Rs 2 Lakhs
Credit Rating: 'AA-' by Brickwork, 'A' by ICRA
Allotment: First Come First Serve
Demat/Physical Form: Investors can get allotment either in their Demat account or physical certificates as per their choice
Listing: Bonds would be listed on BSE/ NSE within 12 days of closing of issue
Also Read – Know NCD – Investment Tips, TDS and Taxation
IFCI Ltd. NCD – Investment Options:
There are 4 options of investment in IFCI Ltd. NCD.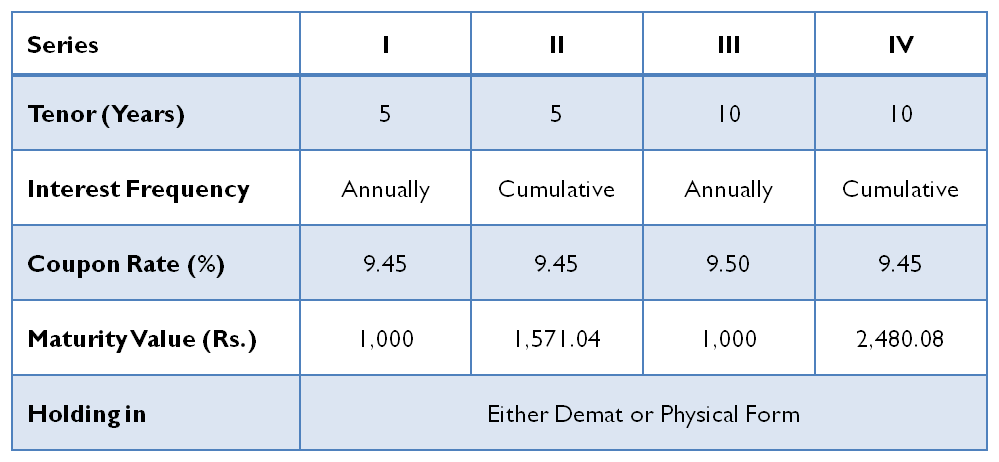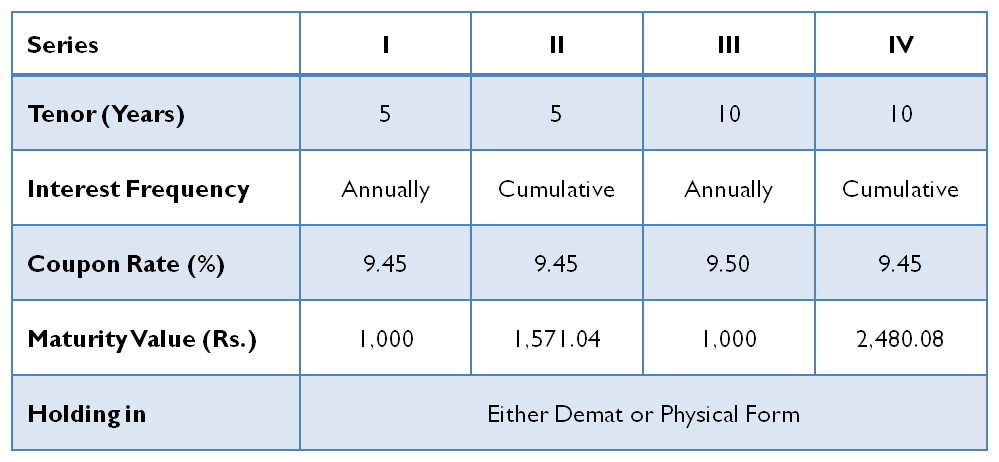 IFCI NCD – Who can Apply?
This issue is open to all Indian residents, HUFs and Institutions.
Category I – Institutional Investors – 25% of the issue is reserved
Category II – Domestic Corporate – 25% of the issue is reserved
Category III – Non-Institutional Investors/ HNIs including HUFs – 25% of the issue is reserved
Category IV – Retail Individual Investors including HUFs – 25% of the issue is reserved
However NRIs cannot apply for this NCD.
You are considered as Retail investor (Category IV), if you invest less than Rs 2 Lakhs in the issue.
Why you should invest?
IFCI is owned by Government of India, so the chances of default is very low
The NCD is secured, which means the above debt is backed by assets of the company
The interest rates are better than your regular FDs
With further rate cuts expected from RBI, the next tranche of NCDs might have lower coupon rates. So if you have money you can lock your investment at higher interest rates.
Also with fall in interest rates, you can expect good capital gains going forward. The bond can be sold in secondary market making good capital gains even before maturity.
Why you should not invest?
The non-performing asset (NPA) levels of IFCI are very high, which is one of the reasons behind its relatively lower credit rating
The interest offered is not good for people in highest tax bracket. Even today tax free bonds offer yield of more than 7%. For IFCI NCD the post tax return for 30% tax bracket is 6.56%.
How to Apply?
If you have Demat account apply through that. It's the easiest way to apply and also avoids a lot of hassle in terms of KYC and paper work
In case you don't have Demat Account, you can download the application form from company site or Financial Institutions and submit to collection centers.
Recommendation:
Most banks have cut their fixed deposit rates recently and with further rate cuts expected from RBI, the FD rates would go down further. IFCI NCD is from government backed company and the chances of default are very low despite not so great credit rating. My recommendation is to invest some part of your Fixed Income investment in this NCD Issue if you are not in the highest tax bracket.
You should always have diversified portfolio be it fixed deposit, NCD or equity investment
Its good idea to remain invested till maturity because liquidity on exchanges is low and hence you would get lower than market value