Delhi Metro has hiked its fare effective today (May 10, 2017). The minimum fare starts at Rs 10 and goes up to Rs 50. For travel on Monday to Saturday the fares have six slabs depending on distance of travel.
There would be discount of Rs 10 on all fares (except where the base fare is Rs 10) on Sundays and National holidays (26 January, 15 August and 2 October).
The Delhi metro fare would again be hiked from October 1, 2017 when the maximum slab would be Rs 60.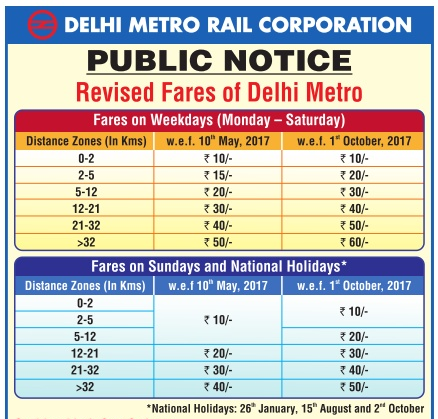 The fares have been revised after gap of 7 years due to increase in operating and input costs over the years.
Benefits of using Smart Metro Cards:
The benefits of using the smart metro card would continue.
1. 10% discount on fares on every journey taken using smart cards
2. Additional 10% (which makes it 20%) discount would be given to passengers who EXIT from metro system at off-peak hours:
Start of Service to 8:00 AM
From 12:00 noon t0 5:00 PM
From 9:00 PM to closing of service
3. The above discount is applicable on full fares (i.e. from Monday to Saturday – excluding national holidays)
Delhi Metro Tourist Card:
1 day and 3 days tourist metro cards are available for Rs 200 and Rs 500 respectively. This includes the refundable security deposit of Rs 50.