As expected there was lot of chaos around with some people struck without any usable currency. Here are list of places where your old Rs 500/1000 currencies should be accepted till November 11 midnight.
Government Hospitals and pharmacies in these hospitals
Railway ticketing counters
ticket counters of Government/Public Sector Undertaking buses
airline ticketing counters at airports
for purchases at consumer co-operative societies
at milk booths
at crematoria/burial grounds
at petrol/diesel/gas stations of Public Sector Oil Marketing Companies
and for arriving and departing passengers at international airports up to Rs 5,000 and
for foreign tourists to exchange foreign currency at airports up to Rs 5,000
Unfortunately these establishments are not accepting these notes easily. There were several complaints about the same in news and social media.
Save Tax Honestly: Download the Free Tax Planning guide for FY 2016-17
In addition to the above following have been added to the list today:
Metro tickets/recharge
All tolls on national highways are free till November 11. Also Maharastra government has made tolls free within the state.
ASI monuments for entry tickets
LPG cylinder suppliers are allowed to accept the old notes
The problem at most places is they would not be able to give you change as they might have run out of it. So if you go to petrol pump fill up in multiples of 500. Social media has been abuzz with a lot of places which should accept old notes are not doing so or overcharging customers.
Creative Schemes for Old 500/1000 notes:
As I expected, there are some schemes already in the market where you can use your old notes. Here are some samples:
Also Read: 13 Investments to Generate Regular Income
Invest in Real Estate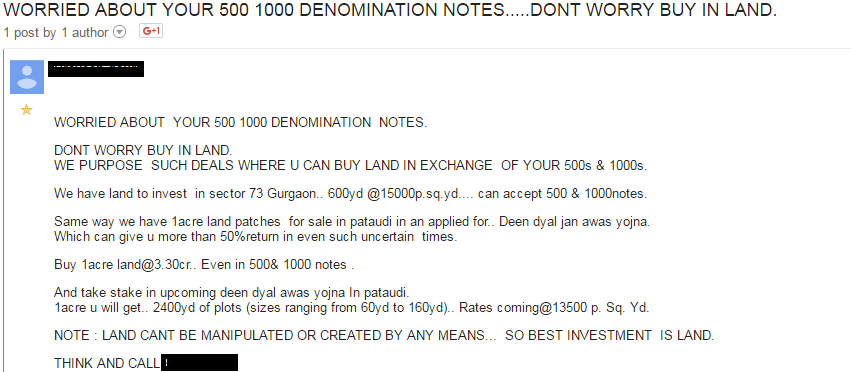 Take a trip to Parlor
More Developments:
Some ATMs might be functional from tomorrow (November 10), while majority would be functional from November 11.
ATMs would dispense Rs 50 notes too
RBI has asked banks to waive off charges for more than 5 ATM transactions from November 10 to December 30.
All banks would be working on coming Saturday & Sunday (November 12 & 13). Some banks/branches would work for extended hours to cater to its customers.
New Rs 500 and Rs 2000 notes would be available from November 10 in bank branches.