GST came into effect on July 1, 2017. Though this was quoted as "Good and Simple Tax" by our Prime Minister but there is still a lot of confusion about the applicable rates – which has been constantly debated on social media.
The government sensing the same has issued the clarification which is as shown below:
Different circumstances of supplies by restaurants
Rate of GST (CGST + SGST)
Restaurant under Composition Scheme (up to aggregate turnover of Rs. 75 lakh)

This limit is Rs. 50 lakh for Assam, Arunachal Pradesh, Manipur, Meghalaya, Mizoram, Nagaland, Tripura, Sikkim and Himachal Pradesh

5%
Restaurant with no air-conditioning in any part thereof and not serving liquor
12%
Restaurant with partial or full air-conditioning or serving liquor
18%
Is there any restaurant where the rate of tax is 28%
No
Rate of tax on food parcel cooked as per order
As applicable to service of food in that restaurant
Rate of tax on parcel of pre-packed and pre-cooked namkeens sold from restaurants
12%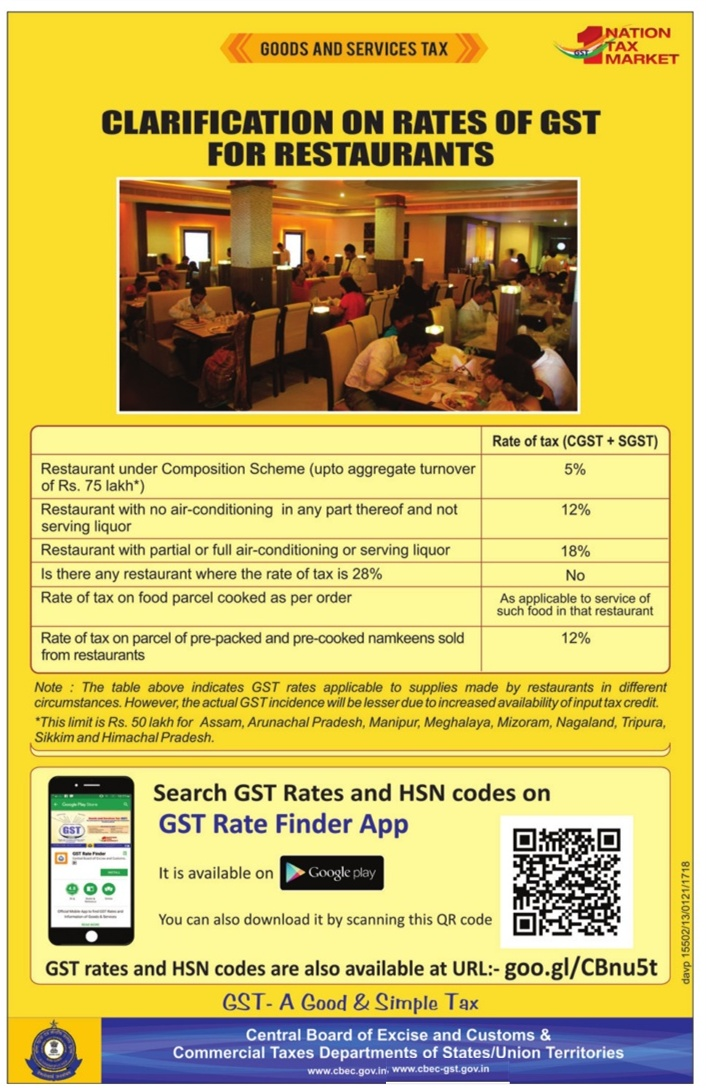 Unfortunately the GST tax is NOT simple. Why do we need so many categories? Also for take-away the GST applicable is same as applicable to service of food in that restaurant!
The other thing to note is if the Restaurant pays GST under Composition Scheme this should not be charged to the customer but paid from their gross collection. Now how a customer would know if the restaurant is covered under Composition Scheme or paying 18% GST.
Some more updates from Hasmukh Adhia (Revenue Secretary):
GST should apply on entire food bill (excluding alcohol) including Service Charge.
Alcohol is still covered by VAT & does not come under GST
Also the net outgo of GST for restaurant would be less than 18% as it would get credit for GST paid on input goods and raw materials. Ideally restaurant should pass on that benefit to customers…. Read about it some restaurants doing it but would others follow!