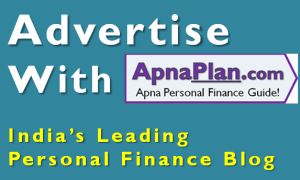 ApnaPlan.com is a website dedicated for Personal Finance matters and below are some of the stats.
ApnaPlan.com – July 2014 Statistics
Page views: 60,764
Alexa Rank: 3,71,813
Alexa Rank (India): 24,233
Almost 90% of visits are from Search Engines which means viewership by people who are looking for matters related to Personal Finance.
Who can advertise?
The advertisement space can be useful for following kind of advertisements:
Websites
Financial Planners
DSAs – Direct Selling Agents dealing with financial products
Links with your own affiliate ids
You got the idea 😆
What's the cost?
I am testing direct advertisement for the first time and so have kept prices very nominal. There are total of 5 slots available.
4 slots on the sidebar of 125 X 125 dimension – $ 8 per month
1 slot at the header beside the title – 468 x 60 dimension – $20 per month
Link Advertisement – Depends on kind of link and its placement
The payment can also be done in Rs. at following exchange rates: $ 1 = Rs. 63
The advertisement would be designed by you as per above dimensions.
Any other kind of advertisement space may be created on client's requirement.
How to pay?
You can pay by direct Bank Transfer or Paypal as per your convenience.
How to Contact?
You can mail your requirement to [email protected]