On May 6, 2014 Times of India had published an analysis stating "ONLY BUILDERS, BANKS GAIN WHEN YOU TAKE LOAN TO INVEST IN REALTY" and showed that investing in fixed deposit and recurring deposit is more beneficial than investing in real estate.
This article was shared a lot many times on social media. I personally did not believe the calculations and so here is my take on how the calculation that was shown to readers was flawed.
The calculation is reproduced below with my comments.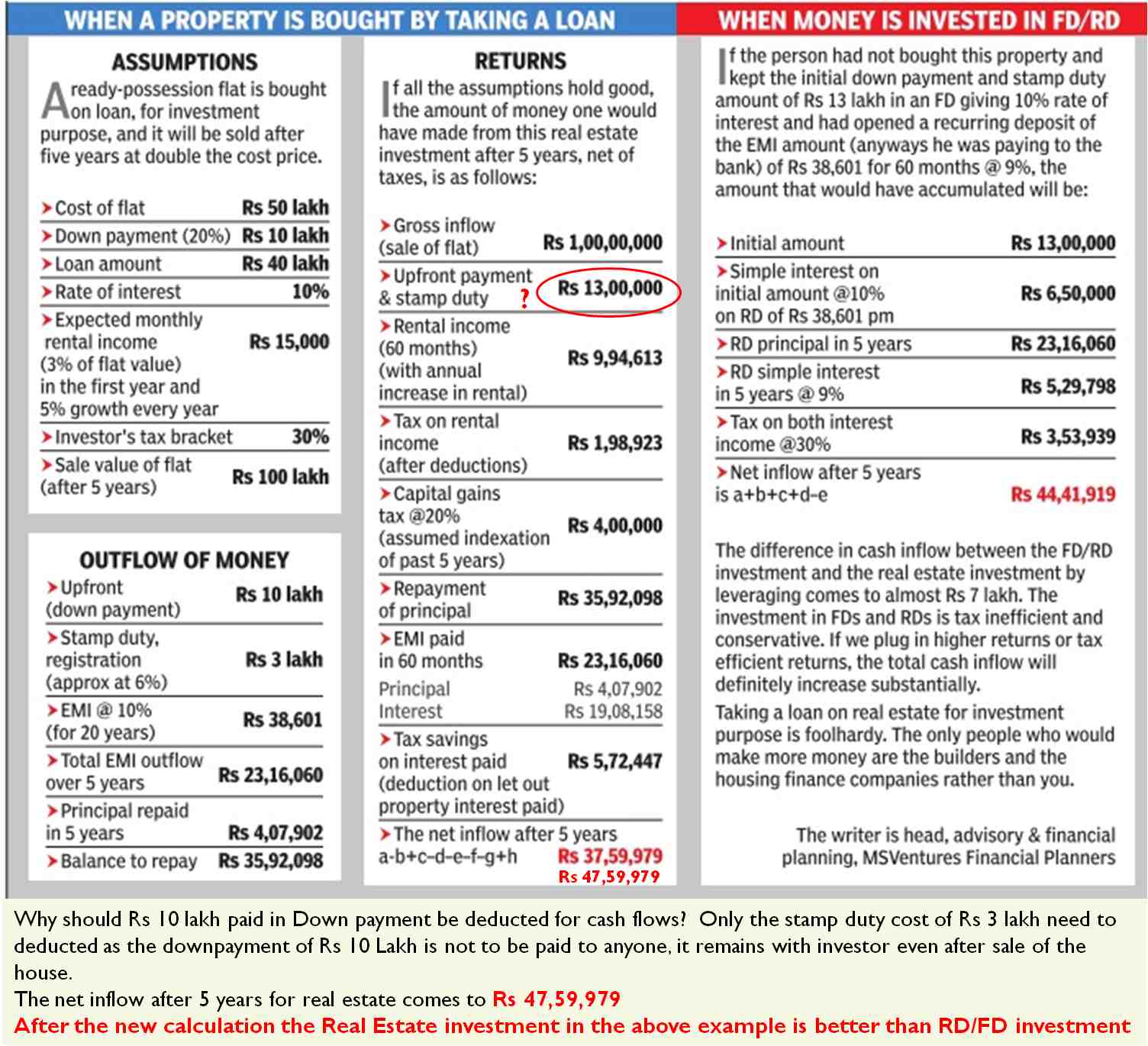 The above calculation compares Gross Inflow of RD/FD with Net Inflow (or Profit) of Real Estate Investment
As you can see while calculating returns for real estate investment there is deduction of Rs 13 Lakhs as upfront payment & stamp duty. In reality the upfront payment made initially comes back to investor and so it should not be deducted. Only the stamp duty of Rs 3 lakhs should be deducted.
This makes the net returns on real estate higher by Rs 10 lakhs at Rs 47.59 lakhs which is higher than Rs 44.41 lakhs as made by investing in FD/RD.
Download: Ultimate Tax Saving ebook with tax calculator FY 2017-18
The above example has lot of components and hence might be difficult to comprehend. So taking the same assumptions I did a calculation where one investor buys real estate without loan and while the other investor invests all amounts in Fixed Deposit.
Below is the calculation with similar headers and No Loan: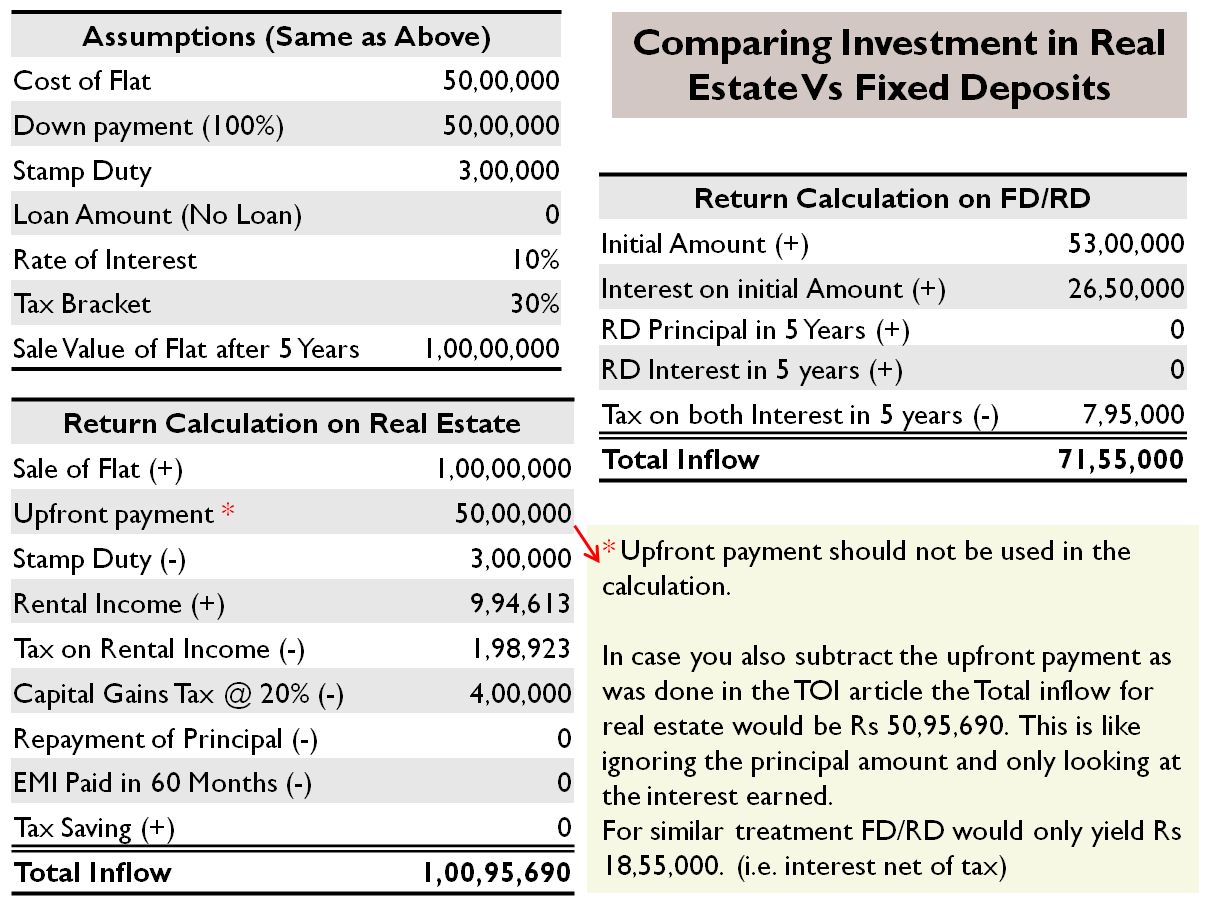 Some readers were confused and asked me to do the TOI calculation in above template. Below is the attachment: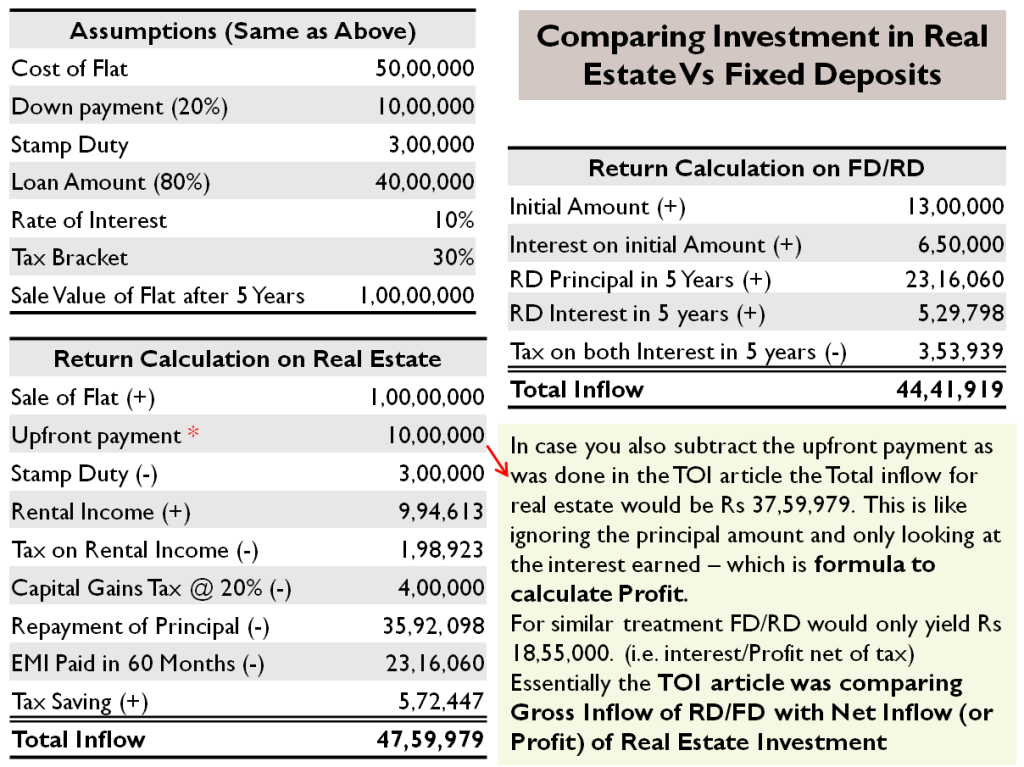 I hope the above calculations would have cleared any confusion.
The Key Learning:
You cannot trust everything that is on newspapers! Even excel sheets and math can be used to fool investors.
Disclaimer:
The above calculation is not to prove that Real Estate is a better investment as the assumptions above may not hold true always.