After you fill up your income tax return forms, the last section asks for Verification. The statement reads as:

I, (full name in block letters), son/ daughter of solemnly declare that to the best of my knowledge and belief, the information given in the return and the schedules thereto is correct and complete and is in accordance with the provisions of the Income-tax Act, 1961.
I further declare that I am making returns in my capacity as and I am also competent to make this return and verify it. Many tax payers are confused on what should the enter in my capacity as?
The problem is income tax department has left the form open ended although there are just a few options that can go here. Ideally, they should have provided with drop down options. The capacity depends on the person signing and verifying the ITR and can be as follows:
Self if you are an individual (most of return filers would choose this)
Karta if you are a HUF (Hindu Undivided Family)
Legal Heir in case return is being filed for a deceased person
Partner or Designated Partner in case of partnership firm/LLP
Managing Director or Director in case of the company
Managing Trustee or Trustee or Designated person for filing the return in case of Trust
Power of attorney holder or Authorized Signatory in case the return is filed by POA holder
Here are some posts which can help you with e-filing of Income Tax Return: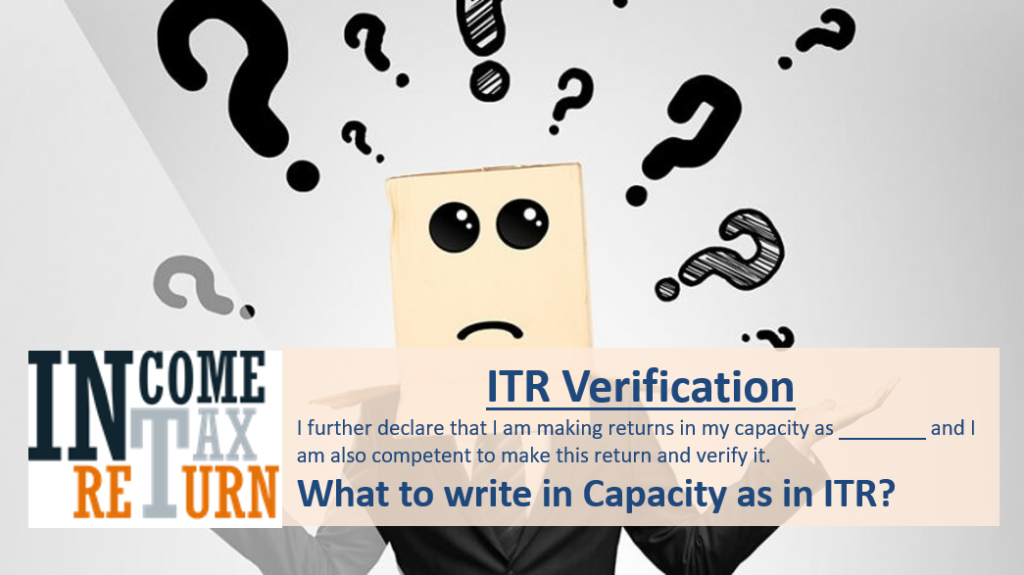 I hope this resolves the doubt about what to fill in the my capacity as in the ITR Forms.