Unitech has launched its Fixed Deposit Scheme for the tenure of 1 to 3 years offering interest rate 11.50% to 12.50% per year.
Salient Features:
Minimum deposit amount is Rs. 25,000 only.
Additional amount will be accepted in multiples of Rs. 1,000 only.
Nomination facility available.
In scheme A – All quarterly interest cheques for the financial year will reach to investors 15 days prior to the due date of the first interest cheques.
Interest to be calculated monthly on deposit of 1 year and more in Scheme B.
Interest to be calculated from date of encashment of Cheque/Demand draft by Unitech Ltd.
Get SMS alerts as acknowledgement of documents received by the company & FD creation.
Interest Rates: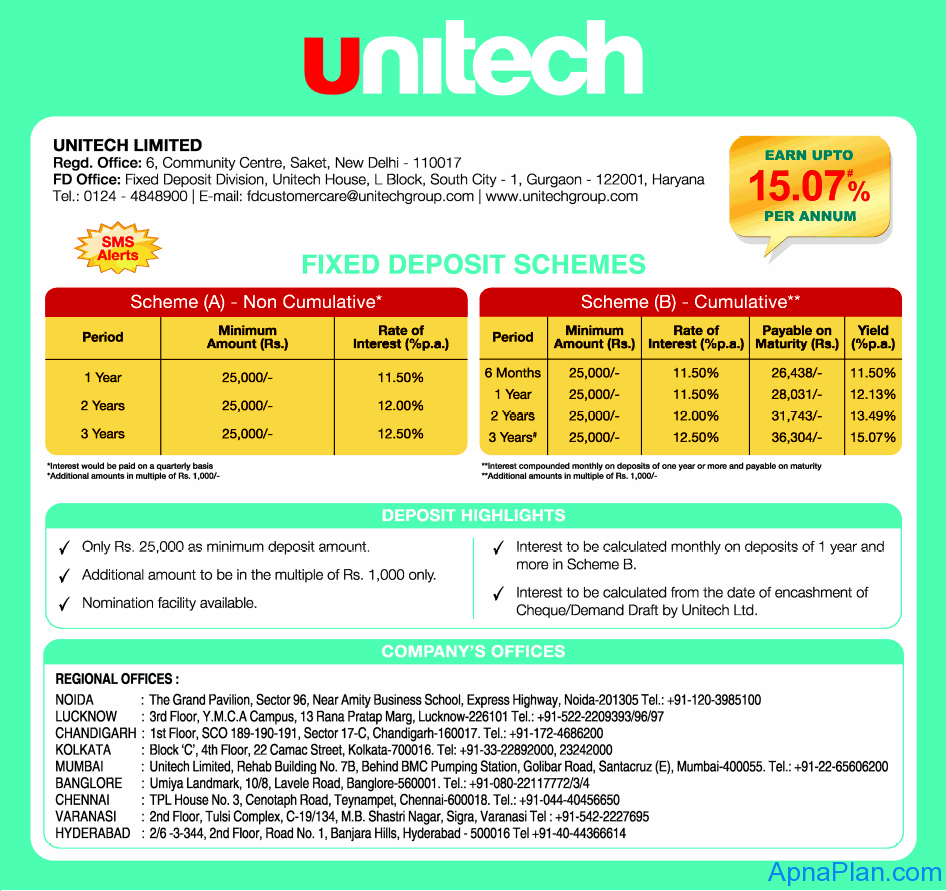 Why Invest?
The interest rate of 12.5% is higher by 3% than that offered by most banks.
Why not to Invest?
Company fixed deposits are unsecured and illiquid.
Real Estate Companies in general are facing a tough time and Unitech in particular has high debt.
Interest income from company fixed deposits is taxable and for those in the highest tax bracket the post tax return works out to a mere 7.95% to 8.64%.
About Unitech:
Established in 1972, Unitech is amongst India's leading builders, with an outstanding track record in large-scale, integrated real-estate development. Its India's most geographically diversified real estate developer with properties in Gurgaon, Noida, Bangalore, Chennai, Kolkata, Lucknow, Mysore, Mohali, Ambala, Rewari and Bhopal. The land reserves of thousands of acres have some of the most premium apartments, luxury villas & well-planned townships in Noida, Gurgaon, Kolkata, Bangalore and Chennai. Unitech luxury homes are crafted and designed especially for the aficionados of luxury. Unitech residential developments span the entire value chain – from top-of-the-line luxury apartments in Noida to premium residential apartments in Gurgaon to affordable apartments (Unihomes) in 2nd tier cities like Ambala, Rewari and Bhopal.
Click Here to Download Unitech FD Application Form