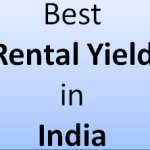 Being landlord is one of the best ways to generate passive income. But unfortunately the rental yield for residential units is lower in most parts of India.
What is Rental Yield?
In case you are wondering, Rental yield is defined as ratio of Annual Rent of the property to the Total cost of the property.
For e.g. If you get a rent of Rs. 10,000 per month and the value of the house is Rs. 50 Lakhs, the rental yield would be calculated as follows:
Annual Rent = 10,000 X 12 = Rs. 1,20,000
Rental Yield = 1,20,000/50,00,000 = 2.40%
On an average you cannot expect more than 2% rental yield for residential flats in India. But here are 10 addresses in India where you can find above average rental yields and so is a good investment opportunity in case you want to buy the property and rent it out.
These are locations which have lot of offices in their surrounding areas and hence people are ready to pay higher rent for the convenience. Also these locations are expected to give good capital appreciation in future due to higher demand and higher expected rent.
The table below is ranked based on Rental Yield and the last column shows the expected monthly rental for property valued at Rs. 50 Lakhs. These are average rental yields and it may vary slightly for individual houses based on their location and other facilities.
Top 10 Rental Yield Locations in India
Rank
Location
Rental Yield
Expected Monthly Rent

*

1
EM Byepass, Kolkatta
6.14%
25,583
2
Electronic City, Bangalore
5.87%
24,458
3
Kondapur, Hyderabad
4.68%
19,500
4
OMR, Chennai
4.65%
19,375
5
Bandra East, Mumbai
4.27%
17,792
6
Vejalpur, Ahmedabad
3.60%
15,000
7
Indirapuram, Ghaziabad
3.33%
13,875
8
Viman Nagar, Pune
3.32%
13,833
9
Sushant Lok 1, Gurgaon
3.18%
13,250
10
Sector 50, Noida
2.70%
11,250
* For Property value of Rs 50 lakhs