There are advantages of being a woman – both financially and other wise. But this post focuses on the advantages the women have in the financial world.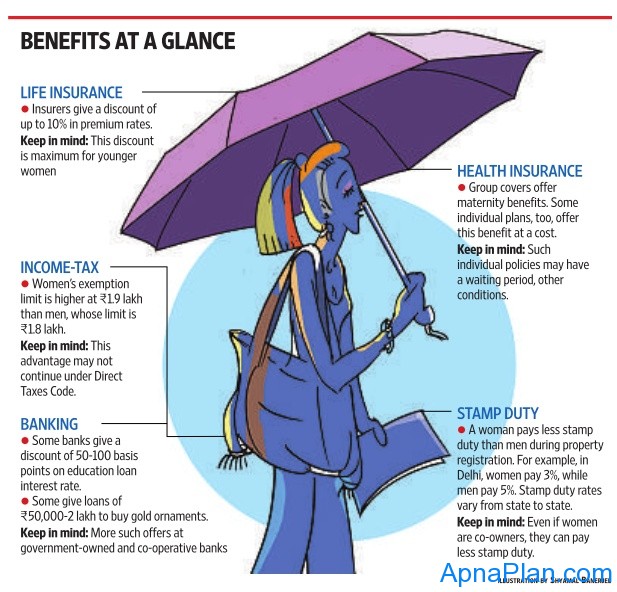 Income Tax Benefit:
Under the current tax regime, women pay less tax than men. For the present financial year (2011 – 12), the tax exemption limit for women is Rs. 1.9 lakh while for men its Rs.1.8 lakh.
So a woman who earns an annual salary of 10 lakh will need to pay around 1.18 lakh as income-tax while the male counterpart will need to pay 1.19 lakh as taxes. This tax liability is assuming that both have availed section 80C and 80CCF deductions of 1.2 lakh.
Fading advantage: Earlier, the difference was larger, but has narrowed down over the years and works to just around Rs. 1,000 presently. Going forward, the Direct Taxes Code (DTC) proposes to completely wipe out the difference. Under the proposed DTC, both men and women will have the same exemption limit of 2 lakh.
Life Insurance Policies:
Typically, when buying life insurance women pay less premium than men. Women enjoy discounts up till the age of 40 years. The discount on premiums can go up to 10%. This is because women have more longevity than men.
For instance, under Aegon Religare's online term policy, a 30-year-old male will have to pay an annual premium of Rs. 3,900 for a Rs. 50-lakh cover with 20-year tenure. All parameters remaining the same, a female policyholder will be charged Rs. 3,500 under the same policy. Similarly, under Kotak Life's term plan, the rates for women are cheaper by nearly Rs. 1,000.
Critical Illness Riders/Covers:
General insurers like Tata-AIG General and Bajaj Allianz offer critical illness plans intended to cover women-specific critical illnesses, with a particular emphasis on Cancer. Aegon Religare Life has recently incorporated such a rider in the upgraded version of its online term plan.
Education Loans:
All public sector banks offer a concessional rate of interest to girl students – they have to pay 0.5 – 1.0 percentage point lower rates compared to their male counterparts. Recently, the State Bank of India reduced interest rates on its study loans by 25-100 basis points across ticket sizes. Also Bank of Baroda gives a loan that is cheaper by 1% for girl students.
Loans for Women Entrepreneurs:
Some public sector banks like the Bank of India and Central Bank of India provide credit facilities for women entrepreneurs. Under the latter's Cent Kalyani scheme, loans are extended to self-employed women, professionals and those intending to set up small-scale businesses. Bank of India allows women to borrow funds at a concessional rate under their mortgage loan scheme. The regular interest rate being charged is 14.75-15.25%, but women loan seekers are eligible for lower rates of 14.5-15%.
Special Loans:
A few banks offer loans for women to buy gold jewellery. For instance, Bank of India has a Star Mahila Gold loan scheme. As far as special loans for women go, government- owned and cooperative banks have more to offer.
Saving Bank Account & Debit Cards:
Women's debit cards usually come with better reward points and may get you discount coupons at select shops. IDBI Bank Ltd's women's debit card offers a higher daily cash withdrawal and shopping limit of Rs. 40,000. A few banks, including Axis Bank Ltd, IDBI Ltd and ICICI Bank Ltd, have savings accounts, which have women-specific features such as zero balance requirements.
Corporation Bank's Mahila- Power 3-in-1 savings account offers a personal loan and insurance cover of Rs. 1 lakh.
Credit Cards:
Banks are also designing premium cards with women specific features. For instance, HDFC Bank Ltd's Solitaire Premium Women's Credit Card Range. These cards apart from reward points on spending on apparel and dining, offers free health check-up package from Thyrocare (for Solitaire) and from Apollo (for Solitaire Premium).
Real Estate – Stamp Duty:
Stamp duty Transfer of property is subject to stamp duty in the country. It is a tax you pay to the state government when you buy a property or get a property transferred in your name.
However, for women, the rate is less than that for men. The stamp duty rates vary from state to state. The total cost of the property is lower when the stamp duty is paid in the name of woman. Even if the woman is a co-owner in the property, the discount is available. For instance, in Delhi, a woman needs to pay a stamp duty of 3% compared with 5% for men, and 4% if a woman is a co-owner. Thus if your apartment costs you Rs. 50 lakh, you would have to shell out Rs. 1.5 lakh as stamp duty if you are woman compared with Rs. 2.5 lakh that a man would have to pay and Rs. 2 Lakh in case of joint registration.
The benefit of lower stamp duty can be availed even when the property is transferred by way of gift. Stamp duty has to be paid even when the property is being converted from leasehold to a freehold.
Mutual Funds:
UTI Mahila unit scheme: UTI pitches this mutual fund as an investment plan exclusively designed for women. This is a balanced fund with only 30% allocation to equities and 70% to debt. This was a star performer until a few years back but now is an average performer.
These are a few women centric offers available in the market. Of course, there will be discounts at various places today. So go ahead and make use of the benefits as we wish you a happy women's day!
Did you know whats the salary of Homemaker?