Taxation on your investment is as important as the return on Investment. All financial instruments go through three stages
Investment
Earning
Withdrawal
The tax rules vary across the above three phases. This post would tell you how different financial Instruments are taxed in these three phases and what would be its impact on you.
Based on the above three stages there can be 6 possible tax treatments:
EEE – The Exempt-Exempt-Exempt model means all three stages are tax-free. You get Tax deduction at the time of investment; the earnings are tax-free, as are the withdrawals.
EET – The Exempt-Exempt-Tax regime gives tax deduction at the time of investment and the earning is tax-free, but withdrawal is taxed as the income at marginal rate.
TET – Here again, the investor puts in post-tax income. While there is no tax during the growth stage, the earning is taxed at the time of withdrawal.
TTE – This is possibly the least tax-efficient regime, with no tax deduction offered and earning fully taxable. With income taxed every year, there is no tax at maturity.
ETE – The Exempt-Tax-Exempt arrangement offers tax deduction to investment but earning is taxed. The withdrawal is tax-free given that tax is paid at the growth stage.
TEE – No tax deduction here for the investor. He invests post-tax income but the earning and withdrawal are tax-free if the investment is held for at least one year.
Financial Instruments and their Tax Treatment: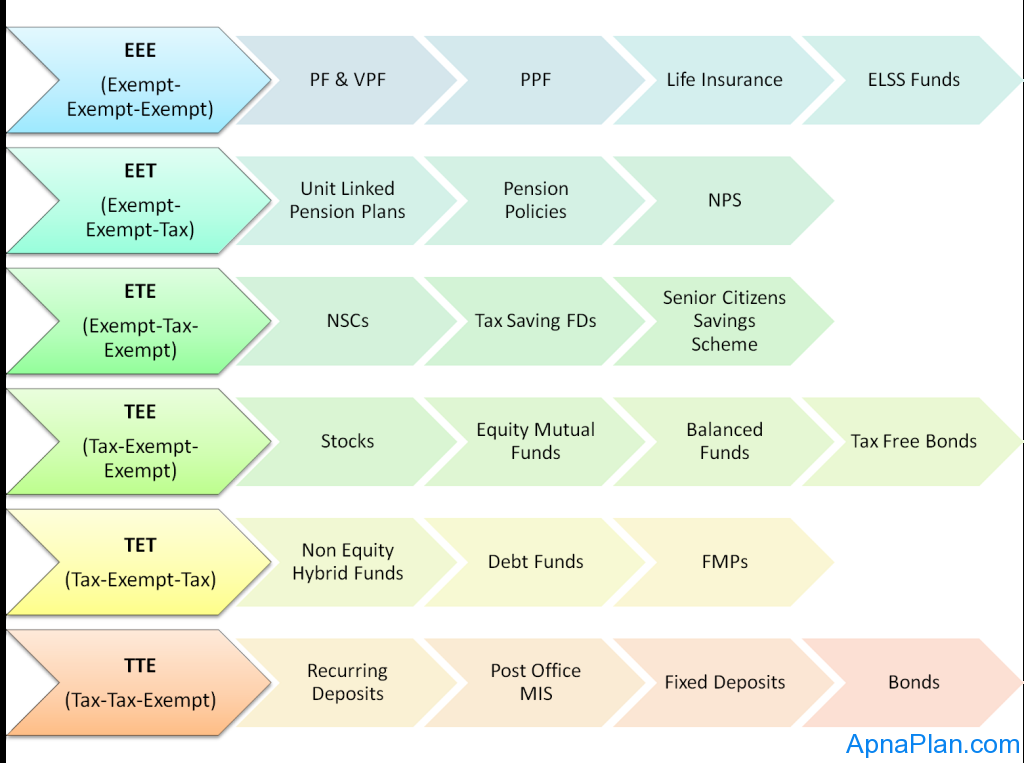 EEE
EET:
ETE:
TEE:
TET:
TTE: