The Tax Planning Presentation for FY 2013-14 – Tax Planning: How to Save Taxes for FY 2013-14 (AY 2014-15) was huge success. It was one of the most viewed presentation on Slideshare and had more than 3 Lakhs downloads from this site.
Budget 2014 presented by the Finance Minister Arun Jaitley on July 10, 2014 had following major changes in the income Tax:
Income up to Rs 2.5 lakhs for General Public and up to Rs. 3 lakhs for Senior citizens are now exempted from paying Income tax. Earlier this limit was Rs 2 Lakhs for General Public and rs 2.5 Lakhs for Senior Citizens.

The exemption limit for investments under section 80C has been raised from Rs 1 Lakh to Rs 1.5 Lakhs. 

The exemption on paying interest on Home Loan has been raised from Rs 1.5 Lakhs to Rs 2 Lakh.
The presentation below incorporates the above changes.
[button link="https://apnaplan.files.wordpress.com/2018/02/how_to_save_tax_for_fy_2014_15.pdf" size="large" style="download" color="darkcyan" text="light"]Download Tax Planning eBook for FY 2014-15 [AY 2015-16] (2.63 MB)[/button]
The New Modi Government at the center would be presenting budget 2014 sometime in July and then there might be some changes in the Tax laws. We would be editing this Presentation accordingly.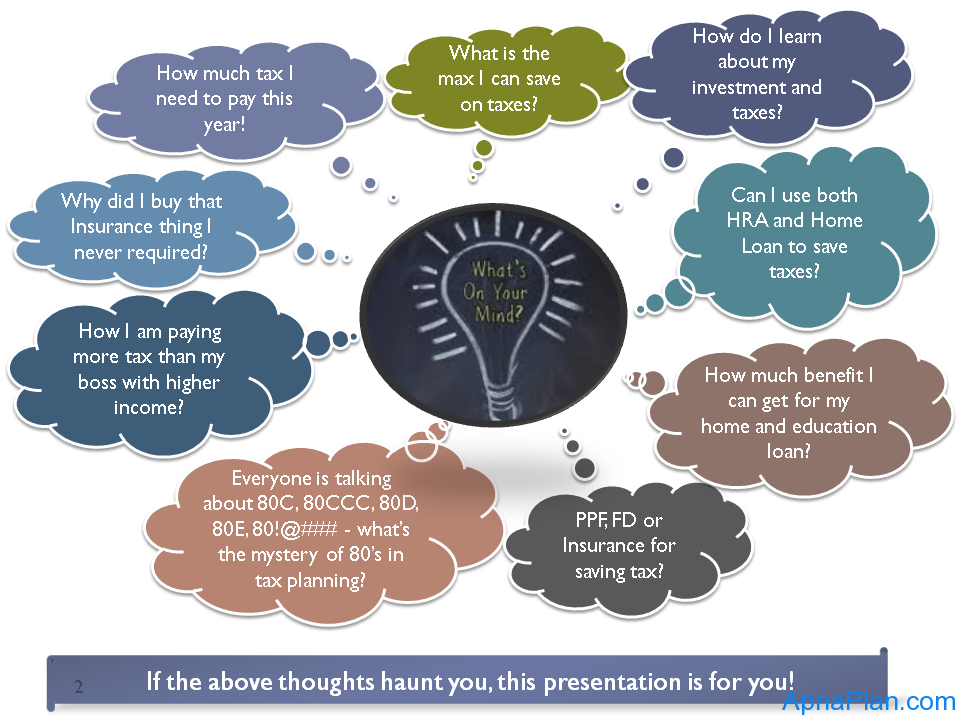 If for some reason you want to view the presentation on Slideshare Click on Button below You want to view the presentation on Slideshare
[button link="http://www.slideshare.net/apnaplan/how-to-savetaxforfy201415″ size="Large" style="tick" button color="Green" button text="Light"]View Presentation on Slideshare[/button]