In case if you have logged in to your NPS Portal recently you get an option about "Shift to eNPS". In this post we explain about What is eNPS, the benefits of eNPS and process to shift to eNPS.
What is eNPS?
eNPS is NPS account which has been opened by subscribers using Aadhaar on CRA portal only i.e. account was opened online without visiting any of the POP-SP (Point of Presence – Service Providers). Since eNPS was not available earlier so most of accounts that were opened earlier were using POP-SP.
Also Read: NPS Tax Benefit u/s 80CCD(1), 80CCD(2) and 80CCD(1B)
Benefits of Switching to eNPS:
The short answer to what you should switch to eNPS is because it lowers your investment cost to NPS. Here is the detailed explanation.
PFRDA, the regulator for NPS had revised the charges for POP-SP in October 27, 2017. Below is the snapshot of the new charges.
Also Read: Should you Invest Rs 50,000 in NPS to Save Tax u/s 80CCD (1B)?
The upper half which has to be collected upfront has anyway already been paid by subscribers while opening the NPS account. But two additional charges are also paid as follows:
Persistency Charge of Rs 50 per annum. This is new charge that has been introduced and would be paid to POP if the account is active and there has been minimum contribution of Rs 1,000.

eNPS (for subsequent contributions)

as Trail Commission – if you had used service of POP for opening account, then for every contribution you make, there is a charge of 0.10% of the contributed amount (Min charge is Rs 10 and max charge is Rs 10,000). So, if you make a Rs 50,000 investment you would be charged Rs 50 (0.10% * 50,000) and Rs 9 GST (@ 18%) – making it total of Rs 59. The screenshot below shows this.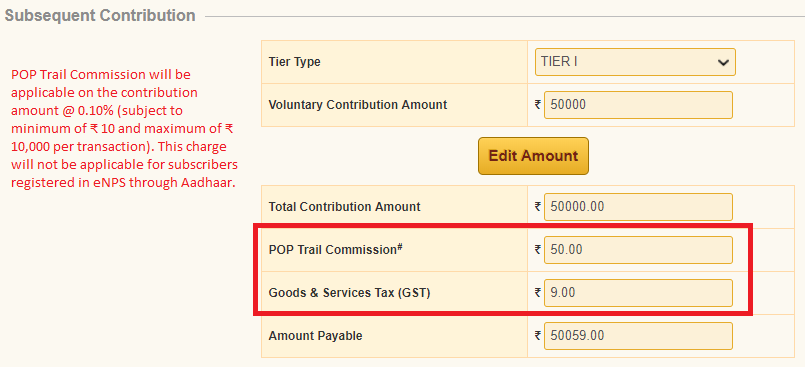 Also Read: 5 Steps to Transfer EPF to NPS
Though the charges are not high but seems useless as NO further service is being provided by POP. Also, these charges may keep of revising as happened with the above notification where the subsequent contribution charges where revised from 0.05% to 0.10%. The Persistency charge is also new from 2017.
If you contribute Rs 50,000 in NPS in one go, then keeping your POP would cost you Rs 118. In case you do investment in multiple installments, the charges would go up.
Hence my advice is to shift to eNPS and save these unnecessary charges and uncertainty in these charges in future. This is like shifting to Direct Plan from Regular Plan in Mutual Funds.
I do not see any drawback of this switch, if you know of any please share.
How to Switch to eNPS?
Thankfully switching to eNPS is easy and can be done from the NPS Portal. We share the steps with screenshots below:
Step 1: Login to Your NPS Account
Step 2: Select "Shift to eNPS" from Menu

Step 3: Confirm the Details
Also Read: NPS – Maturity, Partial Withdrawal & Early Exit Rules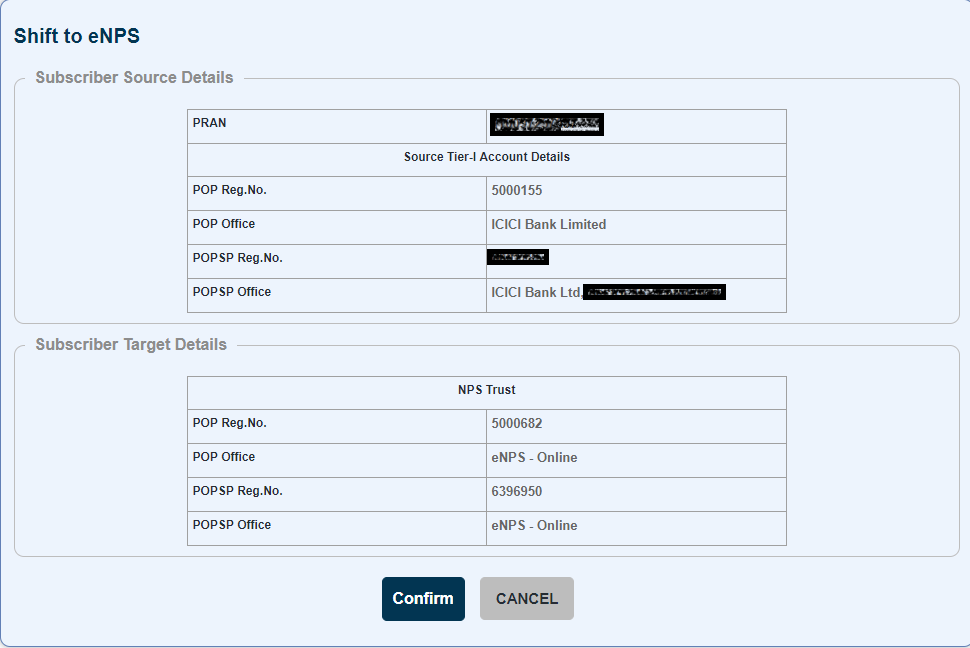 Step 4: Enter OTP that you get on your registered mobile number
Finally, you get the Acknowledgement
Also Read: How to Save Income Tax for Salaried and Professionals for FY 2018-19?

I got the below email from [email protected] confirming the shift to eNPS was complete the same day.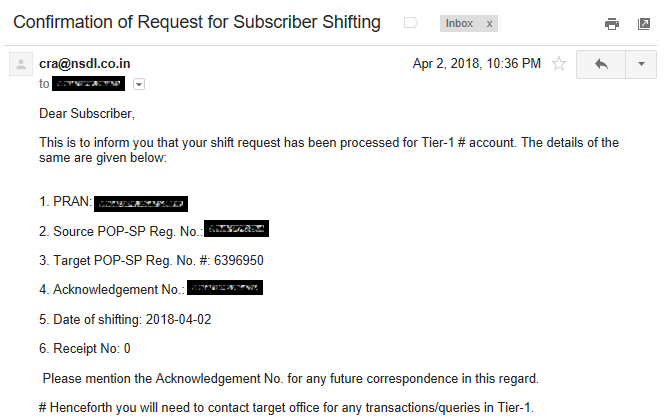 To Conclude:
If you had used POP to open NPS, its good idea to Shift to eNPS. Given that it is easy to do with click of some buttons, you must do it and reduce your cost of investment.