Sezal Glass Limited has launched its Fixed Deposit Scheme for the tenure of 1 to 3 years offering interest rate 11.50% to 12.00% per year.
Salient Features:
Minimum deposit amount is Rs. 10,000 only.
Additional amount will be accepted in multiples of Rs. 1,000 only.
In scheme A – Interest shall be paid quarterly on 31st March, 30th June, 30th September and 31st December.
In Scheme B – Interest shall be compounded quarterly and paid on maturity
0.50% p.a. additional interest for Senior Citizens, Shareholders, Employees, Defence Personnel, Para-Military Personnel, Ex-Servicemen and Physically Handicapped.
Nomination facility available.
Interest Rates:
The chart below summarizes the interest rate for Sezal Glass FD Scheme: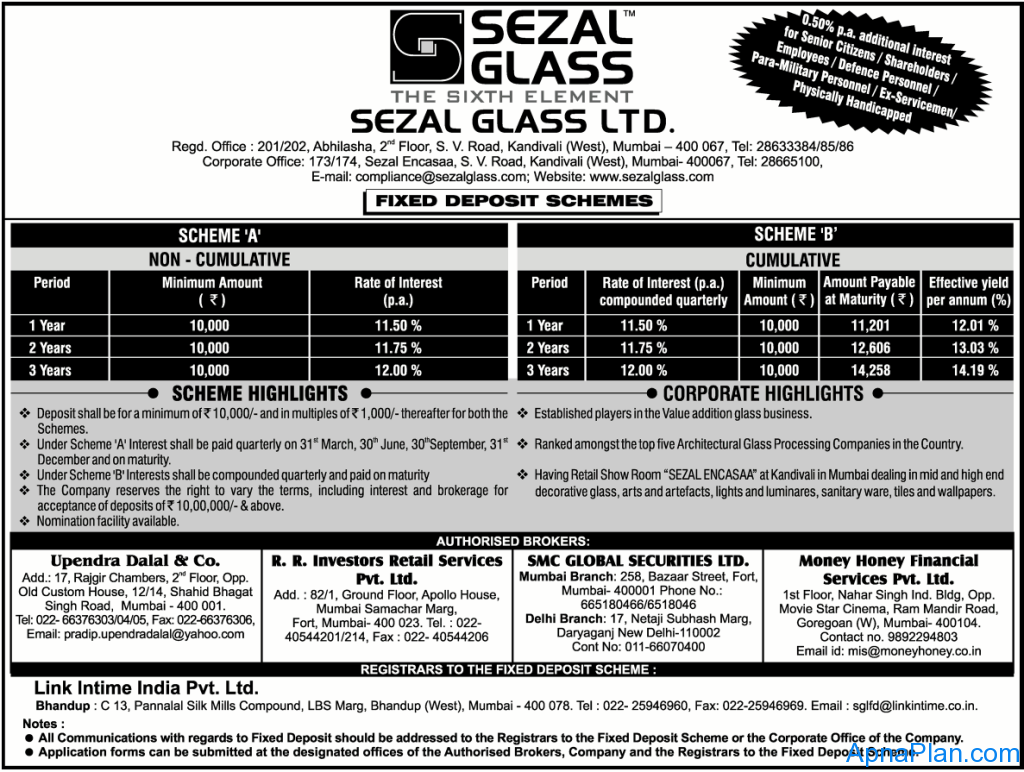 Why Invest?
The interest rate of 12.5% is higher by 3% than that offered by most banks.
Why not to Invest?
Company fixed deposits are unsecured and illiquid.
Interest income from company fixed deposits is taxable and for those in the highest tax bracket the post tax return works out to a mere 7.95% to 8.64%.
About Sezal Glass:
Established player in the value addition global player.
Ranked among the top five Architectural Glass Processing Companies in the country.
Having retail showroom "Sezal Encasaa" at Mumbai dealing in mid and high end decorative glass, arts and artefacts, lights and luminares, sanitary ware, tiles and wallpapers.
Click Here to Download Sezal Glass FD Application Form