SBI has made a very significant change in its Saving Account Interest Rate for balance of more than Rs 1 Lakh. It has linked the saving account interest rate and short-term loans to RBI Repo Rate. For those who are not aware, Repo Rate is the rate at which RBI gives loans to banks. The change is effective from May 1, 2019.
Why SBI linking of Repo Rate is BIG change?
Banks in India have been very unfair about passing of interest rate change benefits to their customers. When the interest rate goes up, banks increase the interest rates on loans quickly but not so much for their deposits (like Fixed Deposits, etc). This can be solved to an extent if the loans and deposits both are linked to an external benchmark like Repo Rate. When there is any change in the benchmark the interest rates would be auto-adjusted. So SBI's linking of Repo rate to saving account interest rate and some loans, it's a step in right direction.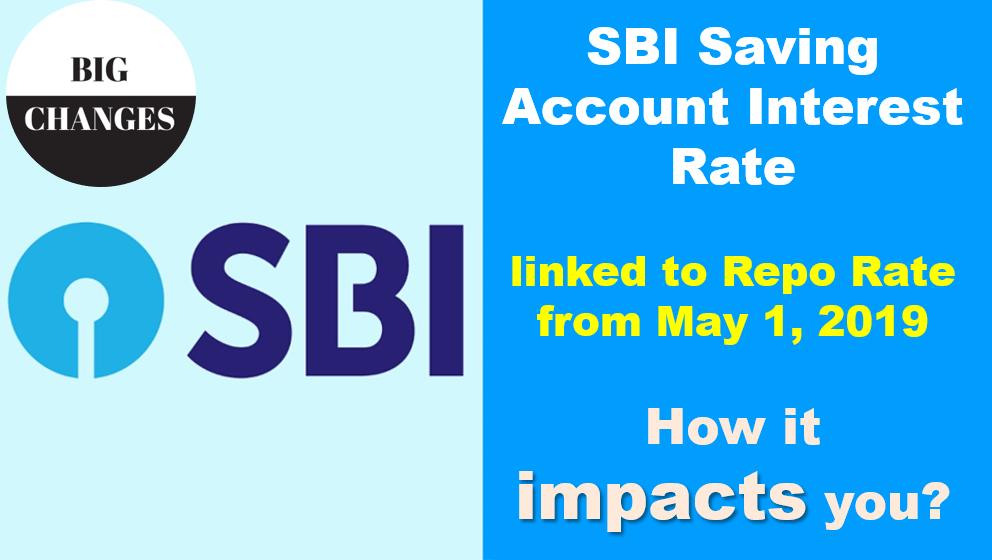 Also Read: 21 Hidden Charges in Saving Bank Account
SBI Saving Account Interest Rate:
After the change form May 1, 2019:
SBI offers 3.5% interest on its saving account if the balance is less than Rs 1 Lakh.
For balance of more than Rs 1 Lakh the saving account interest would be Repo Rate – 2.75%. As of date, the Repo rate is 6% and hence the interest would be 3.25%. This is lower than the small balance account.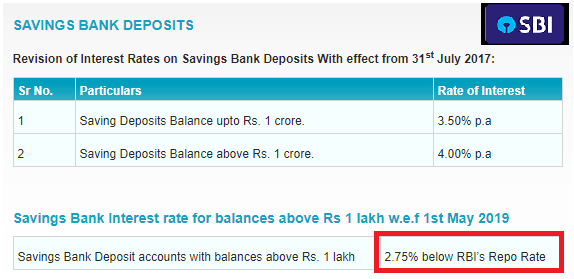 This is first major change after the RBI had deregulated Saving account interest rates – which essentially meant that banks were free to set their interest rates. Before being deregulated every bank had to offer minimum interest of 4% on their saving account. At present most banks offer 3.5% on their regular saving account.
Along with the saving account, cash credit accounts and overdrafts with limits above Rs 1 lakh will also be linked to the repo rate, plus a spread of 2.25%.
Also Read: Which bank offers highest interest rate on savings account in India?
How does SBI action impact customers?
I think linking of deposit and loan rates to external benchmark is way to go as it makes transactions more transparent. Its more of an experimental idea and hence SBI has consciously chosen not to impact small depositors & borrowers. If this works out more banks and more products would adopt this practice.
Even after this, the bank still decides on the spread to the benchmark so today SBI decided that it would pay 2.75% less than Repo rate on savings account. Tomorrow it could easily change the 2.75% to 3%. So, the interest rates would still be in control.
Nevertheless, it's a good move and I hope other major loans like Home, education and deposit products like FD, RD, etc are too marked to external benchmarks.