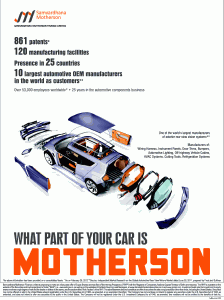 Samvardhana Motherson Finance Ltd (SMFL), component supplier to auto industry is coming out with its Initial Public Offering (IPO) of Rs 1,665 crore. The issue, which consists of a fresh issue of Rs 1,344 crore and an offer for sale of Rs 321 crore by Radha Rani Holdings Pvt. Limited, will open for subscription during May 2-4, 2012.
About the company:
Incorporated in 2004, Samvardhana Motherson Finance Limited (SMFL) is a multinational business with manufacturing and design capabilities providing full system solutions to diverse industries. SMFL provides an end-to-end range of design and manufacturing solutions to the automotive customers, including product concept and product design, engineering, manufacturing, sub-assembly and the production of integrated modules.
The business portfolio includes wiring harnesses, rearview mirrors, molded plastic parts, injection molding tools, assemblies and modules, elastomer products, cutting tools and thin film coating metals, IT services, design engineering, cabins for off-highway vehicles, HVAC/ air conditioning systems for automobiles, lighting systems, air intake manifolds, air compressors, paint coating equipment, auxiliary equipment for injection molding machines and automotive manufacturing engineering services.
The major customers of the company include the five largest automotive OEM manufacturers in the world, as well as the largest automotive OEM manufacturer in India. SMFL has 90 manufacturing facilities with a presence in 23 countries across the world, including 23 locations outside India and the company is in the process of establishing new manufacturing facilities in India, Brazil and Thailand.
IPO Fund Usage:
SMFL intends to use issue proceeds (only fresh issue money) for following:
Funding pre-payment and repayment of debt facilities availed by company and its subsidiaries (with Rs 356 crore)
Funding strategic investments (with an outlay of Rs 660 crore)
Funding investments in rear-view vision systems business (with cost of Rs 164 crore)
General corporate purposes
Present Shareholding:
Promoters (Sehgal family) except Radha Rani Holdings hold more than 71% stake in the company. The company holds 36.3% stake in Motherson Sumi Systems Limited (listed entity).
Issue details: SMFL IPO
Issue Opens on: Wednesday, May 2, 2012
Issue Closes on: Friday, May 4, 2012
Price Range: Rs 113 – Rs 118
IPO Rating: IPO Grade 4 by ICRA – indicating above average fundamentals
Minimum Order Quantity: 50 Equity Shares
Maximum Subscription Amount for Retail Investor: Rs.2,00,000
Book Running Lead Manager: Standard Chartered Securities (India) Limited, J.P. Morgan India Private Limited
Registrar of the Issue: Link Intime India Private Limited