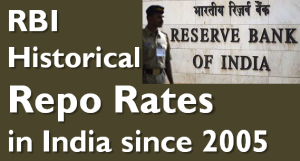 Repo (Repurchase) rate is the interest rate on which the banks borrow money from RBI (Reserve Bank of India) for their short term needs. These repo rates are fixed by RBI from time to time.
Why is Repo Rate Required?
Repo rate is one of the tools available with RBI to control the money flow in the economy. If RBI wants to make borrowing money expensive it increases repo rates and vice-versa.
Also Read: Impact of RBI Rate Cut on Your Investments and Loans
Historical Repo Rates:
The table gives the historical repo rates as fixed by RBI from time to time.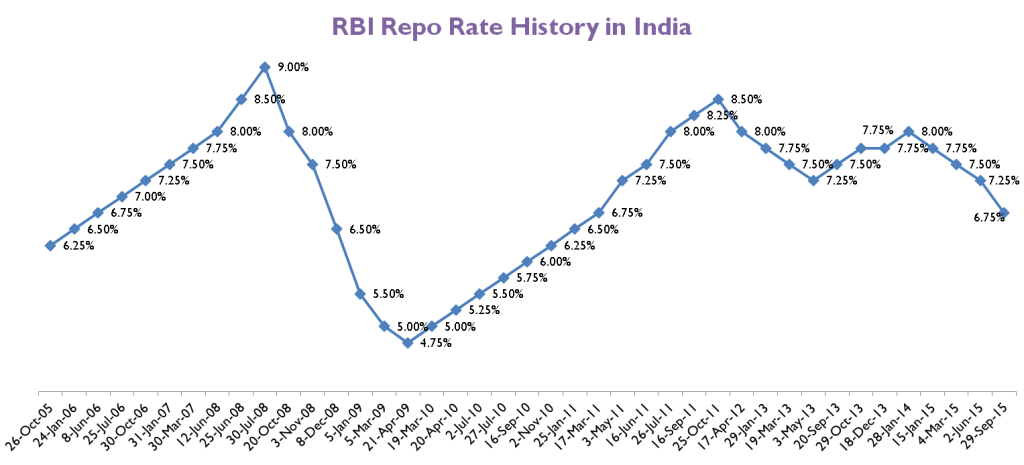 | | | |
| --- | --- | --- |
| Date | Repo Rate | Repo Increase/Cut |
| 26-Oct-05 | 6.25% | 0 |
| 24-Jan-06 | 6.50% | -0.25% |
| 8-Jun-06 | 6.75% | -0.25% |
| 25-Jul-06 | 7.00% | -0.25% |
| 30-Oct-06 | 7.25% | -0.25% |
| 31-Jan-07 | 7.50% | -0.25% |
| 30-Mar-07 | 7.75% | -0.25% |
| 12-Jun-08 | 8.00% | -0.25% |
| 25-Jun-08 | 8.50% | -0.50% |
| 30-Jul-08 | 9.00% | -0.50% |
| 20-Oct-08 | 8.00% | 1.00% |
| 3-Nov-08 | 7.50% | 0.50% |
| 8-Dec-08 | 6.50% | 1.00% |
| 5-Jan-09 | 5.50% | 1.00% |
| 5-Mar-09 | 5.00% | 0.50% |
| 21-Apr-09 | 4.75% | 0.25% |
| 19-Mar-10 | 5.00% | -0.25% |
| 20-Apr-10 | 5.25% | -0.25% |
| 2-Jul-10 | 5.50% | -0.25% |
| 27-Jul-10 | 5.75% | -0.25% |
| 16-Sep-10 | 6.00% | -0.25% |
| 2-Nov-10 | 6.25% | -0.25% |
| 25-Jan-11 | 6.50% | -0.25% |
| 17-Mar-11 | 6.75% | -0.25% |
| 3-May-11 | 7.25% | -0.50% |
| 16-Jun-11 | 7.50% | -0.25% |
| 26-Jul-11 | 8.00% | -0.50% |
| 16-Sep-11 | 8.25% | -0.25% |
| 25-Oct-11 | 8.50% | -0.25% |
| 17-Apr-12 | 8.00% | 0.50% |
| 29-Jan-13 | 7.75% | 0.25% |
| 19-Mar-13 | 7.50% | 0.25% |
| 3-May-13 | 7.25% | 0.25% |
| 20-Sep-13 | 7.50% | -0.25% |
| 29-Oct-13 | 7.75% | -0.25% |
| 18-Dec-13 | 7.75% | 0.00% |
| 28-Jan-14 | 8.00% | -0.25% |
| 15-Jan-15 | 7.75% | 0.25% |
| 4-Mar-15 | 7.50% | 0.25% |
| 2-Jun-15 | 7.25% | 0.25% |
| 29-Sep-15 | 6.75% | 0.50% |