Are you worried and confused about Lien amount in SBI? Well you are not alone. In most cases, this should not be reason to worry. In this post we cover about following:
What is Lien Amount?
Reasons for having Lien Amount in SBI?
How can you remove Lien in SBI online & Offline?
What is Lien Amount in SBI?
Lien amount in SBI or any other bank is blocking specified amount in your bank account which you cannot withdraw or use without the approval of the bank or concerned authority. The lien may be imposed by the bank itself or may be through an authority such as court or tribunals.
The right of lien can be charged in the following ways:
• Right to particular lien
• Right to a general lien
• Right to lien
However, liens in most cases are not a reason to worry. In the next section we discuss what are various reasons for liens in SBI.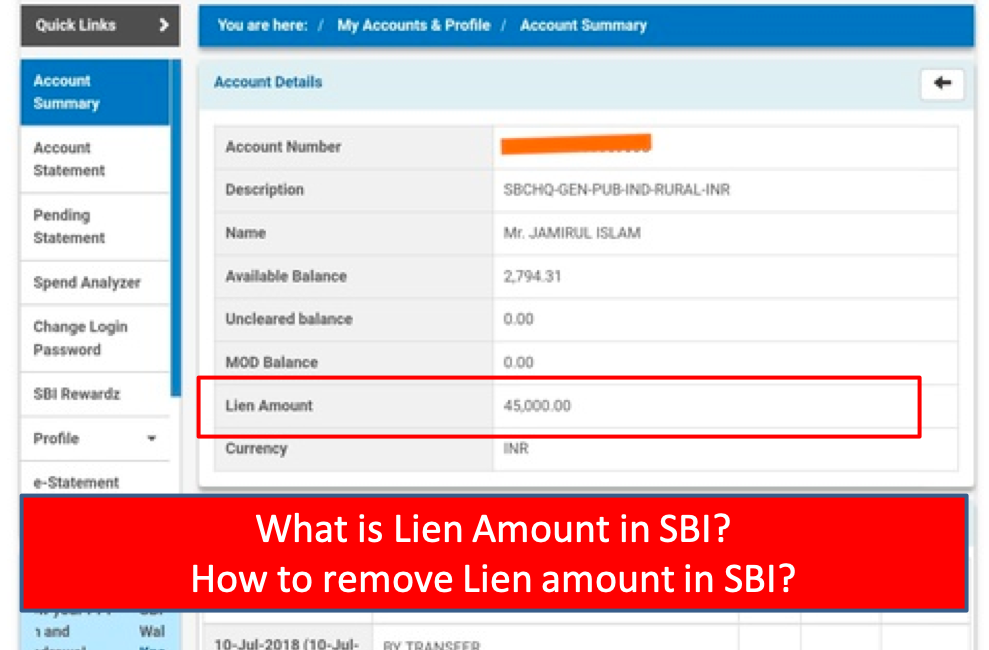 How to generate Regular Monthly Income?
There can be several situations when we look for regular income. This is especially true for people after retirement without any pension. Also there would be new entrepreneurs who need regular income until their start-up stabilises. We tell you 13 investments which can generate regular income for you along with their pros and cons.
Reasons for Lien Amount in SBI
Your bank can put lean on your bank account due to multiple reasons. We start with the most common first.
If you applied for IPO through your SBI bank account: SEBI had changed the way you can apply for IPO a few years ago. You can apply to IPOs only through your banks account using ASBA or Application Supported by Blocked Account. In this case the money does not leave your account until you get confirmed allotment. The money in your account is put on Lien (or blocked) from the time you apply for the IPO to the time actual allotment is done. In case you get the allotment, the required money is passed on the company. In case you do not get allotment, the lien is removed automatically. The benefit of this process is there is no waiting for the money in case you did not get allotment and the money in the account still earns interest.
Use of Virtual Cards: SBI and many other banks have the facility to create Virtual Debit cards. These virtual cards provide an extra layer of security for online transactions. These virtual cards are very similar to physical cards – with the only difference being that it can be used only for online transactions and are active for a short time frame. Whenever you create a virtual card of certain amount, that amount is put on Lien by SBI. The amount is only debited if you actually make a transaction through your virtual card. In case you do not use the card until its expiry (which is generally 48 hours), the lien is removed from the account automatically. In case you created the virtual card or do not need it anymore, you can simply "cancel Virtual Card" and the lien would be released immediately.
Fail to pay Bank Service Charges: Bank may put a lien in case you failed to pay the charges for bank's services. This may include charges for non-maintenance of minimum balance or hundreds of other charges that the banks have.
Do you Know about Hidden Charges in Banks?
Credit cards backed by Fixed Deposits: In case you have poor credit history, you can get credit card against fixed deposit. This is a win-win for both the customer and the bank. When the bank issues this credit card, it marks lien on your fixed deposit up to the credit limit of the card.
Non-Payment of Credit Card Dues: The banks can mark Lien on your bank account if you have not paid your credit card dues from the same bank.
Missed EMIs on Loans: In case you have loan and bank account in the same bank, the bank may be in their legal rights to mark Lien on your bank account if you have missed your EMI payments.
Lien due to Court or Tribunal Orders: There could be lien on your account due to court orders.
Lien by Tax Department: The tax department can put a lien on your bank account if it has reason to believe that you have tax due. The department has to follow certain legal process to get the lien.
Lien due to suspicious activities or any issue due to issue of cheque or draft
Technical Error: You can get a lien on your account due to some technical error either by the underlying software or due to manual error done by person handling it. In this case you need to speak to the customer care or the branch manager to get the lien removed.
Get Highest Fixed Deposit Interest Rates
How to remove Lien Amount in SBI Online & Offline?
It's important to understand the reason for Lien Amount in SBI as it would help us to plan the next step on how to remove lien amount in SBI?
If your account is on lien due to ASBA and you want the lien to be removed immediately, you have to send a withdrawal request with the issue to the registrar of the IPO. If you can wait, the lien would be removed if you do not get allotment of the IPO. With the effect of this, they will cancel your bid and instruct the SCSB (Self-certifies Syndicate Bank) to unblock your money.
If the lien is due to virtual card, you can cancel the card and the lien is removed immediately. The card expires in 48 hours and the lien is removed automatically.
For lien on your Fixed Deposit for your credit card, you may either negotiate the terms with the bank or cancel the card.
For all other situations, where the lien is due to non-payment of taxes, fees, outstanding loans, etc, you would need to pay them back with penalty and remove the lien.
After completing the required accomplishment bank will remove the lien from your bank account.
If in doubt, you can contact your bank and the bank will provide the reason due to which they put a lien on your bank account and give you the way to resolve it if applicable.
Best way to Double your Money
Lien Amount in SBI FAQs
Do I get bank interest on the lien amount in SBI?
Yes, Bank provides interest on the whole amount including the lien amount. You can withdraw the interest but not the lien amount.
How to withdraw the lien amount in SBI?
You will be able to withdraw the amount marked as the lien amount if you resolve the issue related to it. You can contact the bank for the verification of the reason and know the procedure to resolve the issue.
Is the lien on my bank account is considered as bad?
Lien can be voluntary and non-voluntary as well. If it is voluntary to your bank account then there is no problem.
But, if the bank puts lien from themselves it represents a negative image of the account holder and also affects his credit score.
What is the general example of lien?
Consider you have purchased a car by taking a loan. You are not able to pay your EMI even after notice from the bank. Bank can put a lien on your car as well as the balance of your bank account for payment of EMI.
How long does a SBI lien last?
The period of lien in bank account would depend on the reason of the lien. It can be as short as 48 hours if the lien was against creation of virtual cards. In case of IPO through ASBA, it would be for 10 days – until the allotment is finalised. For court orders and non -payment of dues the lien lasts until the underlying problem is resolved.