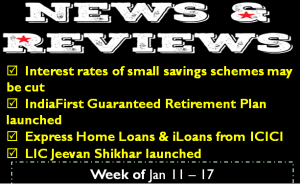 In this post we cover the major Personal Finance news that happened in the week of January 11 – 17, 2016
Government may cut interest rates of small savings schemes
All leading newspapers reported that government may cut interest rates of small savings schemes like Post office Fixed Deposit, Senior Citizens Saving Schemes, PPF, etc soon. Usually the interest rates on these instruments are reset on start of every financial year but we may see cut mid-way. You can lock-in in some of the instruments like NSC, SCSS, and Post office FD/RD which are still offering higher rates – Once bought the interest rates are locked.
Sovereign Gold Bond Tranche II open for Subscription
Sovereign Gold Bond Tranche II is open for subscription between January 18 to 22. The price of 1 bond has been set at Rs 2,600. The interest rate is 2.75%. The tenure is 8 years and early exit option is available after 5th year.
Read Review about Sovereign Gold Bond Tranche II – Should you buy?
LIC Jeevan Shikhar launched
LIC has launched LIC Jeevan Shikhar, a participating, non-linked, saving cum protection single premium plan. This is especially targeted for the unplanned tax saving investment that people do in the month of January to March. The plan would be open till March 31, 2016.
You can read the complete review of LIC Jeevan Shikhar here.
IndiaFirst Guaranteed Retirement Plan launched
IndiaFirst Life Insurance has launched its first Pension Plan IndiaFirst Guaranteed Retirement Plan. It is a nonlinked, participating, endowment, deferred plan. It offers a guaranteed return of 9% on total premiums paid in the initial years, and the benefit of participating in the company's profits in later years.
Stay away from pension Plans of Insurance companies. They offer poor returns and you lose a lot in case of early exit. Also the 9% guaranteed return is marketing gimmick as its applicable only for first 2/4/6 premiums on 5/10/15+ years plan tenure respectively.
ICICI has rolled out Express Home Loans & iLoans
Through Express Home Loans ICICI bank plans to give online approval to home loans in 8 working hours. It has also launched iLoans app for paperless approval of subsequent disbursements of home loan. Read complete reiview of ICICI Bank Express Home Loans on Mint