Omnitech has launched its Fixed Deposit Scheme for the tenure of 1 to 3 years offering interest rate 11.50% to 12.50% per year.
Salient Features:
Minimum Deposit amount is INR 25,000/- only.
Nomination facility is available.
Interest to be calculated from the date of encashment of cheque/DD and will be rounded off to the nearest rupee.
Deposits will be accepted from Individuals, Minors (through Natural Guardians), HUFs, Association of Persons, Registered Societies, and Registered Trusts.
No tax deduction at source shall be made, provided, declaration in prescribed form No.-15G/15H as applicable is submitted for each financial year.
Interest will be payable quarterly/compoundable quarterly.
Interest Rates: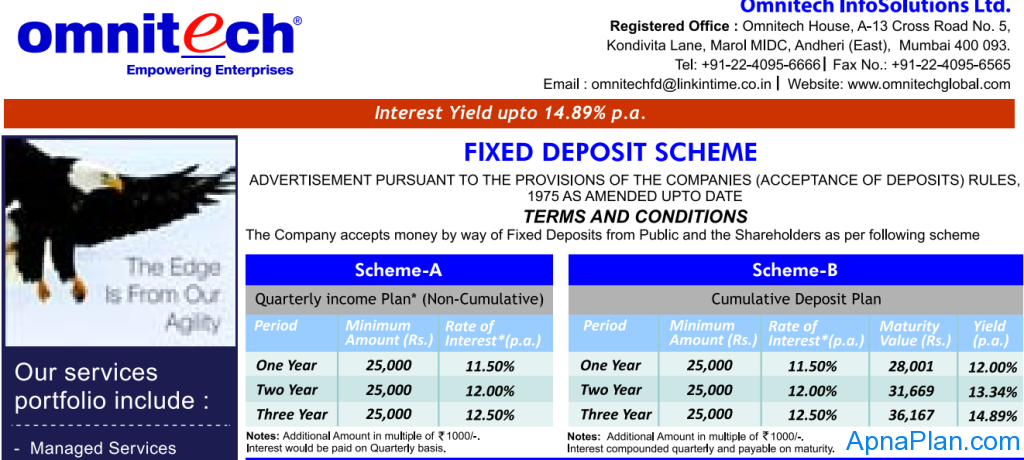 Why Invest?
The interest rate of 12.5% is higher by 3% than that offered by most banks.
Why not to Invest?
Company fixed deposits are unsecured and illiquid.
Interest income from company fixed deposits is taxable and for those in the highest tax bracket the post tax return works out to a mere 7.95% to 8.64%.
There are other more reputable companies offering similar interest rates.
How to Apply
Please fill in the attached Application Form completely and appropriately and ensure that all columns are filled up carefully, neatly and signed on every correction if any.
Application Form along with cheque/draft favouring of "OMNITECH INFOSOLUTIONS LTD.-FIXED DEPOSIT COLLECTION A/C"(CMS CODE-OMNITECH and crossed "ACCOUNT PAYEE ONLY" should be deposited with CMS branches of AXIS Bank either directly or through Managers/Brokeres to the Scheme. Separate pay-in-slip meant for Cash Management Services (CMS) should while depositing the cheque/DD with the AXIS Bank mentioning the "CMS Code-OMNITECH" therein.
Depositors outside Mumbai, where there is no CMS branch of AXIS Bank may send their applications alongwith Cheque/DD payable at Mumbai directly to Link Intime India Pvt. Ltd., C-13, Pannalal Silk Mills Compound, L.B.S. Marg, Bhandup (West), Mumbai-400078. Outstation cheques are not acceptable unless payable at par.
Click Here to Download Omnitech FD Application Form