Buying Life Insurance is a complicated process. It involves so many decision points. To start with you need to figure out how much insurance you need? Which is the best life insurance company? Once you are done with these the next question is what type of insurance plan to buy – endowment, ULIP or term plan. As you are well read, you decide on Term Plan. But even in term plan there are multiple decisions to be made.
I tried buying HDFC Life Click 2 Protect Term insurance and was overwhelmed with the options to choose. Following are the decision points:
Pure Term Insurance Vs Return of Premium Plan (Moneyback)
Premium Payment Term – Monthly, Annual or Single
Benefit to be paid to nominee – one time or in installments
Increase insurance annually (top up)
Multiple riders and so on ….
Also Read: 9 Tips to Buy the Right Life Insurance
I thought of doing a series of posts which would help our readers to decide on the above points. This post covers if you should pay premium annually or just one time as Single premium.
Regular Vs Single Premium for Life Insurance?
Below is the snapshot comparing both the premiums for HDFC Life Click 2 Protect Term Life Insurance for 30-year healthy male insured for 30 yeas for amount of Rs 1 crore.
Also Read: How are ULIP & Life Insurance Policies Taxed on Surrender & Maturity?
There are three important reasons I prefer Annual Payment of life insurance premium:
Affordability: As you see in the single premium is Rs 1.62 lakhs Vs annual premium of Rs 9,717. For most people single premium may not be affordable at all!
Portability: If you pay the premium in one go you cannot change the insurance provider in future. In case your life goals are achieved and you no longer want to continue insurance, you cannot do so.
Cheaper than single premium payment: In case of single premium you would pay Rs 1.62 lakhs while if you choose annual payment, you pay Rs 2.92 lakhs (9717 X 30). This seems like single premium policy is 45% cheaper than annual payment. But hold on until you consider time value of money and it's the opposite.
Here is a simple trick which would tell you how expensive is Single Premium.
Assuming that you can afford the premium of Rs 1,62,667 – you have 2 options
Pay the amount as single Premium or
Pay annual premium and invest the rest to generate future premiums
Here is some calculation to illustrate the above point(2):
Annual Premium = Rs 9,717
Money Left after 1st year Premium = Rs 1,52,950 (1,62,667 – 9,717)
Now invest this remaining Rs 1.53 in simple bank fixed deposit or liquid or arbitrage mutual fund or good rated bonds (these days the interest rate on AAA rated NCDs are more than 9%). You can easily expect annual return of 6.5%.
So every year you would get Rs 9,942 (6.5% of 1,52,950). You can pay this amount as annual premium next year. This can continue for 30 years.
At the end of 30 years you would have paid all the premium and still have Rs 1.52 lakh invested with you. Hence you can see single premium is much more expensive than it seems!
Also Read: Does Your Life Insurance Offers Tax Benefit?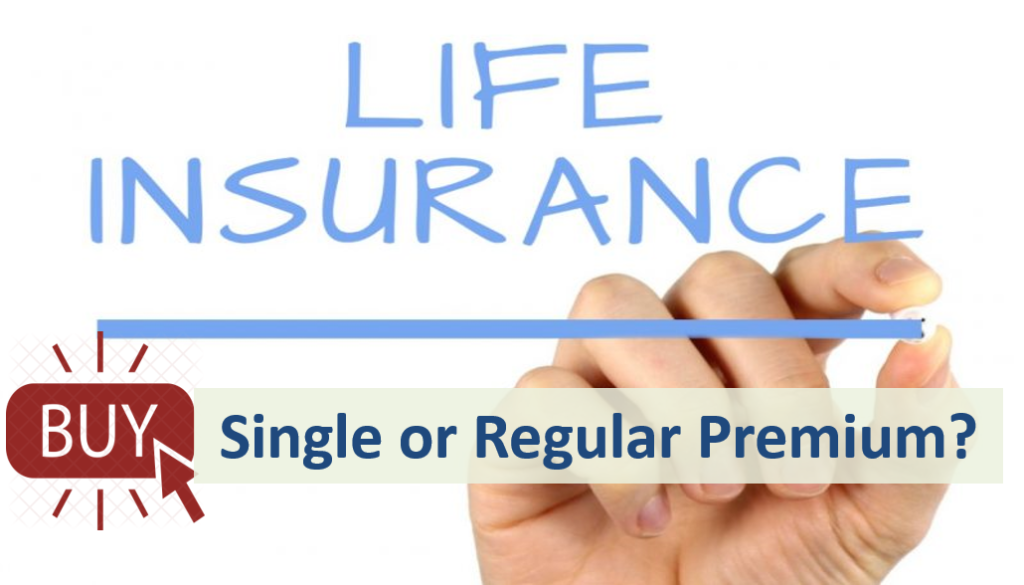 Who should choose Single Premium Payment?
Single premium payment for life insurance is suited for people who have uneven cash flow or for some one who is not disciplined enough to pay premium regularly. But I think in both the cases, people can do fixed deposit in bank with annual payment of interest and set-up auto pay for the insurance premium every year. This is much smarter way and saves you good amount of money along with other benefits of paying life insurance premium annually.